WASHINGTON -- As Congress reconvenes after its August recess, a major source of political drama is the Export-Import Bank and whether a deep divide in the House GOP over renewing the government agency will lead to a shutdown.
But there's another rift in the Ex-Im ether underscored by a new bill that will be introduced by Rep. Alan Grayson (D-Fla.) on Tuesday: the split between progressive Democrats of the past 50 years and progressive Democrats of today.
"The Ex-Im bank is a bad program," Grayson told HuffPost. "It subsidizes foreign business entities using taxpayer funds in the form of giving them loan guarantees and insurance policies at subsidized rates. We're literally paying foreigners to take away U.S. jobs. It's crazy."
Once upon a time, liberals such as then-Sen. Barack Obama (D-Ill.), Rep. Maxine Waters (D-Calif.) and then-Rep. Bernie Sanders (I-Vt.) explicitly derided Ex-Im, as it's known in Washington parlance, as "corporate welfare." But today, nearly every congressional Democrat, from House Minority Leader Nancy Pelosi (Calif.) to corporate accountability hardliner Sen. Elizabeth Warren (Mass.), supports reauthorizing the bank when its current term expires at the end of the month. Tea party Republicans, as well as conservative groups Heritage Action and the Club for Growth, are the ones now opposing the bank.
Ex-Im backs cheap loans to foreign firms that want to buy U.S. goods, effectively serving as a tariff that protects American products. Grayson's bill would subvert the bank's function by subsidizing domestic companies that want to purchase domestic goods.
"The real question is why should we be subsidizing foreigners at all?" Grayson said. "I understand that there is a very heavy existing interest in encouraging exports of U.S. goods. But what we really should be doing is not encouraging exports per se, but encouraging manufacturing and activity that boosts the American jobs base."
Grayson's bill is unlikely to pass. It's a message bill directed at both movement progressives and House Democratic leaders, which have twisted arms to secure near-unanimous support for reauthorizing Ex-Im. The bank backs about 2 percent of U.S. exports, and about half of its loan guarantees benefit just three corporate behemoths: Boeing, General Electric and Caterpillar.
And while few conservative Republicans would support subsidies in any format, Grayson is gleefully unapologetic about redirecting Ex-Im's subsidies toward domestic purchasers.
"Essentially, America wins twice," Grayson says, referring to his bill. "It wins because not just the seller is benefiting from our subsidies, but the buyer is benefiting too. And we won't be calling it the Export-Import Bank anymore. We'll be calling it the Made-in-America Bank."
On Monday, Heritage Action and the Club for Growth sent a joint letter to new House Majority Leader Kevin McCarthy (R-Calif.) urging him to let the bank die. McCarthy had supported the bank previously, but flipped his position after he won the second-ranking House Republican slot.
"As the new Majority Leader of the House, now is the time for you to provide leadership to the Republican conference and reaffirm your admirable opposition to the Export-Import Bank," the letter reads. "In the past several months, the bank and the private corporations it benefits have launched an all-out public relations campaign to repair the bank's image. This simply confirms what we have said all along -- the Export-Import Bank is a crony-capitalist slush fund benefiting mainly politically-connected companies that receive its subsidies."
House Financial Services Committee Chairman Jeb Hensarling (R-Texas), a sharp Ex-Im critic, has been in talks with House Speaker John Boehner (R-Ohio) about what to do regarding the bank. Republican supporters of the agency want to include a brief authorization period for the bank with this month's bill to fund the federal government, putting off any political fallout from a standoff until after the November elections.
Read Grayson's bill in its entirety here.
Before You Go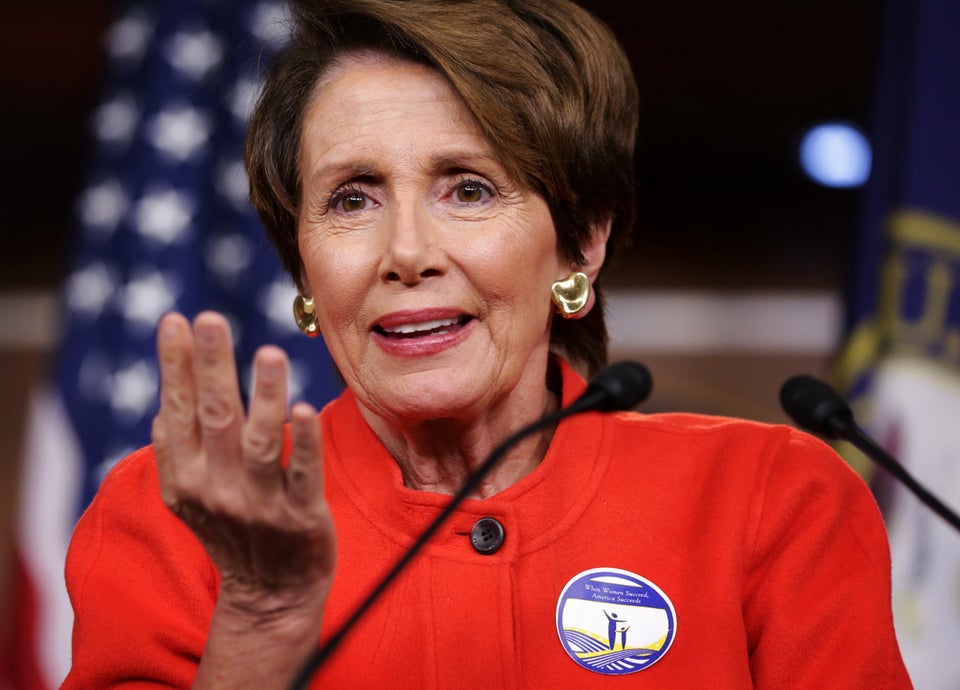 Pelosi's Greatest 'What Is Going On Here?' Faces
Popular in the Community