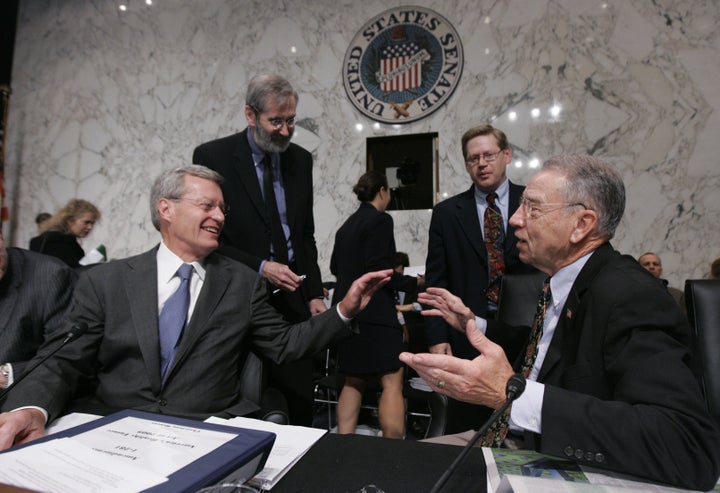 I know the difference between angry and mad. And when it comes to outspoken Orlando freshman Alan Grayson, Republicans are both. He's been the bane of their -- and their big donors'-- existence on the House Financial Services Committee, where he's been working effectively to put a crimp in a status quo that has presided over a concentration of wealth in this country that leaves the top 1% with more assets than the "bottom" 90%. Grayson came to Congress promising to be a tribune for working Florida families. What drives Republicans mad is that he has been exactly that.
Yesterday he was up on the floor of Congress calling out the GOP on their health care obstructionism. (See video above.) And did they flip out! GOP morning shill, Joe Scarborough, had reactionary sidekicks Pat Buchanan and Mika Brzezinski, comparing Grayson's well-reasoned and factual assault on Republican Party well-coordinated anti-working family obstructionism with the disgraceful outburst from secessionist lunatic Joe Wilson (R-SC). Some of the most extremist partisans among the obstructionist caucus took Grayson's criticism personally -- which makes sense. Marsha Blackburn (R-TN), whose ProgressivePunch voting score since President Obama was elected is a big fat zero-- extreme even for the fringe Republicans -- demanded an apology. Patrick McHenry (R-NC), another goose-egg extremist-- with unanswered questions about a gay Republican triple homicide in Orlando involving one of his now dead "associates" -- was up early this morning tweeting away, demanding Speaker Pelosi call a vote to reprimand him.
If Grayson made one mistake, it was blaming only Republicans for the way Congress is treating American families in the health care debate. Sure, every single Republican is catering to the special interests who line their pockets and fill their campaign coffers. But perhaps Grayson should have found a way of mentioning that it isn't just 100% of Republicans -- who, by the way, have often said that the Democratic plans for reform will kill granny, etc. -- but that there are also a significant number of corrupt, bribe-besotted Democrats -- from Max Baucus and Blanche Lincoln to most of the Blue Dog caucus -- who also are trampling on the aspirations of working people in our country. Elijah Cummings stood up for Grayson to the vampiric Mika this morning. Georgia goofball Tom Price is introducing some kind of cockamamie resolution to condemn him.
Today might be a great time to donate to Alan Grayson's campaign fund. Aside from being one of Congress' best overall members, let's keep in mind that the real reason Republicans do want people to die is because the funeral industry is a big source of funds for the GOP! Of all the current sitting senators who have gotten money from the funeral industry, McCain is #1, Alexander Lamar is #2 and Lindsey Graham is #3. Over in the House, Republican leaders Mike Pence (IN), Roy Blunt (MO), David Dreier (CA) are among the top recipients. And yes, Blackburn and McHenry have both taken money from the funeral industry. Grayson hasn't. Let's get Grayson's back.
Calling all HuffPost superfans!
Sign up for membership to become a founding member and help shape HuffPost's next chapter