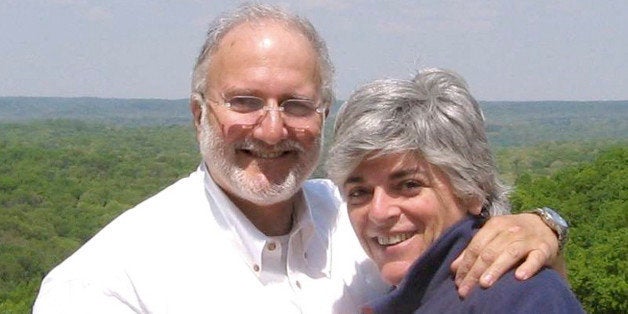 Alan Gross, a subcontractor for the U.S. Agency for International Development, was released from a Cuban prison on Wednesday, five years after being arrested for allegedly smuggling banned communications equipment into the country and being accused of spying.
But Gross, now 65, has said he was working to help Cuba's small Jewish community get Internet access -- which was considered a grave offense in a country where watchdog group Freedom House estimates only five percent of the population has access to the open web.
Cuban officials arrested Gross in 2009 and sentenced him to 15 years in prison in 2011. The decision did not go unchallenged by groups and individuals around the globe, however.
On Wednesday Sen. Richard J. Durbin confirmed in an interview with The Washington Post that the Vatican had been working with the U.S. government for more than a year to secure Gross' release. The New York Times reports that Pope Francis even hosted the final negotiation meeting at the Vatican, during which President Obama and Cuban President Raúl Castro agreed over the phone to improve relations between their two countries.
Gross' release was one factor in this agreement, which also included the release of three members of the "Cuban Five," held in American jails for more than 15 years on spying charges. White House officials also said the Cuban government would release 53 political prisoners as part of the deal.
The Jewish Community Relations Council (JCRC) had been vocal in its opposition to Gross' incarceration over the years and set up a "Free Alan Gross" petition and website urging concerned individuals to take action by writing to the Cuban Interests Section in Washington and calling the White House.
The organization also set up a legal defense fund over the summer to represent wrongly incarcerated Jews, of which it said Gross would be the first recipient.
According to a website dedicated to his release -- called "Bring Alan Home" -- Gross spent 25 years of his life traveling around the world as a "community development specialist." His work ranged from implementing agricultural improvement programs in Azerbaijan to designing policies to facilitate trade between Israelis and Palestinians in the West Bank.
In 2009 the U.S. Agency for International Development hired Gross as a subcontractor in Cuba, to which he traveled five times before his arrest. There, Gross worked to improve Internet access for the country's small Jewish community, which dwindled significantly over the last decades of the 20th century due to a mass exodus to the United States and Israel during the Cuban revolution.
Over the five years of his incarceration Gross' health deteriorated and he reportedly lost more than 100 pounds. His attorney Scott Gilbert told CNN in April that Gross was confined to one room for 23 hours a day and let out for one hour daily to exercise "in a small, walled courtyard where you can barely see the sky."
"After five years of literally wasting away, Alan is done," Gross' wife, Judy, said in a statement in early December. "It is time for President Obama to bring Alan back to the United States now; otherwise it will be too late."
Elie Abadie, a physician who also serves as head rabbi of the Edmund J. Safra synagogue in New York City, traveled to Cuba in 2012 to examine Gross after the American's wife returned from a visit and said she feared for her husband's health. At that time Abadie determined that Gross was in fair health, and he told HuffPost over the phone that he had coordinated with Cuban officials to get Gross access to Kosher foods and Spanish language classes.
Abadie said he was "thrilled" by Gross' release and called Judy Gross on Wednesday to offer his best wishes.
"I have been waiting for this moment for two years," Abadie said. "It's really a Hanukkah miracle."
REAL LIFE. REAL NEWS. REAL VOICES.
Help us tell more of the stories that matter from voices that too often remain unheard.
BEFORE YOU GO