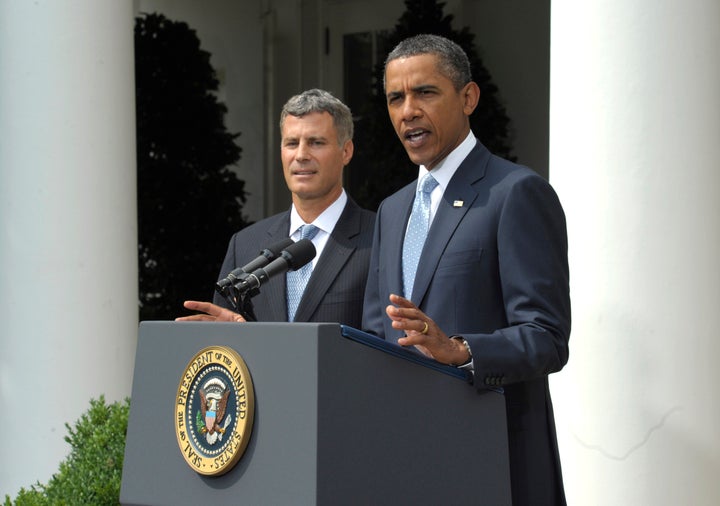 WASHINGTON -- Alan Krueger, the Princeton economist recruited to lead President Obama's economics team just before the president is set to announce a major new jobs initiative, has done some influential research on unemployment.
In one of his most recent studies, a January working paper with Andreas Mueller of Stockholm University, Krueger found that the longer the jobless were out of work, the less time they devoted to searching for a new job.
"Interestingly, the only activity that significantly increases with duration of unemployment is sleep," the paper [PDF] says.
Krueger and Mueller offered three likely explanations for the decline in job-search durations. First, workers could have run through most of the decent jobs to apply for. Second, they could have gotten better at searching and needed less time to scan and respond to ads. And third, they could have gotten discouraged and quit looking.
"Distinguishing among these explanations is very important, as the latter behavior could lead to hysteresis and prolonged joblessness after the job market improves," Krueger and Mueller wrote.
There are currently 6.2 million people -- nearly half the unemployed -- who've been out of work for six months or longer. According to a June report by the Bureau of Labor Statistics, the Great Recession has actually doubled the amount of time layoff victims remain in the workforce before they either find jobs or give up looking. By the end of 2010, the median successful job search took 10 weeks, up from five weeks in 2007. For people who eventually gave up and left the workforce, the median search in 2010 lasted 20 weeks. Before the recession, unsuccessful job searches usually ended after 8.5 weeks.
After Labor Day, President Obama is set to announce a jobs package that could include programs targeting the long-term jobless. The administration is reportedly considering a scheme adopted by the Georgia Department of Labor that allows businesses to train unemployment insurance recipients without having to pay them -- though there is no real data to vouch for the program, and labor advocates say it's exploitative.
Krueger is intimately familiar with the labor market. His 2011 study with Mueller surveyed 6,025 jobless workers weekly from fall 2009 to spring 2010: Just 1,224 reported receiving a job offer, and a third of the offers were for part-time work. While time spent looking for work changed with duration of unemployment, the decreased work search didn't mean workers were any less likely to receive job offers.
"Surprisingly, receipt of a job offer is unrelated to job search time in our sample," the report's authors wrote.
The study also examined workers' "reservation wage" -- how low they'd be willing to go in terms of pay. The reservation wage didn't change much over the course of a layoff, with a notable exception for workers older than 50 with $10,000 in savings, whose reservation wage dropped 10 percent after six months of joblessness.
"The apparent willingness of older workers to lower their reservation wage the longer they are unemployed is consistent with the view that job search is an investment: the cost of accepting a lower wage job is less for those who plan to spend less time in the labor market," the paper said. "Older workers gradually realize that they cannot find a job that pays as well as they expected and thus adjust their reservation wage down, whereas younger workers are willing to maintain their reservation wage for longer because it is more costly for them to accept a low paying job."
While conservatives have pointed to past research by Krueger suggesting long-lasting jobless benefits coddle the unemployed and exacerbate jobs crises, the January paper reported mixed results with extended benefits.
"On the one hand, workers do not search more or lower their reservation wage in periods when their [unemployment insurance] benefits have lapsed or been exhausted, suggesting that [Emergency Unemployment Compensation] did not provide a serious disincentive to finding a job," the paper said. On the other hand, it noted that when Congress increased the duration of benefits from 79 to 99 weeks in November 2009, jobless workers' search duration lowered, though the holiday season could have had an effect.
REAL LIFE. REAL NEWS. REAL VOICES.
Help us tell more of the stories that matter from voices that too often remain unheard.