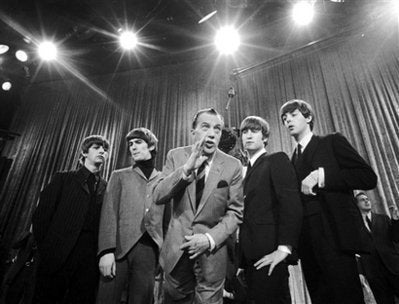 You may not know Alan Livingston, who died on Friday at age 91, by name. But if you know anything about 20th century popular culture, you know his work. Livingston was doubly blessed, first by being a talented, creative guy with amazing instincts, and second by being in the right place at the right time to put those talents to work.
Livingston started working for Capitol Records in 1946, only four years after the label had started up, and hit the ground running by creating the character of Bozo The Clown for kids' records and accompanying books. The records sold like crazy, helping to turn Capitol into a major force in the record business, and once Bozo moved to TV he became a bonafide pop culture icon.
With Bozo under his belt, Livingston became more involved in producing children's records for Capitol, and even wrote the hit song "I Tawt I Taw A Puddy Tat" for Tweety Pie -- er, Mel Blanc. Livingston could have coasted on his success and produced kids' music for the rest of his career. But he was just getting started.
In 1953, Frank Sinatra was a has-been crooner who'd been dropped by Columbia Records and couldn't find a new label. Over the strenuous objections of most of the Capitol brass, Livingston signed him to a long-term contract. Once Sinatra started recording for the label, it was Livingston's idea to pair him with arranger Nelson Riddle, an idea Sinatra initially disliked. The results made Sinatra a bigger star than ever, and Capitol one of the most successful record labels in the world. The Sinatra-Riddle team not only created some of the greatest records in pop history -- In The Wee Small Hours, Songs For Swingin' Lovers and Only The Lonely, to name a few -- but also a cash cow that's still paying the bills for Capitol more than half a century later.
Livingston left Capitol for a few years to work in television programming for NBC, where he oversaw the production of the pilot episode of a little show called Bonanza -- one of the biggest hit shows in TV history, which ran for 14 seasons and is still in syndication today.
Astoundingly, Livingston's biggest coup was yet to come. He returned to Capitol in 1961, and was president of the label when EMI, which owned Capitol, started having success in England with a new homegrown band called The Beatles. Livingston turned down their first few singles for American distribution; after all, who ever heard of a British group having a hit in the States? But when he heard "I Want To Hold Your Hand" in late 1963, he decided to throw caution to the wind. He spent an unheard-of $50,000 in promotion to tattoo the Fab Four onto the American consciousness.
During the '60s, Livingston saw the direction in which pop music was headed, and accordingly moved Capitol into the rock era by signing acts like the Beach Boys, The Band and the Steve Miller Band. By the time he left the label for good in 1968, his reputation within the music business as a genius was assured.
Strangely enough, Alan Livingston's name may be best-known to laymen -- certainly to Beatles fans -- for a rare marketing screw-up that happened on his watch. The Beatles submitted their album Yesterday And Today in the spring of 1966 with cover art that showed the Fab Four grinning maniacally, wearing butchers smocks with raw meat and dismembered baby dolls strewn about. Doesn't sound like a big deal today, but 40-plus years ago the "butcher cover" caused such a furor that it had to be withdrawn and re-released with a new cover. Livingston took home a box of LPs with the original cover and, decades later, gave them to his son, who promptly sold them. Livingston's letter to retailers about the album recall added to his lore, and "certified Livingston copies" of the butcher cover are among the most valuable Beatles collectors items, fetching up to $20,000 apiece.
But that's just a footnote to one of the most astonishing careers the entertainment business has known. Unlike Clive Davis or Tommy Mottola, Livingston never sought the spotlight. To the day he died, was assured of a comfortable anonymity, punctured only by those in the industry or fans with encyclopedic knowledge of the artists he turned into stars.
In this day and age, where record companies are no longer the mighty behemoths they once were and every music blogger is an A & R man in miniature, it's hard to imagine one person having so much influence on pop music for so long. And in this time of relentless self-promotion, it's nearly impossible to think that one guy could accomplish what Livingston did and go so unheralded by the public at large. So the next time you hear "I've Got You Under My Skin" or "Hey Jude" or "Good Vibrations" -- or, for that matter, "I Tawt I Taw A Puddy Tat" -- think about Alan Livingston and how different our shared musical history might have been had he not been around.
Calling all HuffPost superfans!
Sign up for membership to become a founding member and help shape HuffPost's next chapter