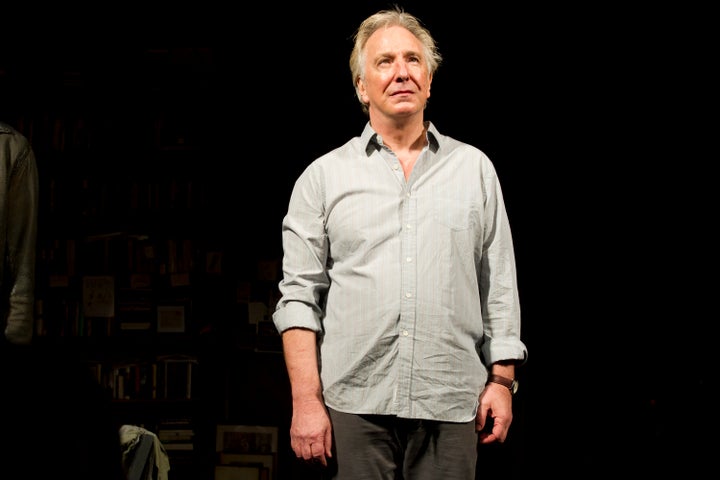 The late Alan Rickman was a brilliant film actor. There's no denying this fact. 
From "Robin Hood" to "Sense and Sensibility," "Dogma" to "Die Hard," every "Harry Potter" film he did to every Tim Burton film he did, Alan Rickman (and his seductive voice) was often the best part of our favorite movies. Let's face it, he'll be this generation's Severus Snape forever. 
But before Metatron and Colonel Brandon, Rickman -- who died of cancer this week -- was perfectly at home in another realm of acting: theater. His voice, a divine gift most stage actors would kill for, filled the halls of playhouses from London to Dublin to New York, captivating a world offscreen long before -- and long after -- he ever donned black robes at Hogwarts.
A decorated graduate of the Royal Academy of Dramatic Art in London, Rickman began his acting career performing in plays dramaturges drool over. Chekhov's "The Seagull," Shakespeare's "Romeo and Juliet," Christopher Hampton's "Les liaisons dangereuses." The latter earned him his first Tony nomination, and a Drama Desk Award nod too. 
"Alan Rickman as Le Vicomte, with that drawling voice steeped in languor, and that impassive countenance, slips sly and inscrutable through the action like a cat who knows the way to the cream," Nicholas de Jongh wrote in 1986.
Later in his career, Rickman performed more of the staples, alongside names equally praised. In a 1998 production of "Antony and Cleopatra" he worked with Dame Helen Mirren. In 2001, he starred in Noël Coward's play "Private Lives" with Lindsay Duncan, which ended up capturing the Tony Award for Best Revival the next year. While Duncan took home the Tony for Best Leading Actress in a Play, Rickman's performance was lauded for his "hooded, languid amusement," an assessment that sounds faintly Snape-esque.
It was "a pleasure to hear Mr. Rickman pronounce 'semicolon' with a pinching nasality that turns a punctuation mark into a symptom of terminal constipation."
The roles continue. In 2010, he starred in the eponymous role in Henrik Ibsen's "John Gabriel Borkman" in Dublin. "Alan Rickman is breathtaking as Borkman, a man lost to human contact in pursuit of ugly fantasy," critic Emer O'Kelly wrote. 
He followed that with a turn in Theresa Rebeck's "Seminar" on Broadway, for which he was dubbed by The New York Times as a "virtuoso of disdain." Writer Ben Brantley noted, humorously, that it was "a pleasure to hear Mr. Rickman pronounce 'semicolon' with a pinching nasality that turns a punctuation mark into a symptom of terminal constipation."
On stage, Rickman shined. Audiences could lap up his epic voice in person, relishing the echoes of every syllable. Even when he directed -- 1995's "The Winter Guest" and 2005's controversial "My Name is Rachel Corrie" -- he seemed comfortable in a world with no cameras.
As we remember Rickman, his pipes and all, it's refreshing to imagine Snape not as Snape, but as the Mark Antony to Helen Mirren's Cleopatra, or the Elyot to Lindsay Duncan's Amanda. It's also worthwhile to imagine the great Brit standing before a theater of fans, slowly pronouncing the word "semicolon" as if he's suffering serious digestive problems. 
Rickman was a master of many things, but theater came first.
PHOTO GALLERY
Alan Rickman Through The Years
Calling all HuffPost superfans!
Sign up for membership to become a founding member and help shape HuffPost's next chapter