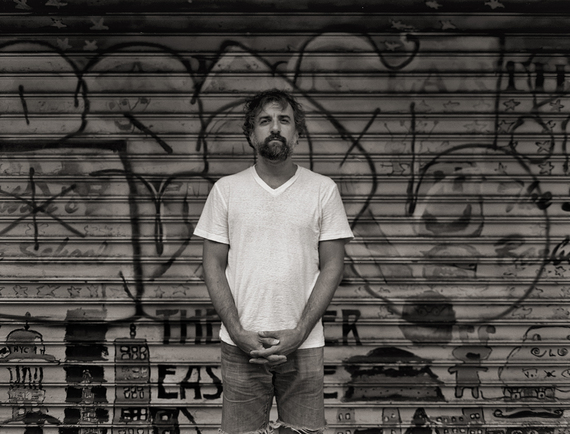 Reviewed by Christopher Atamian
On Genpop Books
On the eve of the 100th commemoration fo the Armenian Genocide of 1915, I was happy to revisit ALan Semerdjian's fascinating 2009 book of poetry In the Architecture of Bone. This at turns powerful, at turns endearing collection of poetry "In the Architecture of Bone" begins with a compelling quote by Gostan Zarian about man's -- and by extension the writer's -- role in society: "Perhaps it is our function to illuminate some dark corner of the universe." Semerdjian's poems offer a meditation on life in America, specifically on being Armenian, on his own family's roots and on the Armenian Genocide and how it is perceived/related/recounted/lost and found and somehow always with us.
A particularly clever prose poem "How Turkish Coffee Got its Name" is also a short riff on the process of translation in its many aspects: " I want to bring this, but I'm not sure what to call it. My mother called it soorj, the Armenian word for coffee. And when she translated it to me and my American friends, it was Turkish coffee. And it was easy to remember that way." Here Semerdjian identifies the dark brew that most Middle Easterners easily recognize by the English word Turkish, and not by translating the Armenian word soorj that his mother used to describe it. A type of cultural ellipsis occurs here. Why not Armenian coffee after all, or simply dark coffee? Or one might ask, simply coffee...These are the types of small, sometimes invisible linguistic and cultural negotiations that the children of immigrants are always making but that often go unnoticed.
Later on, still in the first section of the book appropriately titled "Turkish Coffee," Semerdjian writes: "I want to bring coffee here and spend a lot of time going over the shapes, what will be inside...Poetry is circle. A shell. A turtle. An hourglass on its side. Static folios of sand, a mountain. I want to bring coffee here, but I'm not sure what to call it." What is Semerdjian's here exactly? America? An unknown friend? The reader? This inability to translate one's inner experience, the naming of things and conversely the attempt at naming, becomes central to the Armenian experience and to Semerdjian's art as a poet.
Also of interest in Architecture of Bone are the geometry of sight and poetry: the way words are placed on the page but also the way Semerdjian uses words to describe the geometry of space around him. Semerdjian is the grandson of cubist painter Simon Samsonian, and allusions to surrealism and cubism dot his creations like so many painterly insertions: "When I open the door, apartment 5C across/the hall looks like it has moved farther since/last week, set back, a Braque eye, though/Still tall. The white walls with their smeared,/rough paint finish -- an extending topograph-/ical map of Antartica -looks even taller."
An homage to family as well. Semerdjian recalls the building he grew up in on Broadway where his entire family lived in different apartments and got together over extended dinner and conversation:
...I can al-/most remember the discussions too. They/were about the prescription prices at Zarchy's/Pharmacy or Avo's dirty hand and eating/habits. They were about the smells of Port/Said and vacations in Montreal. They were/about money and power when my uncle Jack/came over. He played such beautiful piano;/I'd hide under the bench and wait for him/to strike the keys. I'd hide under the bench/and listen for hours. Hours of conversations,/ephemeral. Strikes on the keys, a fire.
"A Place like Saigon" begins as a mediation on distance and Genocide/war, only to transform itself into a tender memory of childhood and his mother: "You, mother, with your gentle/palms, watchful eyes. You with/vociferous need, where/it wanders, the silent/atrophy of your shoulders/into arms, your shackles/your shackles reach into the earth/and pull its heart out to see if it's firm./Tell me if I can walk on now."
In "History," "Dinner Plans," and other such poems a dialogic develops between Turk and Armenian, between the sounds of words and the sound of history itself: "In the Semerdjian family/room, the woman sang stories like gypsies/while I marked my height against the hall/closet door. They read each other's minds." Elsewhere a sonnet shaped like a cubist geometry; a poem titled "Cubism," another "Fragments of a Composition With Grandfather" and more are straight-out meditations and homages to Samsonian. There are also powerful poems on language, on the Armenian alphabet and the sounds of translation -- translation again-in this powerful first volume of poetry. Unavoidably however, it is "Grandchildren of Genocide" which reverberates most in the reader's eyes and ears, an epic unforgiving poem about how our view of Genocide has been shaped by certain images -- gas chambers and such -- to the detriment of others:
We think of bombfields and big when we think of Genocide.
We think of mass cleansing. We think in holes. We think
The whole page. We think what's under it, what they've been...

When we think of genocide, we don't think of mountains or deserts.
We don't think of bazaars. When we do think of them,
We don't think of young democratic people and pomegranates.
We don't think of young democratic people with pomegranates
at bazaars when we think of Genocide. We don't think of them
next to out grandfathers. We don't think next to them...

And we don't think of civil war as genocide. We hear about it.....
We don't study the memorials, we don't explain the play in papers,
We don't shake hands and make up. When we think of genocide,
We do other things with our hands.
In this first volume of poetry, Semerdjian has smartly woven together family history and memorial, genocide and survival, art and translation, and boiled everything down to individual movements, repeated over time by different people in different lands. It's quite an achievement.
Related
Popular in the Community