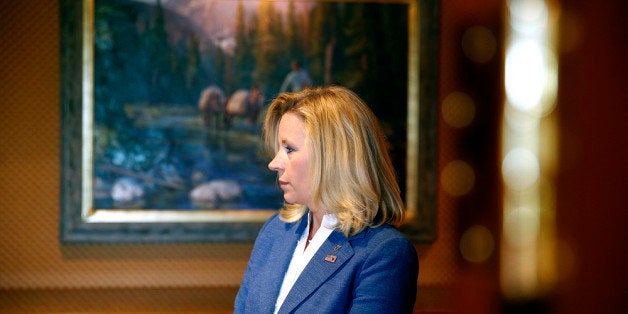 Former Sen. Alan Simpson (R-Wyo.), a friend of the Cheney family who had clashed with them publicly over Liz Cheney's U.S. Senate candidacy, had nothing but kind words for her after she ended her bid Monday, and even voiced his support for her future political career.
"She's a very dear lady -- part of our family, really," Simpson said. "All I know is someday she'll decide the time is right and she'll be very successful in Wyoming politics."
Simpson spoke with Cheney on Monday morning, he said in a phone interview. According to Simpson, she told him that after a family meeting, she, her husband and their five children had decided it was time to end her campaign. Although Cheney's public statement said she was withdrawing because of a family member's "serious health issues," Simpson said she did not mention anything health-related in her conversation with him.
"She told us, 'It's a mom thing and I want to be with them and I will,'" Simpson said. "She felt she needed to be with them more."
Although Simpson is a good friend of Liz's father, former Vice President Dick Cheney, he had endorsed the incumbent Republican in the Wyoming race, Sen. Mike Enzi, and had engaged in a public and heated dispute with Liz's mother, Lynne Cheney.
"This was a tough one: taking on a three-term incumbent who really had a lot of the same views she did," Simpson said.
On Monday, Simpson, who has often seemed at pains over the conflict, sounded relieved that the intraparty fight, which strained many relationships across the state, had ended.
"Dick Cheney and Lynne, they're part of my DNA for 45 years and I want to get that re-established," he said.
REAL LIFE. REAL NEWS. REAL VOICES.
Help us tell more of the stories that matter from voices that too often remain unheard.
BEFORE YOU GO
PHOTO GALLERY
Senate Seats Up For Grabs In 2014