WASHINGTON -- Lynne Cheney "just unloaded" on Alan Simpson at a Wyoming event Saturday evening, the former Republican senator told The Huffington Post. Cheney was angry at Simpson for backing incumbent Sen. Mike Enzi in the Republican Party primary race against her daughter Liz Cheney.
"I was surprised at her intensity," Simpson said. "It was eyes-flashing and pretty intense."
Simpson said he explained to Cheney that he has a history with Enzi that goes back decades -- and that, in fact, Simpson is the reason Enzi is in public life at all.
"I am unqualified in my support of Mike Enzi, but it's not about Liz Cheney for God's sake," he told The Huffington Post on Tuesday. "It's about the fact that I'm the guy who talked Mike Enzi into running for public office. I met him when he was the president of the Wyoming Jaycees. I explained that to Lynne but she didn't seem to listen."
Simpson had so far not publicly endorsed anyone in the Senate race, but Cheney's outburst appears to have moved the generally outspoken former senator to speak out.
Simpson said he first met Enzi when he was in the audience for an impressive speech Enzi made as president of the Wyoming Jaycees, a civic leadership group for young people. Simpson encouraged the young man to run for public office, not even knowing what his political leanings were.
"Oddly enough, he then went back to his home and he ran for mayor and he was elected mayor and he was a wonderful mayor and helped the city of Gillette conquer some real problems with the coal industry and the influx of people. And then he ran for the Wyoming House and Senate and he was elected there and then of course he ran for my seat and he's done a magnificent job. A long, long wonderful friendship and that's what it is," Simpson said.
The Cheneys had learned about a week earlier that he was supporting Enzi, Simpson said, when Simpson's wife said so at an event attended by Liz Cheney. Lynn Cheney, he said, argued, "'But you knew Liz when she was 8 years old.' And I said, 'I know it, I love her. Dick and I campaigned together.'"
"I care about these people," he added. "I mean, Dick Cheney, nobody's gonna drive us apart. We campaigned for each other every time we ran and never lost an election. But there was a real intensity and flashing because my wife had mentioned a week ago that we were supporting Mike Enzi, and this was when the daughter Liz was there."
He added that the Cheneys were likely upset that he had declined to sign a football for them, because he was worried that it might be used for fundraising purposes.
"There was a signing of a football and I said, 'Well, I don't sign balls because if they use them for a fundraiser, then I'm uncomfortable.' Well, that didn't go over very big either," Simpson explained. "It's unfortunate, but it's not going to affect my relationship with Dick Cheney. That's as solid as a rock. And Liz, when she got in, I said I care very deeply about both these people and I have nothing more to say. But when [Lynne] just unloaded, I said, 'Well, then you don't understand my relationship with Mike Enzi, which is very, very deep. And that was that."
The flare-up first became public when Simpson's daughter-in-law, Deb Oakley Simpson, posted about it on her Facebook wall. She said Lynne Cheney told the former senator to "shut your mouth" about his support for Enzi.
In a statement, Lynne Cheney denied the brush-up, saying, "We love Al and Ann. We have been friends for over 40 years. As to the story posted on Facebook, I have to admit I am at a bit of a loss. That simply did not happen."
Simpson declined to address the specific "shut your mouth" allegation to The Huffington Post, but did say he was shocked by Cheney's approach.
Support HuffPost
The Stakes Have Never Been Higher
Before You Go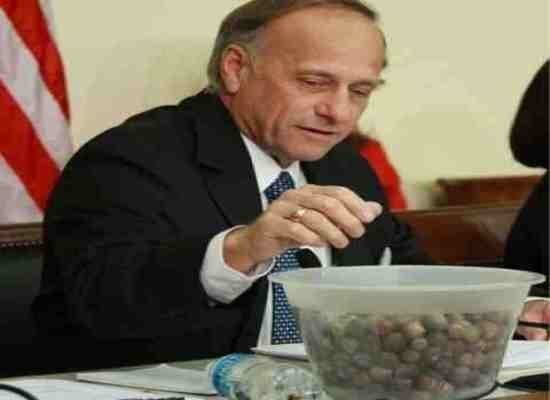 More Crazy Examples of Congressional Theatrics
Popular in the Community