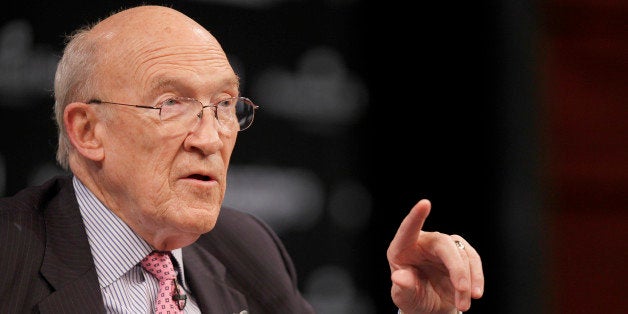 Looking for sex advice? Look no further than 82-year-old former Senator Alan Simpson.
Yes, you read that right.
Simpson, along with his wife Ann, were interviewed for a new podcast from WNYC called "Death, Sex & Money," hosted by reporter Anna Sale. According to a release on the podcast, the Wyoming Republican and his wife have a history with Sale after once intervening in her love life:
While Sale had interviewed the Senator previously on political matters, this interview was sparked by a letter from Sale's long-distance boyfriend Arthur. When their relationship was on the skids, Arthur sent a desperate plea to Senator Simpson, asking him to intervene on his behalf and get Anna to stay. After careful consideration (and encouragement from his wife Ann), Simpson said yes. The resulting conversation with Senator Simpson & Ann sharing thoughts on their marriage, the importance of sex, and how Ann's opinion of her husband's conduct during the Anita Hill hearing (she thought he was a bully).
The Simpsons offered up advice on the podcast, which will also air nationally on "This American Life," based on their own marriage. Ann Simpson said sex is "the hardest thing for all couples to talk about," while the former senator offered up advice on how to keep things exciting.
"It's called intimacy. Scratch my back, give me a hug," Simpson said, according to the release. "Just a hug, I'd say, ok [pant-pant-pant]. Just a touch, you know, a whack on the fanny in the kitchen."
Calling all HuffPost superfans!
Sign up for membership to become a founding member and help shape HuffPost's next chapter
BEFORE YOU GO
PHOTO GALLERY
Santorum Talks Sex