Leonardo da Vinci's Salvator Mundi was in The City last week – making its USA debut at the Minnesota Street Project in an up-and-coming area known as Dogpatch. Dated around 1500 and acknowledged as the most important art discovery of the 21st century, the painting will be auctioned in New York on November 15 at Christie's 20th Century Week Evening Sales. I met with Alan Wintermute, a Vice President of Christie's Inc. and of Christie's, and a specialist in Old Master Paintings. We talked about the adventure behind the restoration of the Salvator Mundi. "The head of the restoration team is Dianne Modestini. She heads the Conservation Center of the Institute of Fine Arts at New York University."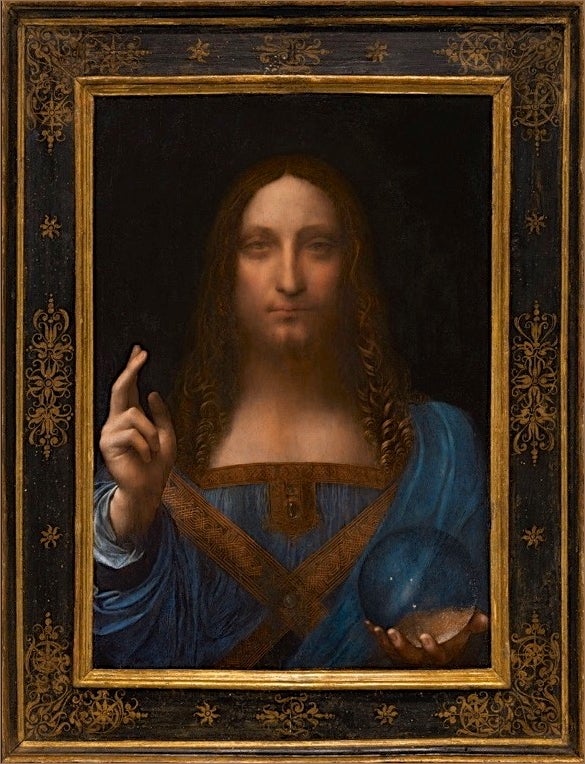 "Over many years," said Alan, "there had been restorations which involved over-painting. Layers of paint on top of paint. In some cases, you don't always know why they do it. But it probably started within fifty or a hundred years of the painting being made and it would have continued periodically in various collections. People tend to restore things or clean them or do something to them every forty or fifty years. So, there would have been multiple campaigns over the centuries. Sometimes it was easier to re-paint parts of it than to clean it. People did some funny things. There are centuries of over-paint that obscured the surface. They were cleaned off. And Leonardo emerged."
The painting appears fresh and vibrant. Given its previous condition, could this degree of achievement been possible fifty or a hundred years ago?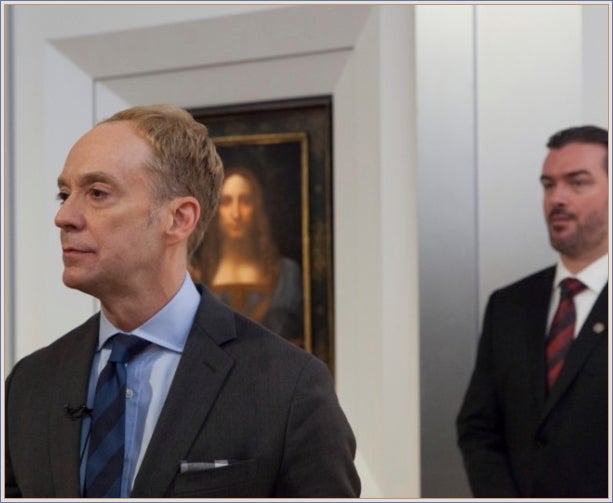 "Yes. There are techniques that were used to explore what happened under the surface. Infrared reflectology and x-rays – which have been used for a long time. But they are much more sophisticated now. You get a much clearer vision beneath the surface of the painting – what happened in earlier stages. Chips of pigment, cross-sections and layers of paint can all be analyzed in a more sophisticated way. But the actual ways in which it is cleaned or restored are very old. What restorers do now – which was not the case many years ago – is that anything you do to a painting to improve its appearance or to restore it should be reversible. You should always be able to take it off. In the past, people would just put paint on top of paint and it would fuse. It would be very hard and in some cases impossible to remove. No one would do that now."
What do we know about the succession of ownership?
"We don't know for whom it was actually painted. There are circumstantial reasons to think it might have been for the French royal court. But we don't really know its history before it is in the English court and belonged to Charles I. That is the first absolute secure documentation. There was an engraving made of it in 1650 by Wenceslas Hollar, who worked in the court of Charles I, and specified it was based on Leonardo da Vinci's original painting. Charles is executed [30 January 1649] and the painting is sold off to pay off his debts. It is returned within nine years and stays in the English collection until the end of the 18th century."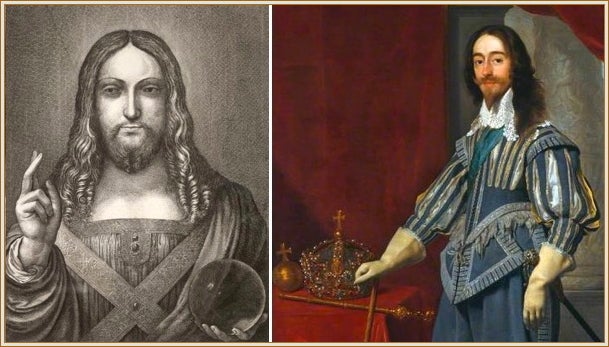 "The Duke of Buckingham – married to an illegitimate heir of the royal family – gets it and then sells his house to George III. It is Buckingham's palace that becomes Buckingham Palace. Some of the contents come with it and some were sold. This painting was sold. It was carefully documented. Then it sort-of disappears for about a century. There are many copies of it by Leonardo's pupils and followers which sometimes appeared in sales as the original. It becomes very confusing and hard to trace. Then the painting reappears clearly at the end of the 19th century when it enters the very eminent Cook Collection and stays there until the '50s when it is sold off as, in fact, a copy – because you couldn't see the surface properly. There were only a few parts that didn't have re-paint, such as a part of his right hand and part of the drapery. Those were the only places where you could see its quality."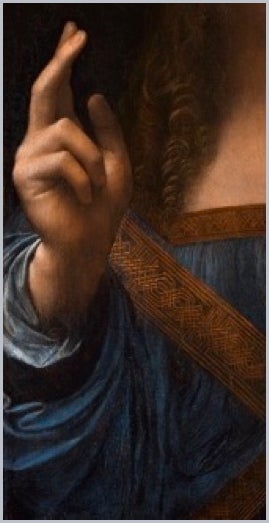 Were there any surprises in this restoration?
"With something like this, what you do is analyze the way it is painted – the particular pigments that are used, how paint is built up. Some artists, such as Willem de Kooning, paint in very quick, thick singular layers. Da Vinci built up with glazes. It's what gives this painting that smokey, sfumato effect. The deep rich shadows, the kind of Mona Lisa smile, the things that come out of the shadows – are built up through multiple and very-very thin layers of pigment. The analysis revealed areas in the face where there are a minimum of five layers of paint that were built up very thinly. You can then look at his other paintings which have been analyzed and see that same technique there. It's quite different from other contemporary artists."

"The face is very characteristic of what we know from other works. Leonardo made a very precise, actual-size drawing of the face. He pierces it in places and chalks it. The chalk marks are then laid on the panel – an outline effect. He uses that as the basis for painting the face. It is such an idealized face. But the rest of it is very loosely painted and completely worked out on the panel. There are shifts in the hand position. The blessing hand has quite significant differences in the way the fingers were posed. The hand under the orb was moved and the stole he wears over his vestments was shifted in different positions. You can see these things with the infrared and x-ray technology. But the face is pretty stable. It really follows the traced drawing very precisely."
Does the Salvator Mundi have immediate relatives bearing the same characteristics?
"The closest would be the Mona Lisa and then the St. John the Baptist. In a way, they share the qualities you most associate with Leonardo – the ambiguity, mystery, the sense of the eternal. And the great profundity. You almost can't put your finger on it. Leonardo is not in France yet, but they are acquired by the King of France. This painting is toward the end of Leonardo's career. I think it was hard and demanding. He was a real perfectionist. He would paint these over many years and leave them unfinished because he had moved on to other things or he wasn't satisfied. But that's what you associate with him in this later period around 1500."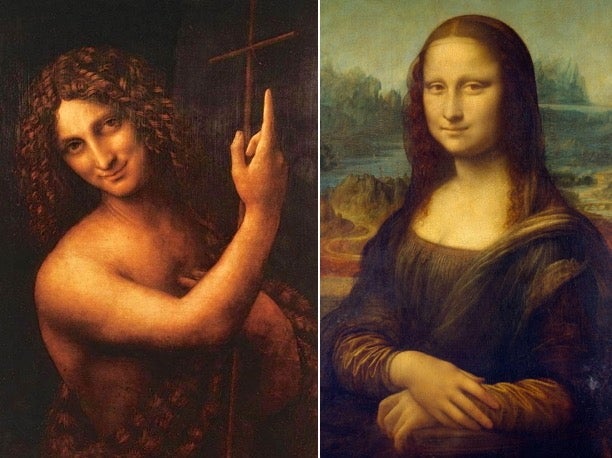 There are no wounds in the hands.
"That's exactly right. And no halo. The painting is obviously what it is – but reduced of a lot of traditional symbolism that you associate with Christ. This is your chance to see the rarest painter in existence – and a great example that we've never seen before and maybe won't see again for a long time."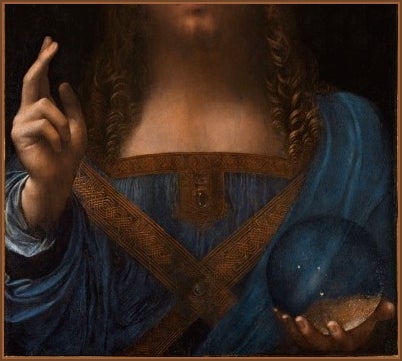 On a personal note – I will never forget that first moment of contact with the painting. It was startling, challenging. My pace slowed down. So, out of the vault at last! Alone with The Alone. The Salvator Mundi of 1500 emerges as the Holy Face of the 21st century. It has returned just in time.
Calling all HuffPost superfans!
Sign up for membership to become a founding member and help shape HuffPost's next chapter
This post was published on the now-closed HuffPost Contributor platform. Contributors control their own work and posted freely to our site. If you need to flag this entry as abusive,
send us an email
.