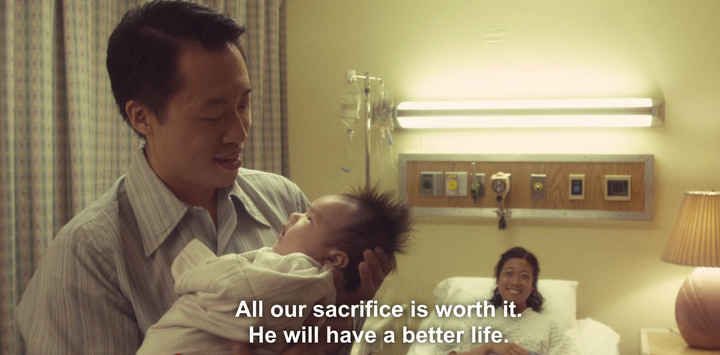 I jumped up from my couch and squealed like a fangirl when Aziz Ansari and Alan Yang won the Emmy for Outstanding Writing for a comedy series (Master of None) Sunday night. The award-winning "Parents" episode brilliantly represented immigrants and their U.S.-born children. Through humor and heartbreak, the episode showed immigrants crossing cultures and enduring racism to make a "better life" for their children who grow up ignorant of their sacrifices. Both Dev (played by Aziz Ansari) and Brian's (played by Kelvin Yu) parents came from humble beginnings and achieved the "American Dream" of prosperity through hard work.
Alan Yang reiterates the model minority myth in his speech: "There's 17 million Asian-Americans in this country, and there's 17 million Italian-Americans. They have 'The Godfather,' 'Goodfellas,' 'Rocky,' 'The Sopranos.' We got Long Duk Dong. So we got a long way to go, but I know we can get there. I believe in us. It's just going to take a lot of hard work. Asian parents out there, if you could just do me a favor and just a couple of you get your kids cameras instead of violins, we would be all good."
Yang's speech places the onus of change on the Asian community to encourage their kids to pick up a "camera" rather than a "violin." However, Hollywood's structural barriers prevent Asian Americans from gaining entree in the first place. Hollywood is dominated by white males across every sector (between 81% and 96% behind the scenes, and between 74% and 93% in front of the scenes). This leads to implicit and explicit biases against hiring people of color, including Asian Americans. Glen Mazzara, a white male executive producer on The Shield (FX) and The Walking Dead (AMC), discussed receiving pushback from network executives when he tried to bring in more writers of color—specifically Asian Americans. He was asked whether he had an "Asian fetish" because he had "two Asians on a writing staff." This demonstrates an industry bias at the executive ranks. After all, Hollywood did not appoint its first Asian American studio executive until 2013 (Kevin Tsujihara, CEO of Warner Bros. Entertainment).
There are also institutional biases against Asian American actors. Asian American actors are losing roles to white actors as more white actors play Asians or white savior leads in all-Asian films. One casting director told me that casting directors see Asian American actors as inexpressive and therefore less castable. As a result, Asian Americans remain largely missing from the majority of entertainment media despite gaining ground in shows like Fresh Off the Boat (ABC), Dr. Ken (ABC), Quantico (ABC), Master of None (Netflix), and The Mindy Project (Hulu). When asked about the Asian "boom" in television, Ken Jeong retorted, "Three out of 409 scripted shows on television. So, is there really a boom? Maybe to white people it's a boom."
The dearth of successful Asian Americans in Hollywood makes the occupational field less attractive to immigrant communities. When there are so few successful Asian Americans in the industry, the risk may seem too high. But the ultimate cause is Hollywood's bamboo ceiling that prevents Asian Americans from entering writers' rooms and even auditions. Giving Asian kids more cameras and less violins is not enough to overturn Hollywood's racial biases. But bringing awareness to these issues through awards speeches is a brilliant beginning.
Popular in the Community