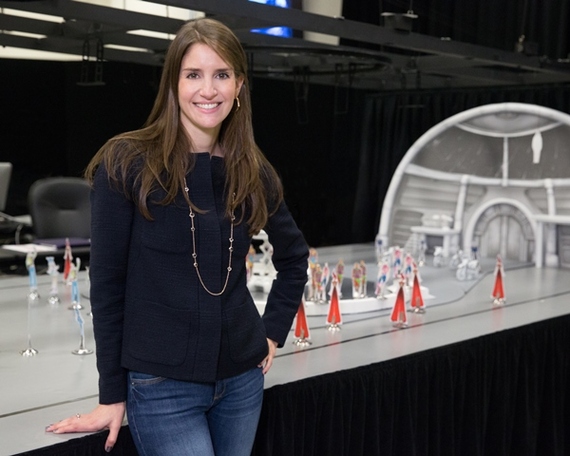 "Nothing is comparable to the experience that is Ringling Bros. and Barnum & Bailey®," says producer, Alana Feld. For the third- generation executive of live entertainment dynasty, Feld Entertainment®, Alana's confidence in the brand known as The Greatest Show On Earth® is well-founded. For nearly 150 years, Ringling Bros. has enraptured the imaginations of Children Of All Ages with its ability to innovate and recreate with the times, all while sustaining its unique brand of curiosity, spectacle and daring. With the latest and arguably the most anticipated production in its history, Ringling Bros. and Barnum & Bailey Presents Out Of This World™ promises to launch the brand into new and unprecedented heights.
"I'm proud of our show. I'm proud of how different it is. I'm proud of the reaction we received in previews," says Alana. Out Of This World is an intergalactic adventure of good vs. evil, friendship, space fleets, bumbling cutups, a charming menagerie and so much more. The production design by Josh Zangen is visually stunning, allowing the imagination of the audience to venture to various planets throughout the galaxy. Technology has tastefully found its way into the world of the circus. State-of-the-art projections instantaneously transform the arena space into a variety of intergalactic settings, and the new Ringling Bros. mobile app allows audiences to play games, take circus-themed selfies that might be featured during the show, and even interact with various circus artists while at the venue. Most notably, ice has been incorporated into the performance space. "Ice adds a whole new energy to the show. It's acrobatic and fast-paced. Skaters are going from the ice to aerial apparatus," says Alana.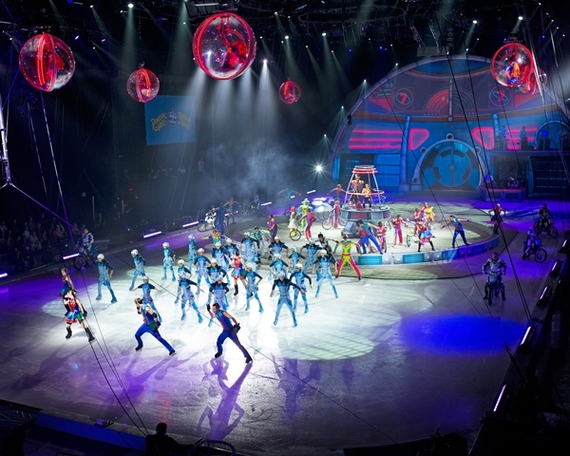 Out Of This World is an evolution of sorts for Ringling Bros., coming on the heels of their most remarkable change to date - the retirement of their beloved elephants. "You can't replace them. They're extraordinary!" she exclaims. "However, the decision to retire the elephants was an opportunity to do something different. You have to change. If you're not changing, you're not growing. Ringling Bros. has always been on the cutting edge."
That respect for change is one she and her sisters, Nicole and Juliette - also executives in the family business - learned from their father, Kenneth Feld. "Between the three of us, we're a great combination to try to fill our dad's shoes," says Alana. However, with Out Of This World, it is clear that Alana Feld seeks to do more than fill her father's shoes. "We're doing things that have never been done in live entertainment. This is the circus of 2016!" she exclaims.
The Ringling Bros. of the 21st Century is on par with the shifts made possible by technology, yet it maintains an understanding of its audience. "The people are our livelihood. If we don't know what they want, we don't know anything. That's what we do. We need to create experiences for them. Be in touch! We have to pay attention. There's a lot of entertainment that really appeals to people that doesn't necessarily appeal to me personally. But what I like is not always what's best for the show. The circus of my childhood would not be the circus our children would want today," she says.
Out Of This World has been a two-year process from conception to its world premiere this July 14 at the STAPLES Center in Los Angeles, CA. The birthing of a Ringling Bros. production is a tremendous undertaking. Add to that an entirely new concept, and the endeavor becomes an epic journey. "I'm proud of how we pushed everyone to think differently to find new solutions to creating this experience," says Alana. Collaboration is the main ingredient. Assembling the best possible candidates to create The Greatest Show On Earth is no small task. Every element of the production requires the utmost attention to detail. Few, if any productions in entertainment present the kind of challenges of a Ringling Bros. show. The unique and specialized talents and their needs are as varied as the many cultures that inhabit The Greatest Show On Earth. "Perhaps the best part of what I do is putting a creative team together. It's not only about finding people who can do the job, but who can work together as well," she says. It is an incredible team that includes creative director Amy Tinkham, director Rye Mullis, costume designer Marco Maronte, choreographer Kevin Wilson, ice choreographer Adam Blake, composer Michael Picton, and writer Malcolm Williamson. Their collaborative efforts coupled with their respective abilities are the anchor to the circus space odyssey.
This team is also a tribute to Alana Feld's acumen as a producer and leader, shepherding The Greatest Show On Earth toward a bold new era. "I hope people see how groundbreaking this kind of entertainment is. It makes me excited for what we're going to do next."
Calling all HuffPost superfans!
Sign up for membership to become a founding member and help shape HuffPost's next chapter