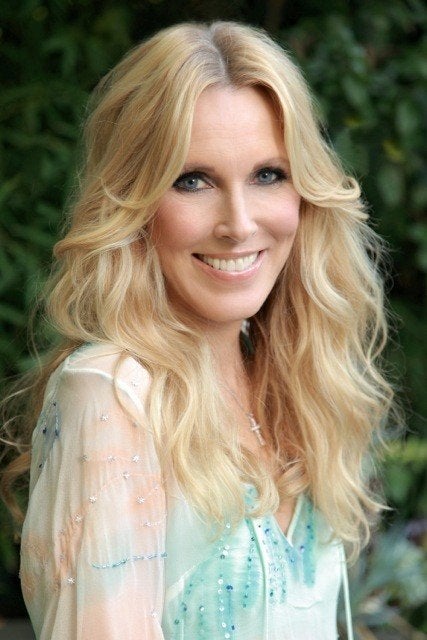 Former model and talk-show host Alana Stewart, 67, has recently published a new memoir, "Rearview Mirror." In it, Stewart, who was married to actor George Hamilton and singer Rod Stewart -- both of whom she later divorced -- describes a childhood of poverty in Texas, her life-changing move to New York and California to model, and her close friendship with the late Farrah Fawcett.
We recently had the opportunity to chat with Stewart about her life, spirituality and staying vibrant at age 67.
Why write "Rearview Mirror" now?

I hope that anyone who reads it takes away something useful. I wanted to write it now. I have gone through so many challenges and difficult experiences. When people share the tools they've used to get through these experiences, it can be very helpful. I've been in 12-step programs for many years and this started me on my healing path as I heard others share their stories. It helps me so much and helps me have a place to go to share my own pain. I grew up in Nacogdoches, Texas ... raised by my grandmother. We were very poor and had no indoor plumbing. My grandmother was a very religious woman though and she gave me a lot of faith and inner strength. I moved back in with my mother when I was 9. My mother died of an overdose from prescription drugs. I got a strong foundation from my grandmother though. She died in 1977 and never got to see my children.
What is the main message you hope to convey with your memoir?

The message is that no matter what station in life you're in, we are all the same on the inside and we all suffer the same difficulties and have the same feelings in the end. That's what I learned in 12-step programs. I grew up poor and used to look at people in big houses and thought they had everything. Then later on I looked at models in magazines and thought they had it all. When you have the ability to live that life to some extent you find out that they don't have any magic cure for everything.
How do you stay so vibrant at 67?

I have been told to not think of myself as an age and that's what I've been doing since I was about 50. I've never had my face done. But I probably will one day. I have nothing against it. I'm just a bit scared of it and it's also terribly expensive. I've elected to age gracefully. I do get up in the morning and I try to spend at least half an hour meditating and reading something spiritual. I start my day with meditation and prayer and I truly believe that all the stuff you do on the outside isn't as important as what you do on the inside. I don't worry about gaining weight. I'm fortunate in that I've never had to worry about that. Some people eat when they are stressed. I don't eat enough.
How is it to have three grown children? Are you close?

Yes, and even when they are grown, you still get calls from them constantly. They don't go away and I wouldn't want them to. The kids are still in Los Angeles and I'm still very involved. I talk to my daughter every day. She has a daughter who is 16 months. I see them all the time.
If one could only read one part of your book, what should that be? What's your favorite part?

I like the last chapter because I wrap up what I've learned and where I am today. It's infinitely different from where I was as a young woman. When my second marriage broke up, I fell apart. I really started 12-step programs then and studied various spiritual teachings. Marianne Williamson is a very dear friend. Chopra became a friend and helped me a lot. I've become a seeker. I have always been on a path, looking for answers.
What would you tell your 21-year-old self today?

I would tell my 21-year-old self to strengthen your faith in some way. My minister once said, "if you choose any kind of spiritual teaching and you study it for at least two years, your life will change for the better." And I believe that. I wouldn't say you have to be involved in an organized religion but you need some kind of spiritual support. A 12-step program provides spiritual support. I also go to a non-denominational church. I have a strong belief that there is a god or a higher power. I think that if you have a strong belief in that, then you won't feel alone in life and you will feel you can get through anything. We all have an inner strength. We just have to access it.
What is there left that you'd still like to accomplish?

I want to be able to travel and I want to write more books. I still want to work. I just did a pilot for a TV project but I'm not allowed to talk about it yet. I feel like there is a lot of life I want to live yet. I don't want to be busy all the time though. I like to have a balance. I like to have time where I can spend quiet time with myself. I love being by myself ... to my detriment actually I could stay home a good deal of the time. But I am quite active too. I'm the president of the Farrah Fawcett Foundation. It is my passion. I always wanted to do something to give back and we support cancer research. I take great pride in being able to be president of this.

Popular in the Community