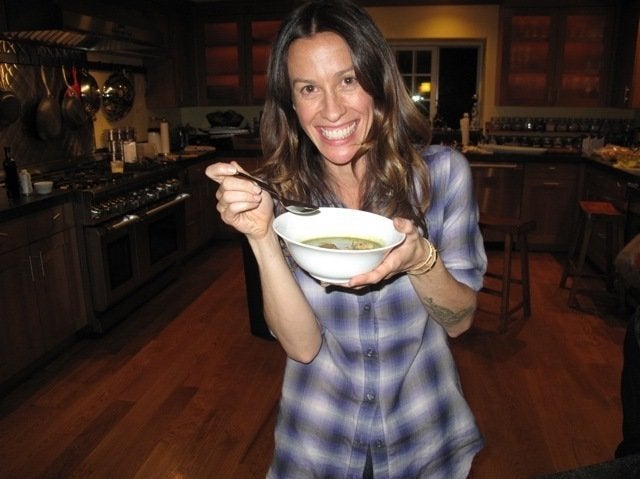 Integration (AKA "growing up") is the new frontier for me these days, and it has been showing up in so many different ways:
-- Working mixed with fun
-- Service mixed with self-care
-- Sex combined with profound connection
-- Practical "root chakra" considerations seen through the lens of the more soulful "crown chakra" ones
-- Athleticism combined with activism
-- Art as social commentary and consciousness raising service
-- Beautifying self and environments while considering the earth's longterm well-being...
There is no better combo these days than healthful eating combined with sensual rapturous-ness and satisfaction. :)
This was never more the case than a few nights ago, when I invited the luminous Anna Thomas to come to my house, along with 25 of my girlfriends, to learn how to make soup from her. She just released a book called "Love Soup" and, those being two things I am obsessed with, I thought we'd both might be oriented to a similar 'true north'.
The opportunity to have 25 women in one place is my FANTASY, as without my ladeez I am NOTHIN'. And a gaggle of them all about, all focused on Anna's labors, fruits and guidance was right up there in my top 10 favorite communal experiences.
The hands-down favorites were the green soups, proving that healthy does not have to mean disgusting.
It's as though all the investigations, health-wise, that I have been embarking upon over the last year or so have culminated, and become more and more multi-layered and variety-filled and FUN. Whether it's been doing marathons for charity (for NEDA -- National Eating Disorder Association -- and the Masaai conservation trust), yoga and kirtan with my brother Wade two days ago, playing volleyball with friends on the beach, committing time to my spiritual practice, going to workshops (Jack Kornfield and Daniel Siegel most recently), carving out the perfect amount of time to write my new book, etc, etc, the theme seems to be: COMBINE AND INTEGRATE ALL... creating the bridge between the extremes. Finding the delicate balance between too much and too little. If moderation is a clear symptom of growing up, I must have been stuck at "7-year-old-ranger" for a long time. :)
I had no idea growing up could be so sexy and delicious and fun, and kind on the body. :)
I used to think being hip meant being tweaked somehow. Dutch angle lens. Tortured. Overburdened. (Back of hand on forehead.) Now I see that it really just meant depleted and unfulfilled. Ouch. That essential hipness and stream of consciousness expression actually comes through me most when I am FULL.
Here's to the pendulum coming back to the middle, to women, to raising our own bars higher than we ever imagined possible, and to Anna (thank you Anna, you are the coolest) and to awakening and to growing up and to delicious winter soup.
Some pictures from the party:
Related
Popular in the Community