Who knew that climate change had an 'evil twin'? Alaska's commercial fishermen knew, that's who, and to mark Labor Day weekend they took bold action in an attempt to protect their livelihood and the health of ocean fisheries worldwide, sending an 'Acid Ocean SOS' made of bodies, boats and buoys on the waters off Homer Alaska.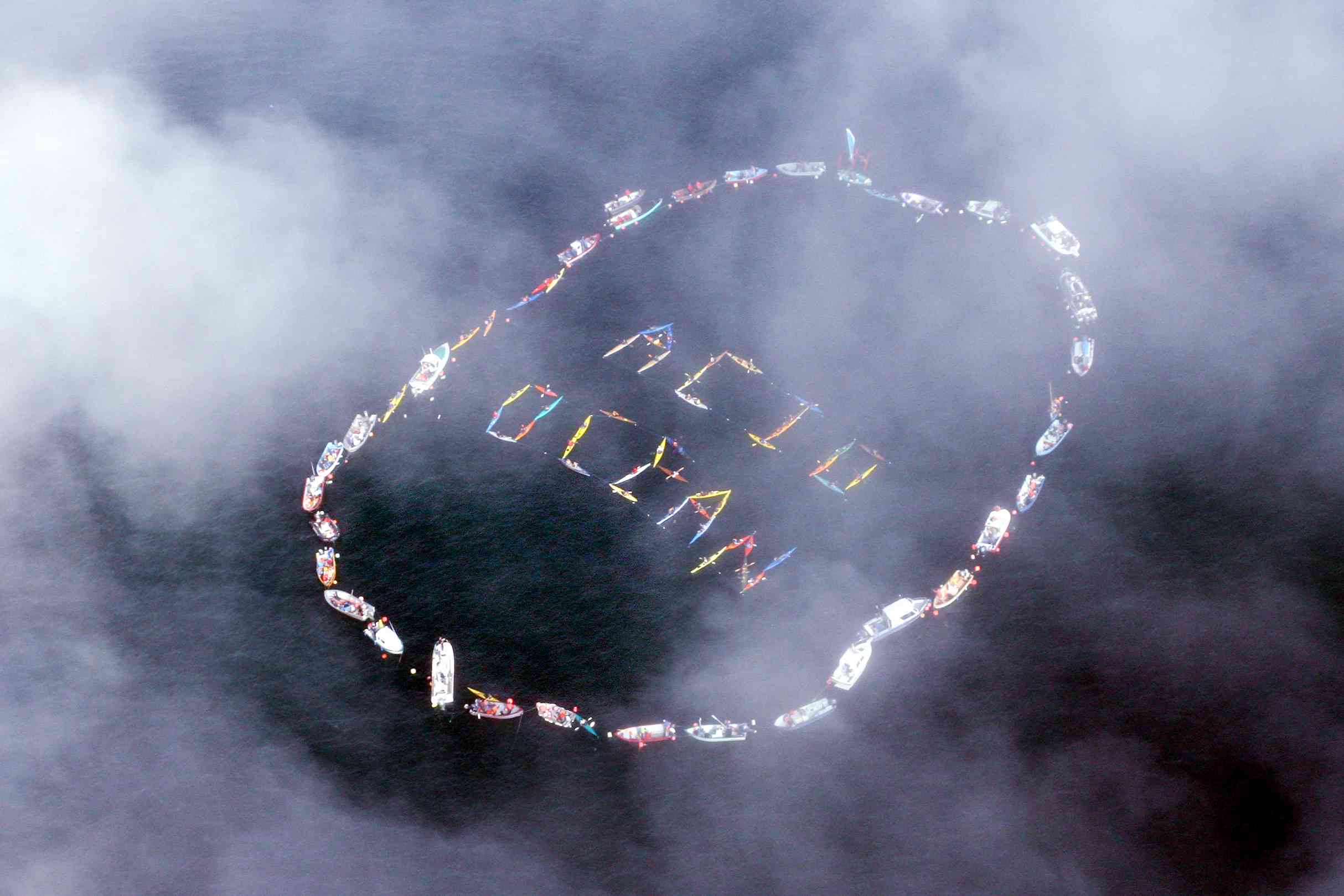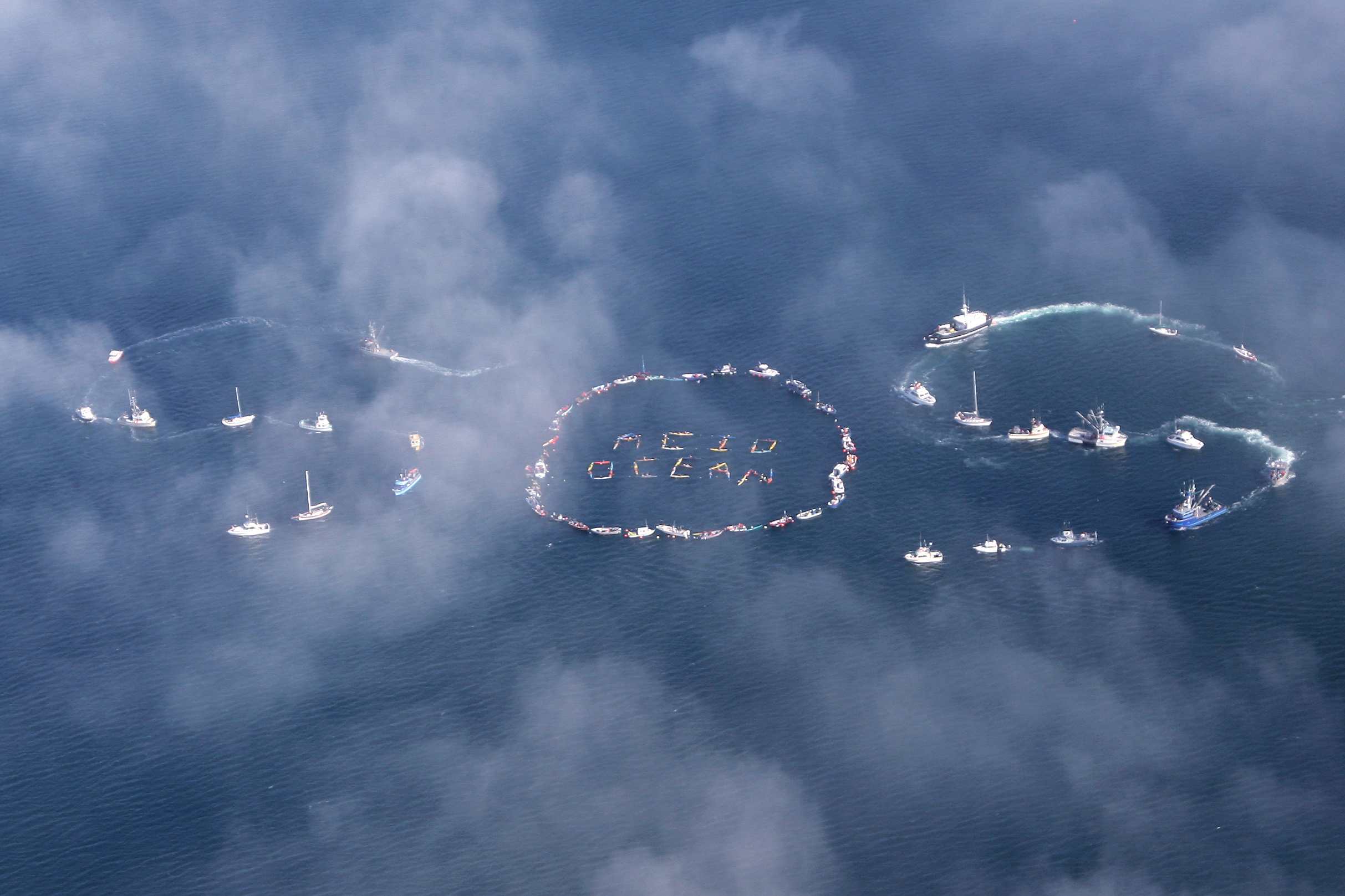 Photos here courtesy of Lou Dematteis show the event from the air.
The weather seemed to be on their side, and this compelling video shows a parting in the dense fog revealing their action so that Emmy Award-Winning Videographer Daniel Zatz could capture the event with a cineflex gyroscopic helicam.
Timed to spell out the message "Acid Ocean SOS" in the tight window that tides permitted, this Labor Day weekend event marked a rare collaboration between commercial fishermen and the conservation community in the region. Participants hope the 'SOS' will be heard by the US Congress and international leaders participating in the upcoming United Nations climate negotiations in Copenhagen, and that their call for help will result in definitive action to curb ocean acidification, referred to by scientists as the 'evil twin' of climate change.
"Fishermen and others who depend on Alaska's rich marine resources are coming together as one voice in support of reducing fossil fuel consumption and moving to a renewable energy future. This is the only real solution to ocean acidification and the time to act is right now," said Alan Parks, a small-scale family fisherman from Homer whose primary source of income is commercial fishing in Alaska. Parks helped organize fisherman for the event with Alaska Marine Conservation Council.
"Alaska's senators know that ocean acidification is a looming danger to our fisheries," said Parks. "This message from fishermen is to support our leaders in taking the necessary action now to reduce carbon emissions. Time is of the essence."
Parks and others are asking leaders to follow science and not politics, and with this 'SOS' are calling on state, national, and international leaders to protect the ocean from the acidifying, oxygen-depleting, and climate-altering impacts of uncontrolled fossil fuel emissions.
"This is the first significant show of numbers, vessels, and determination from the north pacific fishing industry, but it is not the last," said Brad Warren of the Sustainable Fisheries Partnership. "Some 3 billion people get their food from the sea and there are a lot of a people who want to keep it that way. We expect to see people from the seafood industry around the world taking up this same issue of ocean acidification with the same intent--to get a strong international carbon policy that protects oceans, fisheries and fishing industry jobs."
Aerial artist John Quigley, who has done similar actions on land and ice, but never before at sea, said, "This message from the sea is a call for people around the world to join in a visual declaration to urge leaders to immediately adopt a treaty that reduces greenhouse gas emissions, stabilizes the climate, and protects the oceans."
Recent research confirms that acidification is caused by billions of tons of carbon dioxide that rise from smokestacks and tailpipes every year and mix into the sea. In seawater, the gas forms an acid that attacks the foundation of marine food webs. The same pollution that drives climate change also undercuts fisheries around the world, especially in the vulnerable North Pacific off Alaska and the Pacific Northwest, which produce more than two thirds of the U.S. seafood harvest. The North Pacific is a global repository for carbon dioxide in the oceans.
REAL LIFE. REAL NEWS. REAL VOICES.
Help us tell more of the stories that matter from voices that too often remain unheard.