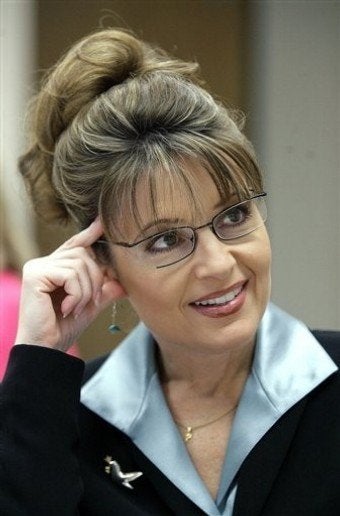 The Obama campaign is trotting out a gubernatorial endorsement for his energy policy today... from Republican Alaska Governor and long-shot VP candidate Sarah Palin.
An aide to the presumptive Democratic nominee sent over a link to a Palin press release Tuesday morning in which the governor praised Obama for, among other things, calling for the completion of the Alaska natural gas pipeline and proposing $1,000 rebates for families struggling with energy costs.
"We in Alaska feel that crunch and are taking steps to address it right here at home," Palin's press release read. "This is a tool that must be on the table to buy us time until our long-term energy plans can be put into place. We have already enjoyed the support of Alaska Senator Ted Stevens, and it is gratifying to see Senator Obama get on board."
(Stevens and Obama in one press release!)
Palin did take exception to other aspects of Obama's energy proposals, specifically a windfall profits tax on oil. And on Tuesday morning, the Republican National Committee shot around a series of newspaper headlines focused primarily on Obama's "shift" on tapping oil reserves. The articles themselves were more complimentary than the RNC's email headline -- "Does Obama's energy message need another tune-up?" -- suggested.
But for Palin to offer up praise is, within the context of the general election, of some significance. For starters, the governor is occasionally hinted at as a possible vice president (most prominently by conservative columnist Bill Kristol). In addition, unlike Democratic candidates past, Obama actually plans to compete in Alaska. A nod from the state's governor could prove a long-term benefit.
Popular in the Community