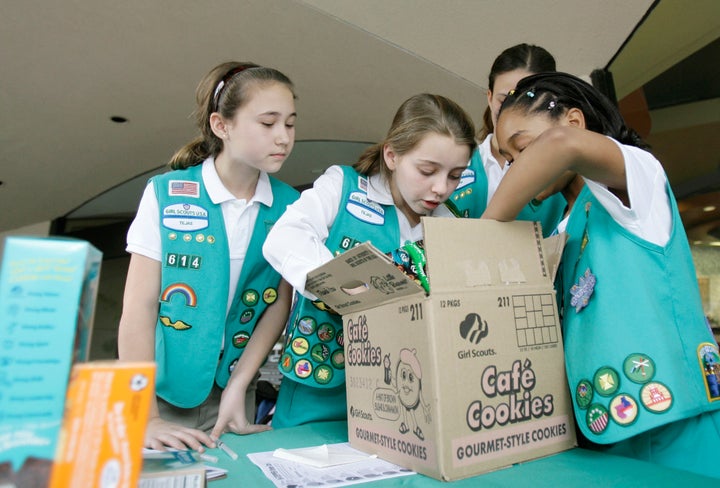 What appeared to be a routine resolution in Alaska's legislature honoring the 100th anniversary of the Girl Scouts was blocked on Thursday when a representative from Sarah Palin's hometown demanded more information about internet rumors surrounding the group.
The Anchorage Daily News reported that Republican Rep. Wes Keller of Wasilla refused to allow the resolution out of his committee because of claims that the Girl Scouts were linked to Planned Parenthood.
"I'm sure you are aware of the information that's floating around the internet, and I'd like to give you the opportunity to respond to your connection, the Girl Scout connection, with Planned Parenthood and the activist role in that -- is there a connection? Is there not? Frankly, I haven't looked into it but I see it's out there," Keller told Katya Wassillie, an intern who was given the chance to introduce the resolution by Democratic state Sen. Bettye Davis.
Davis quickly stepped in after Keller's questions, telling him that, "I don't have a statement to make on that. I'm not familiar that the Girl Scouts is tied up with anything with Planned Parenthood, and that's not a part of this."
Keller held fast at the hearing, demanding more information on the rumors before allowing further action, and later released a statement defending his actions. "I did not establish a link; I simply asked the question, nothing more," he wrote along with state Rep. Anna Fairclough (R) on Friday.
But during remarks on the House floor on Friday, according to the Daily News Keller softened his tone. He praised the Girl Scouts for their "values, leadership, self-sufficiency, service, dignity, about family values" and jokingly said that he was in the market to buy Girl Scout cookies.
The Girl Scouts of Alaska issued a statement in response to Keller, calling his charges groundless. "We take no position on the subjects of birth control or abortion and we believe these topics are best discussed between girls and their families. Neither Girl Scouts of USA, nor Girl Scouts of Alaska has a relationship or partnership with Planned Parenthood," the group wrote on Friday. Nevertheless, Keller's requests for further information continue to block passage of the resolution.
The incident recalled the comments of Republican Indiana Rep. Bob Morris, who called the Girl Scouts a "radicalized organization" based on similar rumors. Morris sent a letter to Indiana lawmakers saying he was planning to withdraw his daughters from the Girl Scouts, alleging that they "are a tactical arm of Planned Parenthood, encourage sex and allow transgender females to join."
Watch video of the event below:
Popular in the Community