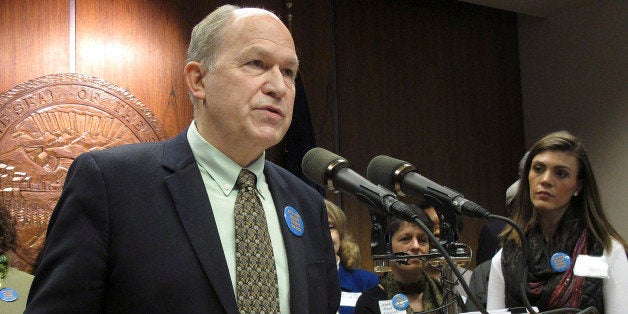 WASHINGTON -- Alaska would become the latest state to sign on to a major expansion of Medicaid under the Affordable Care Act through a plan announced by Gov. Bill Walker on Thursday.
Walker, a Republican-turned-independent elected in 2014 on a platform that included Medicaid expansion, had been courting the Republican-led state legislature on the issue. But after lawmakers failed to advance his proposal in their latest session, he decided to carry out the policy on his own authority, he said during a press conference at the Alaska Native Tribal Health Consortium headquarters in Anchorage. Absent legislative action to halt or alter the plan, the expansion will take effect Sept. 1, the governor said.
Broadening eligibility for the federal-state health care program could give coverage to as many as 42,000 Alaskans, according to the governor's office. Walker informed the state legislature's joint budget committee of his intent to accept federal funding for the expansion in a letter Thursday. He said he will meet with U.S. Health and Human Services Secretary Sylvia Mathews Burwell to discuss Medicaid expansion next week.
"Alaska and Alaskans cannot wait any longer," Walker said. "This is the final option for me. I've tried everything else," he said of his decision to circumvent lawmakers after months of lobbying them to enact his plan via legislation. "I never give up, and I won't give up."
When Congress enacted the Affordable Care Act in 2010, the law called for a nationwide expansion of Medicaid to anyone earning up to 133 percent of the federal poverty level, which is about $15,650 for a single person and $32,250 for a family of four. But in 2012, the Supreme Court ruled that states could opt out of the expansion. Under Walker's plan, Alaska would join 30 other states and the District of Columbia in voluntarily adopting the policy.
Besides Alaska, two other states have joined the Medicaid expansion this year. Montana's version of the policy, favored by Democratic Gov. Steve Bullock and enacted by a majority Republican legislature, awaits federal approval. The plan faces obstacles because the state seeks to add requirements for new enrollees, such as the paying of monthly premiums, that aren't part of traditional Medicaid programs. Indiana officials, led by Republican Gov. Mike Pence, won a federal OK to use the Affordable Care Act's Medicaid financing to expand a state program that uses private health insurance plans and health savings accounts to cover low-income people.
The Obama administration had previously approved modified Medicaid expansions in several other states, including Arkansas, Iowa, Michigan and Ohio.
Fresh off his victory against another Supreme Court challenge to the Affordable Care Act last month, President Barack Obama has vowed to promote Medicaid expansion in the holdout states. He made his case in person during a visit to Nashville, Tennessee, in June. Tennessee Gov. Bill Haslam (R) presented a plan for a version of Medicaid expansion to the state's GOP-majority legislature this year, but lawmakers rejected it. Utah Gov. Gary Herbert (R) also is trying to move a Medicaid plan through his state's Republican-led legislature, but the plan has suffered setbacks.
Walker's plan in Alaska could similarly face resistance from GOP state lawmakers, even with the legislature currently out of session. The Legislative Budget and Audit Committee, which Walker notified of his plans on Thursday, operates even when the legislature isn't in session. The committee will have 45 days to endorse the plan, recommend against it or take no action, according to a press release from the governor's office. Walker said during the press conference that he had advised state Rep. Mike Hawker (R), the committee chairman, of his plans to unilaterally expand Medicaid earlier in the week.
While the governor didn't call for lawmakers to reconvene, he noted that they could choose to do so in order to debate, and possibly attempt to block, his plan within the 45-day window.
Earlier this year, Republicans in the legislature attempted to prevent Walker from acting on Medicaid without new legislation by including language in the state's budget prohibiting any such move. Official opinions from the Alaska Department of Law and from the legislature's legal counsel, however, declared that the effort to block Walker likely doesn't adhere to the state's constitution.
Walker defended his decision on Thursday, saying that previous Alaska governors have used the same authority to accept money from sources outside the state's general fund on seven prior occasions. Governors in other states, including Kentucky and Ohio, also adopted the Medicaid expansion without new legislation.
This story has been updated with additional information from Walker's press conference.

Popular in the Community