WASHINGTON — The Arctic coastal plain of northeastern Alaska serves as a summer safe haven for the porcupine caribou herd. It is here that cows come to give birth, and it is where the herd forages and escapes predators.
For thousands of years, the Gwich'in people, an indigenous tribe of northern Alaska and Canada, have relied on the caribou as a primary food source. But even when Gwich'in were facing starvation, they kept out of the herd's calving grounds, tribal member Bernadette Demientieff told HuffPost at a rally Wednesday outside the U.S. Capitol.
The Gwich'in call the coastal plain — part of the Arctic National Wildlife Refuge — "Iizhik Gwats'an Gwnadaii Goodlit," or "the sacred place where life begins." And today they are fighting — once again — to keep oil and gas development out of this fragile landscape.
"Our voices need to be heard," Demientieff told HuffPost, adding that the Gwich'in people think they've been ignored by Alaska's all-Republican congressional delegation.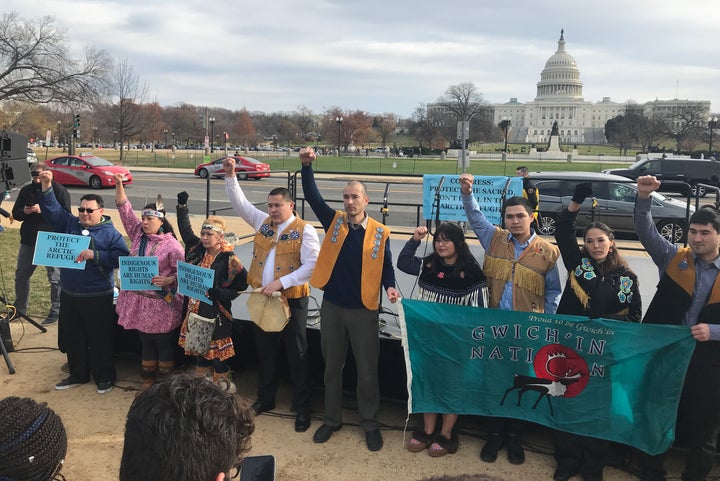 Last week, the Senate passed a wildly unpopular tax overhaul bill that includes a provision pushed by Sen. Lisa Murkowski (R-Alaska) that would require Interior Secretary Ryan Zinke to approve at least two lease sales for drilling — each consisting of no fewer than 400,000 acres — in the refuge's 1.5 million-acre coastal plain. The issue of drilling in this part of refuge, also known as the 1002 Area, has been the subject of a decades-long battle between energy producers and conservationists.
On Wednesday — the 57th anniversary of the executive order establishing the refuge — members of the Gwich'in Nation, Alaska's Inupiaq tribe and other indigenous groups gathered on the National Mall outside the U.S. Capitol to demand that Congress remove Murkowski's provision from the tax bill and abandon opening the coastal plain to fossil fuel development. Allowing drilling, they stressed, could forever destroy Alaska natives' subsistence lifestyle.
"We just want to continue to live our way of life," Demientieff, the executive director of the Gwich'in Steering Committee, told the crowd of about 100 people. "We're not asking for anything. We just want to continue to have our food security, to have healthy land, to have healthy animals to hunt."
Jeffrey Peter, a member of a Canadian band of Gwich'in, said his people have evolved alongside and "share the fate of the caribou."
"I'm not a politician. I'm not a public speaker," he said. "I'm just an individual who cares about this very deeply. This means everything to me. And it means everything to my people."
Peter said he "deserves the right to pass on this knowledge and these traditions that have been carried through generations," adding that his first child is expected in a few months
Those speaking at the rally included Democratic Sens. Elizabeth Warren of Massachusetts, Jeff Merkley of Oregon and Tom Udall of New Mexico. Each said they would do what that can to support the Alaska natives' in their fight to protect the lands they consider sacred.
"This is part of a big battle for our Mother Earth, for our beautiful blue-green planet," Merkley said. "But let's make sure we win this particular piece of this battle."
After decades of unsuccessful attempts to open up the coastal plain to energy development, Republicans appear on the brink of victory. All that stands in the way of the tax bill becoming law is for the Senate and House to hash out a compromise version. The House passed its own tax bill last month.
Murkowski's legislation would allow for 2,000 acres of the refuge's 1.5 million-acre coastal plain to be developed with wells and support facilities, and is expected to bring in an estimated $1.1 billion in federal revenues by 2027.
The senator has called it "a tremendous opportunity" for Alaska and the country, and said she's "confident" drilling would not come at the expense of the environment.
"For many of us, we believe that this area — this very productive area — is actually one of the best places that we can go for responsible development, and that we should have done it some time ago," she said at a recent hearing of the Senate Energy and Natural Resources Committee.
Described by some as "America's Serengeti," the refuge covers more than 19 million acres in northeastern Alaska and is home to polar bears, moose and hundreds of species of migratory bird. Scientists, environmentalists, a bipartisan group of former Interior Department officials and even a group of 12 House Republicans have warned that energy production could spoil the landscape and harm the species that call it home.
On its website, the U.S. Fish and Wildlife Service writes that despite the many hardships the porcupine caribou herd faces, it stages "a magnificent wildlife spectacle on the Arctic coastal plain" each summer.
"The caribou are a vital part of the natural system that operates there," the website reads. "Unalterably linked to the area, the herd both depends on and enhances the dynamic wilderness that is the Arctic Refuge."
In 2015, FWS recommended that the coastal plain be designated as wilderness, a move that would have permanently protected the area from commercial development. With President Donald Trump in office, however, FWS has reversed course, voicing support for oil and gas extraction in this remote ecosystem.
"We support responsible development, in whatever form or fashion that best occurs in," Greg Sheehan, principal deputy director of FWS, said at a November congressional hearing. He added that if Congress passed legislation, the agency would "use the best science, the best technologies and other strategies" to ensure activities have the "least amount of impact on the native wildlife species."
But Demientieff said her people aren't going to back down ― and she remains confident they will prevail. "They are not getting into the refuge," she said.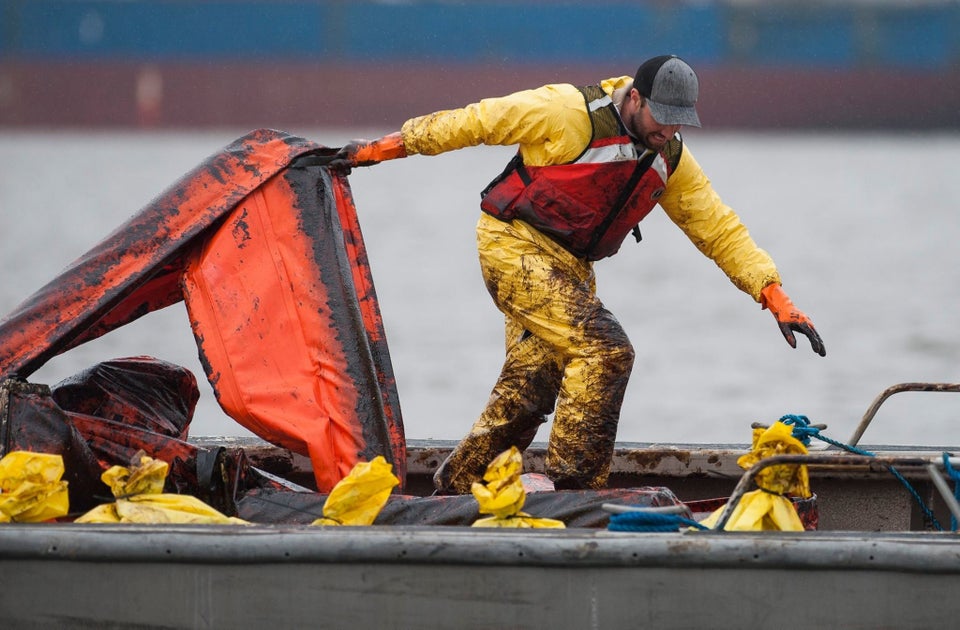 Recent Oil Spills