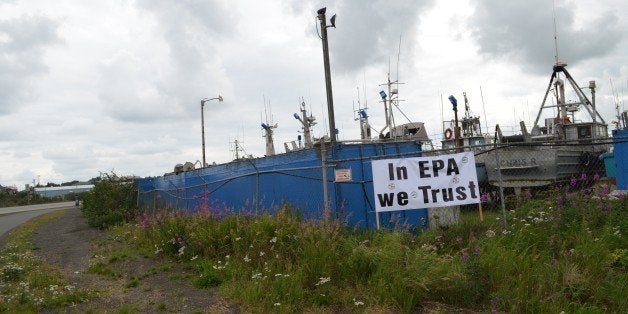 DILLINGHAM, Alaska -- Most Dillingham residents say they don't have a problem with mines. They just have a problem with a massive mine in their backyard, in the heart of the streams and wetlands that feed the world's largest salmon fishery.
The concern has led to a decadelong fight over the proposed Pebble Mine, an open-pit copper and gold mine that, if constructed, would likely be the largest of its type in North America, covering up to 6.9 square miles and plunging more than three-quarters of a mile into the earth. The mine's wastewater tailing ponds could cover another 18.8 square miles. The proposed site for this development sits at the headwaters of the Nushagak and Kvichak rivers, which feed into the Bristol Bay, a region that produces nearly half of the world's wild sockeye, as well as coho, chinook, pink and chum salmon, which has made the proposed mine a major flashpoint here.
"There is no place like this left on the planet," said Fritz Johnson, a commercial fisherman and the regional fisheries director for the Bristol Bay Economic Development Corp. "I have no problem with people digging up copper and gold someplace else. But this is not the place. There's too much to be lost."
Johnson took a few reporters out on his boat, The Jazz, on Friday. It is the tail end of the season here; most salmon have already gone upriver to spawn. But still, just a few brief runs with this drift net, and they had pulled in a dozen salmon, pinks and silvers wiggling on the deck, a stopover point before landing on someone's plate. "It doesn't make sense to me that you would risk sacrificing what Bristol Bay has," Johnson said.
Fritz Johnson sorts salmon on the deck of his boat, The Jazz.
The Environmental Protection Agency agrees with Johnson and a number of other commercial, sport and subsistence fishermen who rely on the bay. A group of six native tribes first asked the EPA to step in to stop the mine in 2010, requesting that the agency use its authority under Section 404(c) of the Clean Water Act, which allows the EPA to deny a permit for the discharge of dredged or fill material if the agency finds that doing so would cause an "unacceptable adverse effect on municipal water supplies, shellfish beds and fishery areas."
In February, the EPA announced that it was beginning the process of evaluating protections for the region under 404(c), and in July the agency released its proposed restrictions. Given the number of waterways and wetlands in the region, digging even a mine much smaller than what Pebble has indicated it is interested in building and constructing tailing ponds for its waste would lead to discharge into the waterways that "would result in complete loss of fish habitat," the agency found. Bristol Bay, the EPA said, is "remarkable as one of the last places on Earth with such bountiful and sustainable harvests of wild salmon."
EPA representatives traveled the state last week to take public comments on its proposed restrictions, holding seven listening sessions in the region. The biggest town near the proposed mine site, Dillingham, has been at the epicenter of opposition to Pebble. In the town of 2,400 year-round residents, the EPA got a welcome it probably doesn't see in many remote parts of the United States, with a sign posted on the road leading into town declaring, "In EPA We Trust."
Seventy-five people lined up to speak at the hearing in the middle school gymnasium on Thursday. While the hearing two days earlier in Anchorage had more of a balance of speakers for and against the mine, the vast majority of folks at the Dillingham hearing were against it. Many referred to the recent spill from a tailings pond at the Mount Polley gold and copper mine in British Columbia, which they saw as a warning about potential spills in the Bristol Bay ecosystem. Many speakers thanked the EPA for stepping in and effectively stopping the mine. "I love my community, I love my region. And so far, I love the EPA," Sarah Evans told the gathered officials.
Attendees at the Dillingham hearing on the EPA's proposed restrictions on mining in Bristol Bay.
Even many folks who attested that they're not usually big fans of the EPA were grateful, in this case. "I don't trust EPA. I never did, and I was a federal regulator on the North Pacific Fishery Management Council for nine years," Robin Samuelson, a fisherman and representative of several community and business groups in the region, told The Huffington Post at the hearing. "But when the state turned their back ... they've never met with us. We've requested meeting upon meeting. They've never come out and met with us, not once. The state is drill baby drill, the hell with you guys in Bristol Bay, we're going for big oil and big mines. I'm very glad the EPA stepped in."
The EPA's action here is rare; the agency has only invoked protections under this portion of the Clean Water Act 13 times since it became law in 1972, and doing so before a company has even applied for federal permits is even more rare, used only once before. While the Pebble project has been a subject of conversation here for more than a decade, the Pebble Limited Partnership has not yet filed a formal proposal for development. In its analysis, the EPA looked at the range of potential mine sizes that Pebble included in a 2011 filing to the Securities and Exchange Commission, from 2 billion to 6.5 billion tons. Its final restrictions, however, were based on the median size of this type of copper mine worldwide, 250 million tons, and the EPA found its "impacts would still be significant" even at this much smaller size.

The EPA's conclusion has prompted outrage from Pebble Limited Partnership and Northern Dynasty Minerals, which is now the sole owner of the project after former partner Anglo American, as well as the state of Alaska, pulled out last year. Pebble and the state of Alaska have joined in a lawsuit seeking to block the EPA action, which they say was pre-emptive, as the company has not yet submitted a formal proposal for federal permitting.
Pebble Limited Partnership CEO Tom Collier testified at Thursday's hearing in Dillingham as well, protesting the EPA action. Collier, a lawyer who served as chief of staff to former Interior Secretary Bruce Babbitt during the Clinton administration, was brought on as CEO in February.
"I am here to say that I think there's a time and place for us to talk about those issues, and we would be prepared to sit down and do that at any time, any place," Collier said. "My issue is the process that's being used by the EPA. I think the 404 process denies us due process, and I think it's illegal. And we're going to continue to fight against it."
Northern Dynasty's Vice President for Public Affairs Sean Magee also testified that the company is pursuing legal action "to stop what we believe to be a premature and unlawful regulatory process."
"Ultimately we believe there will be another funding partner for Pebble, and we will propose a development plan for consideration to federal and state agencies and the people of Bristol Bay," said Magee. "We hope that day comes sooner rather than later so we can have a real conversation about a development proposal rather than about EPA's hypothetical mine."
The EPA believes it was appropriate to step in early in the process in this case. "Here in this watershed you have a really extraordinary resource. This is the world's greatest sockeye salmon fishery. It's the last, best wild salmon fishery in North America," said Dennis McLerran, the administrator of EPA's Region 10 office, in an interview with The Huffington Post. "We also have had the Pebble Limited Partnership say for many years it's going to come forward with the permit application, and it hasn't. And that has created unprecedented uncertainty for people in this watershed."
"We feel it's time to take action," McLerran said. "The people in this region deserve some certainty."
The EPA has emphasized in its public statements that it sees this as a very rare case -- not one it anticipates replicating in other places. Fear that it might do so more often has already prompted backlash in Congress, where Sens. David Vitter (R-La.) and Joe Manchin (D-W.Va.) have introduced legislation that would bar the agency from exerting 404(c) authority before a company has formally applied for a permit, and would also prevent the agency from revoking a permit it has issued.
Public comment continues through Sept. 19, after which the EPA is expected to issue a final determination. But even if the EPA moves forward with the restrictions, some here still worry that others may later come in with alternative mining proposals.
"As long as there's gold in them there hills, there are going to be folks trying to figure out a way," said Norm Van Vactor, CEO of Bristol Bay Economic Development Corp. Even so, he said, "I think it will put a significant chill on the mining business climate out here for a while, at least provide communities the time to figure out what they want for themselves."
Before You Go

America's Most Endangered Waterways (2013)
Popular in the Community