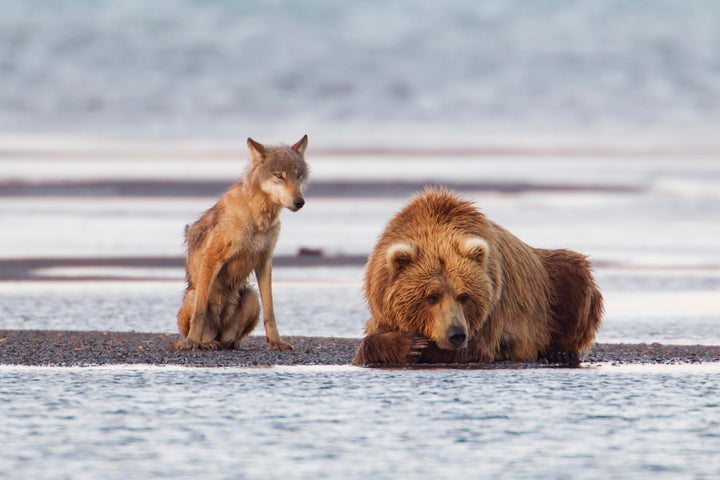 The Trump administration on Monday proposed rolling back a 2015 rule that bans aggressive predator control tactics in national preserves in Alaska, including shooting bear cubs and wolf pups in their dens ― a move immediately blasted by environmental groups.
The proposal, slated to be published Tuesday in the Federal Register, would amend the National Park Service's current regulations to again allow for controversial sport hunting and trapping techniques on roughly 20 million acres of federal lands in Alaska. The park service, part of the Department of the Interior, said lifting the prohibitions would increase hunting opportunities on national preserve land, as Interior Secretary Ryan Zinke called for in a pair of secretarial orders last year.
The proposed rule would allow hunters to lure brown and black bears with bait, hunt black bears and their cubs using artificial lights, shoot bear cubs and wolf and coyote pups in their dens, and use dogs to hunt black bears. It would also allow hunters to shoot swimming caribou from motorboats.
"Allowing the killing of bear cubs and wolf pups in their dens is barbaric and inhumane."
Environmental groups voiced disgust at the attempt to strip away protections.
"I'm outraged that [President Donald] Trump and his trophy-hunting cronies are promoting the senseless slaughter of Alaska's most iconic wildlife," said Collette Adkins, a lawyer and biologist at the Center for Biological Diversity. "Cruel and harmful hunting methods like killing bear cubs and their mothers near dens have no place on our national preserves."
Defenders of Wildlife said the 2015 park service rule prevented "extreme methods of killing predators."
"The Trump administration has somehow reached a new low in protecting wildlife," said Jamie Rappaport Clark, the nonprofit's president and CEO. "Allowing the killing of bear cubs and wolf pups in their dens is barbaric and inhumane. The proposed regulations cast aside the very purpose of national parks to protect wildlife and wild places."
The park service said in an emailed statement the proposed rule would "establish consistency" with state regulations.
"The conservation of wildlife and habitat for future generations is a goal we share with Alaska," agency regional director Bert Frost said.
A 60-day public comment period begins Tuesday.
The proposal comes a little more than a year after Congress approved a measure to repeal an Obama-era rule that largely banned hunting of Alaska's most iconic predators in Alaska's national wildlife refuges. The Republican-sponsored legislation opened the door for the state to resume aggressive predator control tactics, including shooting bears and wolves from airplanes, on more than 76 million acres of refuge land.
Trump signed that bill into law in April 2017.
For more information about the National Park Service's proposal or to submit public comments, visit www.regulations.gov and search for "RIN 1024-AE38."
Support HuffPost
The Stakes Have Never Been Higher
Popular in the Community