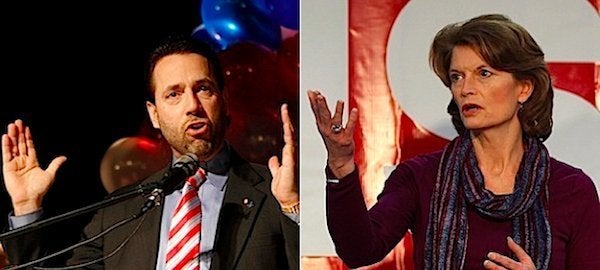 Alaska's undecided Senate contest is building up to what is looking likely to be a chilly, marathon finish, and the snow recently blanketing the state has only a little to do with it.
With Democrat Scott McAdams officially out of the race and all of the votes cast, GOP primary winner Joe Miller and Republican Senator and write-in candidate Lisa Murkowski are left to hunker down for a week to wait for vote counters to tally up the 41 percent of votes that were write-in ballots, which could propel Murkowski over Miller's 34 percent vote total.
If only it were that simple.
Neither candidate has shown any sign of packing it in. Murkowski, boosted by news that ballot counters will "use discretion in determining voter intent," said Thursday that she was "poised" to make history with a win. Miller, however, is having none of it.
Miller's attorney, Thomas Van Flein, announced Thursday that electoral law only allows forms with properly filled ovals and official candidate names to count, and that any further consideration of imperfect ballots should not be allowed. While Van Flein wasn't willing to presage any potential legal action, Joe Miller was.
In a conference call with bloggers Thursday, Miller accused lieutenant governor Craig Campbell, director of the vote-counting operation, of being a biased participant in the affair due to his past with the Murkowski family.
According to Matt Lewis of Politics Daily, Miller told reporters on the call:
He was appointed by Murkowski . . . has connections to the Murkowski family. In fact, when he, last summer, spoke at the time Sean Parnell was sworn\ in as governor, spent five or ten minutes praising the Murkowski Family. It was really kind of a curious thing given the lack of popularity at the time of Frank Murkowski.
On Thursday, Miller switched the front page of his website to help draw funds for what his campaign has labeled a "fight for conservative votes," a battle that he told reporters could play out on a variety of planes.
Conservatives have also been quick to rally around Miller's cause. Sen. Jim DeMint (R-S.C.) is preparing to bolster the Republican's impending legal process by channeling additional cash from his Senate Conservatives Fund PAC, which was been a big donor to Miller's campaign throughout the election season.
Surprisingly, Sarah Palin, one of Miller's most outspoken backers, has yet to address the electoral controversy, a particular curiosity considering the implications that his failure to capture a victory in her home state could have on public perceptions of her popularity.
But while Miller constructs his legal enterprise and musters support, Murkowski, who has already lowered the expectations of her potential next term by announcing that she won't be vying for any GOP leadership positions, has already taken big steps to assemble her own. Headlining her squad is Ben Ginsberg, who played a central role in George W. Bush's 2000 recount effort.
On Friday morning, Miller appeared on the "Today Show," during which he said, "Her little victory speech that she gave several days ago may actually turn out to be premature." Miller added that he "think[s] [Sarah Palin] would be" a good presidential candidate, and compared her with President Obama. "One person wants to grow government, you've got another person who wants to shrink it." Scroll down to watch the whole interview.
Popular in the Community