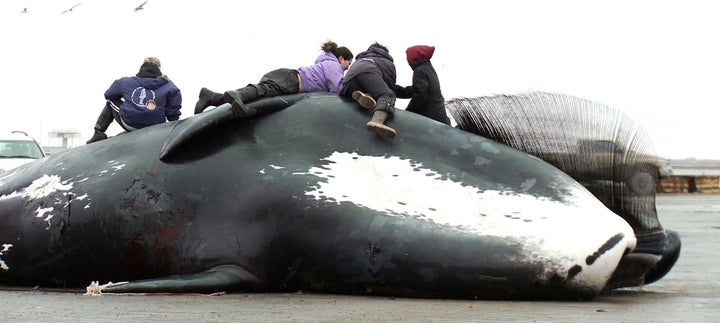 On the northern coast of Alaska, indigenous Alaskan teenagers consider their futures while holding on to the language, tradition and whaling culture of their ancestors. "Children of the Arctic" is a year-in-the-life portrait of youth in Barrow, Alaska, and the decisions they must make.
"Children of the Arctic," a documentary by Nick Brandestini about indigenous teens growing up in Barrow, Alaska, has its national broadcast premiere on Tuesday as part of World Channel's America Reframed series.
It's well known that northern Alaskan coastal villages are experiencing rapid social and environmental change. Over the past 60 years, average temperatures in Alaska have increased by 1.7C (3F). Thawing permafrost, the loss of sea ice and more intense weather have increased erosion and made the subsistence harvest of whales and seals more dangerous. Inupiaq, the language of the Inupiat who live in Northwestern Alaska, the Seward Peninsula and the North Slope of Alaska, is mainly spoken by the elderly, and many of the youth living there today say they do not know how to hunt caribou or harvest whales or transform a bearded seal into a skin boat, let alone speak the language of their grandparents.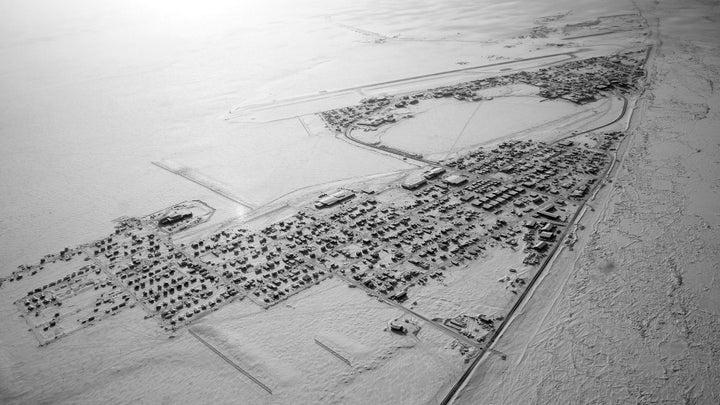 The documentary, shot over the course of a year, offers perspective on the complicated choices teenagers growing up in the community must make in deciding their future.
The film focuses on the lives of Flora, Josiah and Maaya. Flora and Josiah, both 18, are high-school sweethearts and headed for the University of Alaska Fairbanks, where Flora has earned a scholarship. Both are invested in Inupiat culture, and they struggle with their decision to move south for school. Josiah's father is the captain of a whaling crew; they know they will miss out on the fall whale hunt, yet they believe that university will give them an advantage in life. Still, they withdraw from college after six weeks and return home because they missed home and their culture. College can come later, they say.
Maaya is a talented filmmaker concerned about the rate of suicide attempts and death among her friends and within her community. While trying to find her own path, she becomes a mental health advocate, speaking to young people about their feelings of isolation and depression, and encouraging them to speak up. Talking about it can empower you to do something about it, she tells a class in Point Lay, a small community of 247 people.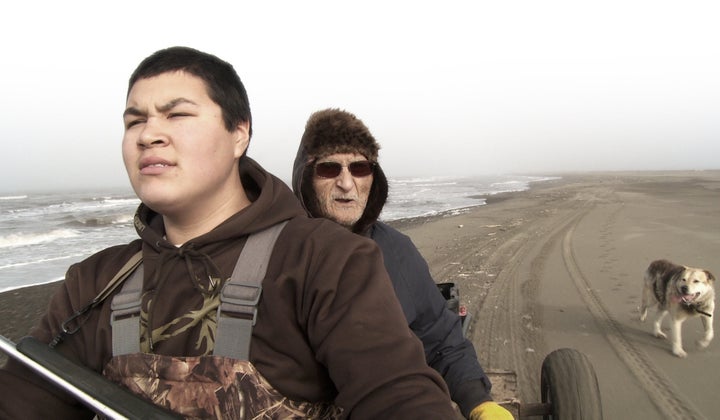 The teenagers walk in two worlds: one steeped in the traditions of living off the land and the sea, and another that emphasizes the value of education. They delight in the sparse landscape, but are envious of relatives who have "things to do" in malls, movies and restaurants. They are lured by the possibility of riches from nearby oil and gas operations and that an offshore discovery could bring about a job boom, yet acutely aware that one spill might wreck the subsistence hunt. A single whale can provide food for a family for a year and offset the cost of groceries in a town where a pound of ground beef costs between $7 and $9, as much as three times the average price in a U.S. city. In a classroom debate over natural resource development, the teacher asks: "Do you think the rest of the world cares about your subsistence?"
The whaling crews are getting ready for the spring hunt right now, Flora told Arctic Deeply in a telephone interview late last week. It's still frigid in Barrow, but families are preparing their boats and harpoons, sharpening the whaling knives and watching the open leads for bowhead whales. Once the whale's tail has been hoisted onto the ice, the town will help haul it ashore, amid whoops of joy, and share in its distribution. "Anytime anyone catches one, it makes your spirit happy," said Flora. "It pulls everybody together."
At the Arctic edge of America, Native Alaskan teenagers strive to be both modern American kids, and the inheritors of an ancient whaling culture, language and tradition. "Children of the Arctic" is a portrait of native youth coming of age in Barrow, Alaska, and the choices they have to make about their futures.
Children of the Arctic was named best documentary film at the Santa Barbara International Film Festival and won awards at the Zurich Film Festival, the Rhode Island International Film Festival, the Guam Film Festival and the Oxford Film Festival.
"Children of the Arctic" will have have its U.S. broadcast premiere on Tuesday, April 5 at 8 p.m. EDT (7 p.m. CDT) (check local listings) as part of WORLD Channel's America ReFramed series. The film will also stream nationally online at www.americareframed.com at no cost following the broadcast for 90 days.
Calling all HuffPost superfans!
Sign up for membership to become a founding member and help shape HuffPost's next chapter