"I feel like the theme song to Duck Tales," jokes Alaska Thunderfuck, "'Life is like a hurricane; it's a duck blur.' That's absolutely what it is."
Since taking home "the shiny hat" as winner of RuPaul's All Stars Drag Race 2, Thunderfuck hasn't had a moment's rest. The reality competition's perennial favorite immediately hit the road for the Battle of the Seasons tour, released new album Poundcake and, on December 14, kicked off her holiday show in New York City.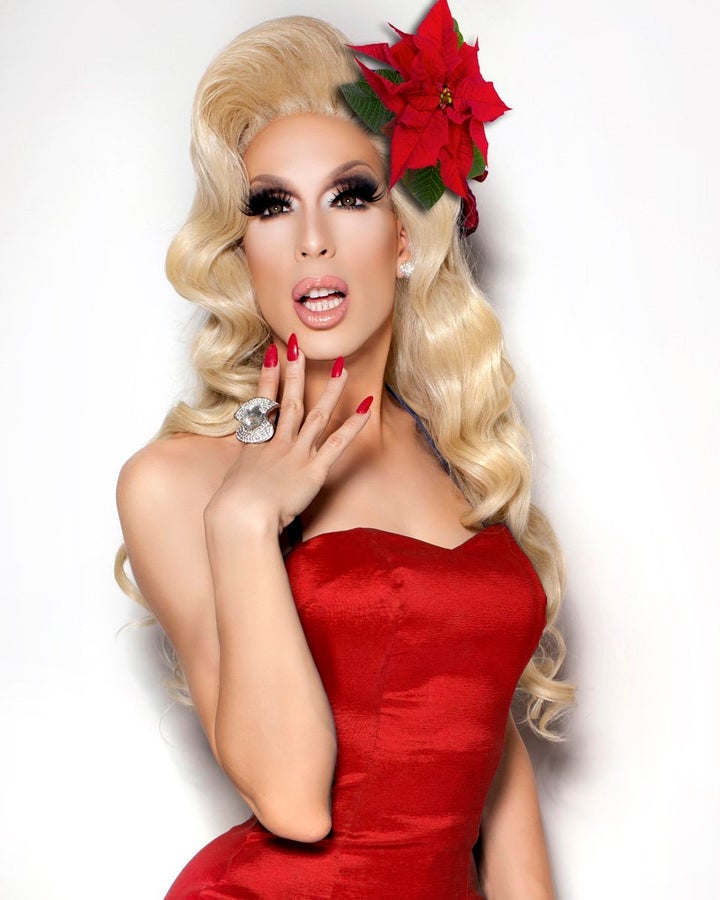 "When you're singing songs you enjoy, [the show] kind of figures itself out and writes itself," Thunderfuck told Party Foul Radio with Pollo & Pearl during a phone interview en route to opening night. "At least I hope it does, anyway!"
Christmas Is Gay caps a landmark year for Thunderfuck. During the spring, she returned to televisions worldwide in a winning effort on the second RuPauls All Stars Drag Race. A clear favorite from the beginning, the former Season 5 standout admits the road to the crown was an eye-opening experience.
"Being inside it, and being one of the people who was possibly going to win toward the end, it was more terrifying than it was thrilling," she said.
Viewers always have feelings about who is going to or should win, said Thunderfuck, and those guide audience response. This time, fans watched as the superstar heaped pressure on herself to perform – and had occasional on-camera meltdowns when situations seemed bleak. Having been "obsessed with" the show since it's launch, Alaska admits watching her never-before-seen determination to win play out was sometimes uncomfortable.
"It was horrible having to watch myself on TV," she confessed. "I think I would have had a much better time if I didn't take it so seriously," Thunderfuck shared with listeners of Podomatic's No. 1 LGBT podcast, "That would make me much more likeable probably and much more chill, but that truth is it really did mean a lot to me – and it still does, for whatever reason."
For Alaska, the airing of the show was a mixed bag. While she was generally slaying the competition, fans took to the internet to express displeasure over her decision(s) to not send best friend and fellow All Star Roxxxy Andrews home.
"I've never been on that side –- being reviled by hundreds of thousands of people online," Thunderfuck conceded. "I guess that experience was really terrible, but it's just added another stitch to the tapestry of my character, so I've seen life from both sides now. I've been beloved and reviled."
WATCH: Pollo Del Mar's 2015 Interview with Alaska Thunderfuck
Now that online antics having calmed, Thunderfuck says she's again able to enjoy social media, and with All-Stars now in the rear-view, the diva calls the following months a "whirlwind." While touring with Battle of the Seasons – "I love working with people I admire," she said of the experience -- Alaska wrote, recorded and dropped second album Poundcake.
"It came down to the question 'Do you want to make a second album now – or do you want to wait, because maybe it would be bigger?'" Thunderfuck recalls. "Dolly Parton has like 60 albums, because she's a music-maker and her purpose on earth is to make music. I make music; I have all these new ideas for music. So yes. Let's do it!"
The 13 song Poundcake clocks in at 40-minutes of original dance music. Though Thunderfuck's revered full-length debut Anus – featuring the smash single "Your Makeup Is Terrible" -- is a hard act to follow, the new collections impresses with collaborations featuring Adore Delano, Lady Red Couture, Gia Gunn, Jackie Beat and more.
"It's very drag-specific," Alaska admits of the album with a laugh. "If you don't know what Drag Race is, you probably won't have any idea what's going on."
For more details about Alaska's album, tour schedule or holiday show, visit her website.
LISTEN: Alaska Thunderfuck's 'Party Foul Radio' Interview + "So You Want to Get (Gay) Married" Author Jared Milrad & Kung Pao Kosher Comedy's Lisa Geduldig.
REAL LIFE. REAL NEWS. REAL VOICES.
Help us tell more of the stories that matter from voices that too often remain unheard.