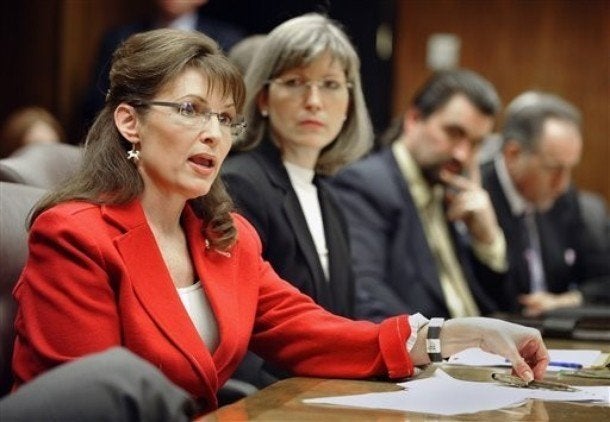 Alaska legislators -- both Democrats and Republicans -- are unhappy with Governor Sarah Palin's choice to reject more than 30 percent of the federal stimulus funds being offered to the state.
Palin will turn down about $288 million of the estimated $930 the state is being offered, according to the Associated Press.
Palin said she would accept money that is "timely, targeted and temporary" and does not create strings that will bind the state in the future.

"I can't attest to every fund that's being offered the state in the stimulus package will be used to create jobs and stimulate the economy, so I'm requesting only those things that I know will," Palin said at a news conference at the Capitol. "Public discussion will have to ensue on all those other dollars that some will say 'you left on the table.'"
The Anchorage Daily News reports that Palin's decision is getting mixed reviews from other Alaskan legislators.
The news Thursday drew anger from those who accused Palin of putting her national political aspirations ahead of the state's interests, and admiration from others who say she has courage to turn down money that would expand government.
The state legislature will have the opportunity to debate and possibly overturn Palin's rejection of the stimulus fund. Both Democrats and Republicans have suggested Palin's decision could have something to do with her career aspirations.
"I'm worried the governor is taking this sort of national political stance, which is that she's going to be the opposite of Barack Obama on everything," Anchorage Democratic Rep. Les Gara said.
Republican State Sen. Bert Stedman was a little gentler. "I think the Legislature will take a good hard look at the impact on Alaska," he said. "The governor might have a broader view."
Palin's rejection of $160 million for education in particular drew a sharp rebuke from Anchorage Superintendent of Schools Carol Comeau. 'We believe that we can make very good use of the funds, not only in job preservation but also in adding new positions to ultimately use these funds to increase student achievement for our neediest children,' she said in a news release.
One Republican state representative has already put forth a bill that calls for Governor Palin to accept and distribute all the stimulus money, the Fairbanks Daily News-Miner reports.
Rep. John Coghill, R-North Pole, is chairman of the House Rules Committee, which is sponsoring a bill calling for acceptance of all of Alaska's share. The bill is scheduled to be heard by the Finance Committee early next week, pending introduction and referral. A similar bill is pending in the Senate.
Other Republican governors are divided on accepting stimulus funds, according to the AP.
Texas Gov. Rick Perry last week announced that he turned down $555 million of federal stimulus funding that would expand the state's unemployment benefits. Louisiana Gov. Bobby Jindal has said he would not accept nearly $100 million to expand unemployment benefits. And South Carolina Gov. Mark Sanford has said he only wants to use the federal money to pay down debt.

Other Republican governors including Charlie Crist of Florida and Arnold Schwarzenegger of California have welcomed the stimulus bounty.
Popular in the Community