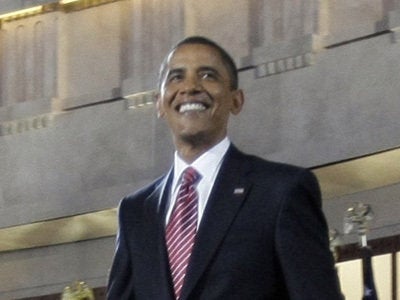 Alaska's biggest paper, The Anchorage Daily News, today endorsed Barack Obama for president, despite -- or at least partly because of -- its state governor's presence on the opposing ticket. But it was just one of many joining in the Obama landslide of endorsements this weekend. It's now a rout, with Obama leading (in our Monday update) 194-82. John Kerry and George Bush virtually split the tally in 2004.
My magazine, Editor & Publisher, has been charting all of the editorial endorsements around the country and Obama now leads by a whopping 160 to 59. More than 35 papers have switched from Bush to Obama. The latest major papers to flip: The Providence Journal and The Fort Worth Star-Telegram today in Texas. That, amazingly, gives Obama three of the five major papers in that state, with the Houston and Austin papers earlier flipping their support from Bush to Obama.
Just on Sunday Obama picked up the backing of (besides the papers listed above) the Baltimore Sun, St. Petersburg Times, Des Moines Register, Charlotte Observer, Hartford Courant, Rochester Democrat & Chronicle and many, many others. McCain held on to his home state Arizona Republic and papers in Richmond and Cincinnati.
In a nutshell: The Indianapolis Star, which backed Bush the last time, decided not to endorse anyone. The Times-Picayune, which also sat out 2004, endorsed Obama today.
In fact, a Democratic candidate for president has never done this well with editorial endorsements. E&P reviewed our tallies since 1940 and in that time only LBJ in '64, Bill Clinton in 1992 and John Kerry last year earned the most backing, and in the last two cases, just barely.
In fact, Obama has carried at least 9 out of 10 major metros, including both dailies in Chicago, Seattle and Los Angeles. He is even winning the majority of papers in Red states.
While praising Palin's energy and bright future, the Anchorage paper's editorial today added, "Yet despite her formidable gifts, few who have worked closely with the governor would argue she is truly ready to assume command of the most important, powerful nation on earth. To step in and juggle the demands of an economic meltdown, two deadly wars and a deteriorating climate crisis would stretch the governor beyond her range. Like picking Sen. McCain for president, putting her one 72-year-old heartbeat from the leadership of the free world is just too risky at this time."
For full list of editorial endorsements go here.
*
Greg Mitchell is editor of Editor & Publisher and its hot new blog The E&P Pub. His latest book, on Iraq and the media, is "So Wrong for So Long."

Popular in the Community