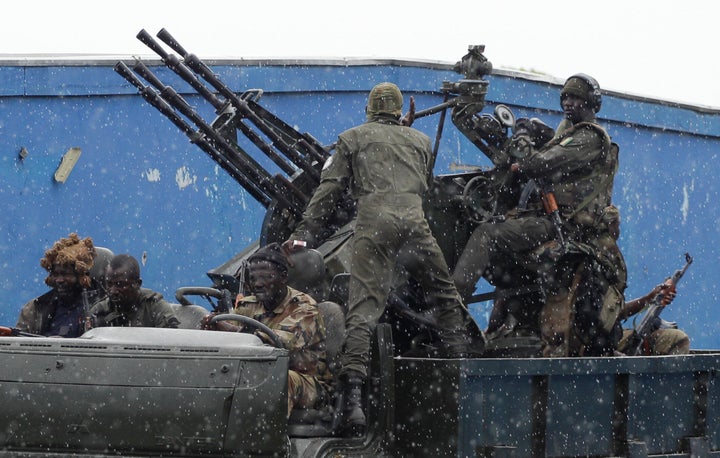 (Reuters) - U.N. workers in Ivory Coast have found the bodies of more than 100 victims of brutal killings, a discovery that threatened to undermine presidential claimant Alassane Ouattara as he seeks to take control of the country.
Ouattara's rival, Laurent Gbagbo, meanwhile was left isolated behind a military cordon in the bunker where he has sought refuge after a concerted assault by Ouattara's troops earlier this week.
Ouattara appears for now to have decided to isolate Gbagbo in his Abidjan residence, rather than press ahead with attempts to drive him out by military force, and concentrate instead on efforts to restore normal life after weeks of fighting.
But Ouattara's ability to unify the West African state may be undermined by reports of atrocities since his forces -- a collection of former rebels from the north -- swept south into Abidjan, the commercial capital, more than a week ago.
The United Nations human rights office said on Friday it found 115 corpses in the west in the past 24 hours, adding to the 800 dead reported by aid groups last week.
Ouattara said his soldiers had blockaded Gbagbo in the presidential residence -- an ironic twist after Ouattara suffered months in a hotel under siege by Gbagbo's troops following last November's disputed election.
In a speech late on Thursday, Ouattara said he would seek to restore security and basic services and would also pursue investigations into reported serious abuses by both his and Gbagbo's troops since fighting began.
Ouattara won the November presidential poll by eight percentage points, according to U.N. certified results, but Gbagbo rejected the outcome citing fraud and accused the United Nations of meddling in Ivorian affairs.
The poll was meant to draw a line under Ivory Coast's 2002-3 civil war, but the dispute over results rekindled it, turning Abidjan -- once known as the 'Paris of West Africa' -- once again into a war zone.
"I was born here, but I am leaving and I am never coming back," said Imad Zarour, 40, who was waiting to be evacuated at a French military base on Friday. "Even if there's peace, even if they give me a billion dollars, I will never come back to this country. I hate it."
A commander for the French military force in Ivory Coast, Licorne (Unicorn), said on Friday its troops would carry out mixed patrols with police and gendarmes now loyal to Ouattara to restore security and rebuild infrastructure.
"Today, the main efforts of the Licorne force will be the following: help return things to normal and assist in the restoration of state authority," said Frederick Daguillon, spokesman for the force.
CRIMES TO BE INVESTIGATED
Ouattara said he hoped to revive Ivory Coast's cocoa sector, the country's main economic engine, which has been paralyzed by EU shipping restrictions since January.
"I have asked that European Union sanctions on the ports of Abidjan and San Pedro and certain public entities, be lifted," Ouattara said in the speech broadcast on television.
In Brussels, the European Commission said it hoped to be able to begin easing sanctions soon. A European diplomatic source said an agreement was possible as early as Tuesday.
A week of fighting for control of Abidjan has driven terrified residents to scramble to find food and water, with frequent power cuts and hospitals overwhelmed with wounded.
Aid workers estimate 1 million people have been displaced by the fighting, and some 150,000 people have fled the country.
Ouattara said steps would be taken to shed light on all crimes committed during the conflict and would collaborate with international organizations to investigate human rights abuses and punish those found guilty.
"We have established a national commission of inquiry whose findings will be made public and the perpetrators of crimes will be severely punished," Ouattara said.
A Gbagbo ally bristled at the comments.
"Ouattara has no right to call for reconciliation," the head of Gbagbo's political party, Pascal Affi N'Guessan, said on Friday in an interview with Radio France International. "He is precisely the one who is responsible for all the suffering of the Ivorian people."
Ouattara's camp has denied its fighters were behind the Duekoue killings, but human rights groups say there is evidence his forces have killed and pillaged during their offensive.
France, the former colonial power, has taken a leading role in talks to persuade Gbagbo to hand over to Ouattara and end the standoff, and its Defense Minister said he believed Gbagbo had about 1,000 men, 200 of whom were defending his residence.
Helicopters from French forces and the United Nations peacekeeping mission bombarded Gbagbo's heavy weapons stockpiles earlier this week, including those near the residence, but a fierce attack on the compound by Ouattara's forces was repelled.
Gbagbo has ruled Ivory Coast since 2000 and blames Paris for supporting the north of the country in the civil war of 2002-03.
(Additional reporting by Mark John in Abidjan, Louis Charbonneau at the United Nations, Bate Felix and Silvia Aloisi in Dakar; writing by Richard Valdmanis; editing by Ralph Boulton)
Calling all HuffPost superfans!
Sign up for membership to become a founding member and help shape HuffPost's next chapter