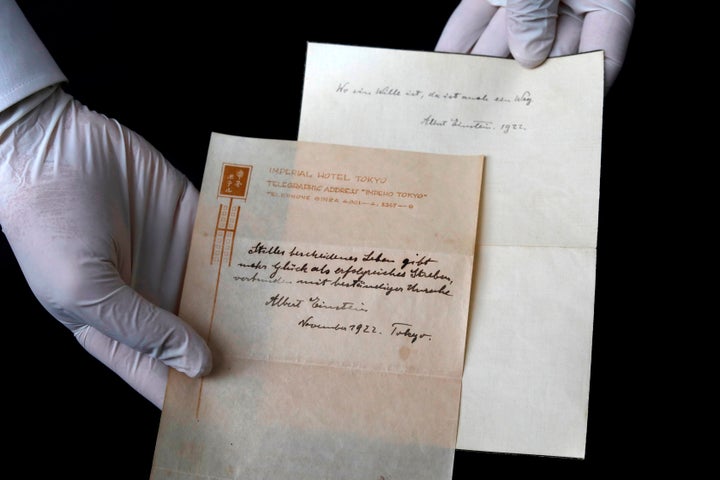 In 1922, Albert Einstein scribbled down words of wisdom on a piece of paper he left with a Tokyo bellboy instead of a tip.
"A quiet and modest life brings more joy than a pursuit of success bound with constant unrest," the note, which was written while the physicist was on a lecture tour in Japan, says in German.
"Maybe if you're lucky those notes will become much more valuable than just a regular tip," the physicist told the bellboy, according to the seller, who has not been identified. While less kind observers may accuse the man who brought us the theory of relativity of being stingy with the tip, Einstein turned out to be right.
The note fetched $1.56 million when it came up for auction in Jerusalem, Israel, on Tuesday. Another Einstein note written at the same time, reading "where there's a will, there's a way," went for $240,000. A spokesman for Winner's Auctions and Exhibitions told the Jerusalem Post that the letters came to them directly from a great-nephew of the bellboy.
There is a clear irony in Einstein's handwritten thoughts on simplicity and modesty over the pursuit of wealth are being sold for such an enormous amount. Something that wasn't missed on Twitter:
Irony aside, Einstein's words are a thought provoker for people struggling in turbulent political and economic times. A March United Nations World Happiness Study, which measured wellbeing factors including health and social support, found that, while economic growth has been on the rise in the U.S., happiness levels have been falling. The U.S. ranked third for happiness among the OECD countries in 2007, but had fallen to 19th by 2016.
Maybe there's something those in power could learn from Einstein's theory of happiness.
For more content and to be part of the community, join our Facebook Group.
HuffPost's This New World series is funded by Partners for a New Economy and the Kendeda Fund. All content is editorially independent, with no influence or input from the foundation. If you'd like to contribute a post to the editorial series, send an email to thisnewworld@huffpost.com