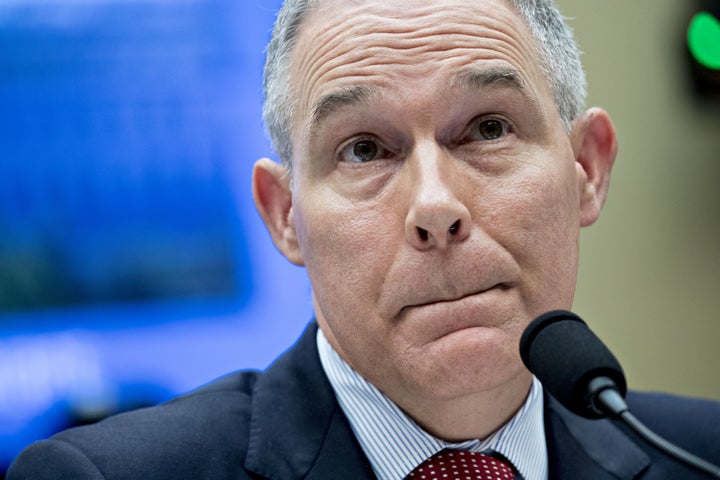 WASHINGTON — Three high-ranking officials at the Environmental Protection Agency have resigned this week amid the storm of scandals plaguing agency chief Scott Pruitt.
Liz Bowman, the EPA's top spokeswoman, submitted a resignation earlier this week and will take a job as director of communications for Sen. Joni Ernst (R-Iowa), The Washington Examiner reported Thursday. Bloomberg also confirmed she's stepping down.
"I leave extremely grateful for the opportunity to serve the Trump Administration and Administrator Pruitt," Bowman wrote in her April 30 resignation letter, according to the Examiner. Her last day agency is May 11.
News of Bowman's departure comes just two days after the resignation of two of Pruitt's other top aides: Albert "Kell" Kelly, who was in charge of overhauling the agency's cleanup of America's most contaminated sites, and Pasquale "Nino" Perrotta, the head of Pruitt's controversial round-the-clock security detail. Perrotta stepped down ahead of planned testimony before the House Oversight Committee.
The resignations add to the chaos that has engulfed the EPA since Pruitt's whirlwind of corruption accusations and ethical scandals began in late March.
Kelly, a former banking executive, was banned for life from that industry in 2016 as The Intercept reported. Almost immediately thereafter, Pruitt appointed him to lead the EPA's effort to prioritize and streamline the Superfund program.
In a statement Tuesday, Pruitt praised Kelly for the "tremendous impact" he had on the program and said he "will be sorely missed."
"He has helped EPA professionals find solutions to moving languished sites down the path to clean up including San Jacinto in Texas, Portland Harbor in Oregon and West Lake in St. Louis," Pruitt said. "Additionally, Kell has been instrumental in organizing EPA's effort to eradicate lead poisoning across the country within the decade."
Kelly has been closely involved with Pruitt's ongoing scandals. Last month, he canceled a trip to a West Virginia coal town contaminated with toxic chemicals to stay behind in Washington and help the administrator deal with the fallout from the controversies. Last week, Reps. Don Beyer and Gerald Connolly, both Virginia Democrats, called on the EPA's inspector general to investigate why Pruitt hired Kelly despite his complete lack of experience in toxic cleanup. The former banker became a magnet for criticism himself after reports emerged that Kelly owned at least $75,000 in fossil fuel stocks, including in a company responsible for contaminating a Louisiana bayou.
Superfund has been a top priority of Pruitt's since he took over as agency chief last year. He's called it "absolutely essential," repeatedly stressed that it's part of EPA's core mission and pointed his finger at the Obama administration for not doing enough to clean up toxic waste sites.
Reacting to news of Kelly and Perotta's departures, Beyer called on Pruitt to also step down.
"The exodus of Pruitt's closest aides shows just how toxic his reign at EPA has become," Beyer said in a statement. "The EPA needs new leadership from public servants committed to its mission of protecting the environment and putting Americans' public health first."
This story has been updated to include Scott Pruitt's statement and news of Liz Bowman's departure.
Popular in the Community