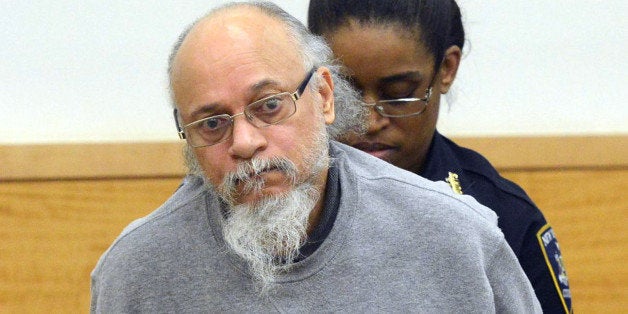 NEW YORK, July 7 (Reuters) - A New York City man was sentenced to 18 years in prison on Monday for raping his stepdaughter, who revealed the sexual abuse in a college application essay.
Albert Tarrats, 62, of Brooklyn appeared in State Supreme Court where he denied the claim and appealed for clemency.
"There was never any abuse," said Tarrats, who is illiterate, in a statement read by his defense attorney Ernest Hammer.
"He never hurt [his stepdaughter]," the statement said.
Tarrats was arrested in 2012 shortly after his stepdaughter, now 18, wrote to a college admissions panel that she had been repeatedly raped and molested when she was 8 years old.
The essay, submitted to a Florida Christian college, was supposed to address difficult events in the applicant's life.
The stepdaughter, who was not present in court for sentencing, issued a written statement to the judge appealing for the maximum penalty.
He faced a maximum of 25 years in prison for his convictions on charges of rape, sexual abuse and endangering the welfare of a child.
She said that coming forward about the abuse, both in the essay and during the trial, had provided some closure.
"A weight has been lifted off my shoulders," her statement said. "I believe he should be punished for what he's done."
Tarrats' attorney claimed that the abusive incidents described in the admission essay had been fabricated at his client's expense.
Tarrats has been the victim of physical and mental abuse by other prisoners at the city jail on Rikers Island, where he has been held throughout the criminal proceedings.
The girl's mother read the essay and contacted a rape hot line, which put her in touch with police, prosecutors said.
(Editing by Ellen Wulfhorst and Gunna Dickson)

Related
Popular in the Community