A raging wildfire ripping through the Canadian city of Fort McMurray has sparked a state of emergency, engulfing 25,000 acres of land in flames and forcing at least 88,000 Albertans out of their homes -- marking the largest fire evacuation in the province's history.
More than 1,100 firefighters are scrambling to contain 49 fires, including seven that are "out of control," Alberta Premier Rachel Notley announced in a press conference on Thursday. No deaths or injuries have been reported.
Some 1,600 buildings in the oil sands community have already burned to the ground, but officials say the damage won't stop there. With scorching temperatures and powerful winds pushing the blaze into other parts of the region, experts told CBC News that the only hope to extinguish the inferno is a change in the weather from the current dry, windy conditions.
The "catastrophic" wildfire continues to withstand all efforts to control it, explained Bernie Schmitte, an official at Alberta's Agriculture and Forestry Ministry.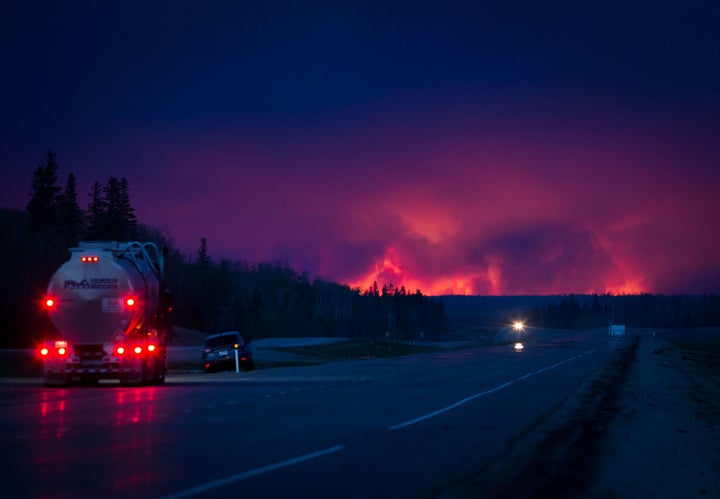 "While the full extent of the damage isn't yet known, we certainly do know that for those who have been affected this fire is absolutely devastating," Prime Minister Justin Trudeau said Wednesday. "It's a loss on a scale that is hard for many of us to imagine," he added, noting the federal government's support, which includes matching all individual donations to the Canadian Red Cross for the cause.
Many Albertans fleeing the danger zone have shared remarkable footage on social media of embers and ashes raining down on the streets as they make their escape. The hashtag #AlbertaStrong was created as a way to support those affected by the wildfire.
Take a look at these unbelievable photos and videos captured by residents in the fiery northern Alberta communities.
Related
Popular in the Community