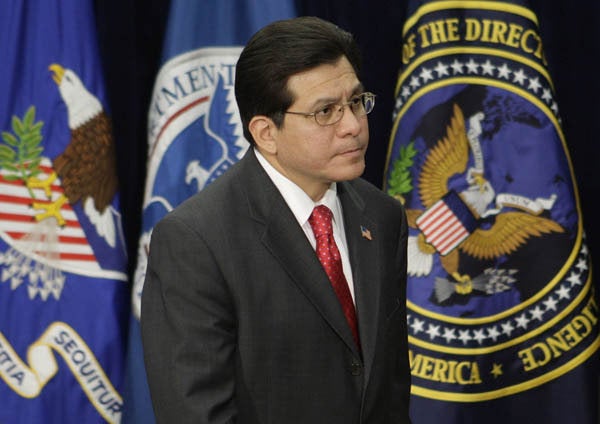 The New York Times is reporting Sunday that former Attorney General Alberto Gonzales is having a hard time finding a job at a law firm:
He has, through friends, put out inquiries, they said, and has not found any takers. What makes Mr. Gonzales's case extraordinary is that former attorneys general, the government's chief lawyer, are typically highly sought.

A longtime loyalist to George W. Bush dating to their years together in Texas, Mr. Gonzales was once widely viewed as a strong candidate to be the first Hispanic-American nominated one day to the Supreme Court. A graduate of Harvard Law School, he carried an impressive personal story as the child of poor Mexican immigrants.

Despite those credentials, he left office last August with a frayed reputation over his role in the dismissal of several federal prosecutors and the truthfulness of his testimony about a secret eavesdropping program. He has had no full-time job since his resignation, and his principal income has come from giving a handful of talks at colleges and before private business groups.

"Maybe the passage of time will provide some opportunity for him," said one Washington lawyer who was aware of an inquiry to his firm from a Gonzales associate. "I wouldn't say 'rebuffed,' " said the lawyer, who asked his name not be used because the situation being described was uncomfortable for Mr. Gonzales. "I would say 'not taken up.' "

The greatest impediment to Mr. Gonzales's being offered the kind of high-salary job being snagged these days by lesser Justice Department officials, many lawyers agree, is his performance during his last few months in office. In that period, he was openly criticized by lawmakers for being untruthful in his sworn testimony. His conduct is being investigated by the Office of the Inspector General of the Justice Department, which could recommend actions from exonerating him to recommending criminal charges. Friends set up a fund to help pay his legal bills.