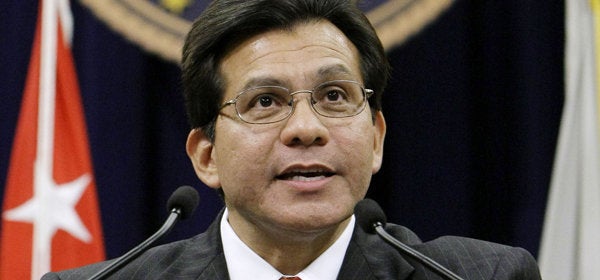 In his confirmation hearing Eric Holder, President Obama's nominee for Attorney General, declared definitively that "waterboarding is torture."
Former Attorney General Alberto Gonzales, in an interview with National Public Radio's "Tell Me More" Monday, said he was worried that "making a blanket pronouncement like that'' might have a negative "effect ... on the morale and the dedication of intelligence officials and lawyers throughout the administration." (Gonzales probably knows something about bad morale at the Justice Department.)
Gonzales isn't worried, however, about himself. While some have suggested that Holder's statement paved the way for prosecution of administration officials who participated in torture, the ex-AG says it isn't likely.
"I don't think that there's going to be a prosecution, quite frankly.'' Gonzales said. "Because again, these activities ... They were authorized, they were supported by legal opinions at the Department of Justice.''
Holder "will have to make a decision as to whether or not move forward with an investigation or a prosecution,'' Gonzales said. "But under those circumstances, I find it hard to believe."
As for regrets, Gonzales says, "I'm not sure how productive it is to lament about things that went wrong. Maybe it was inevitable."
The former AG has had trouble finding new work since he left the DOJ. He told NPR that things are looking up: "Gonzales says he is writing a book, and he believes his job prospects will look up when the economy improves and when investigations into actions of his Justice Department are put to rest."
REAL LIFE. REAL NEWS. REAL VOICES.
Help us tell more of the stories that matter from voices that too often remain unheard.