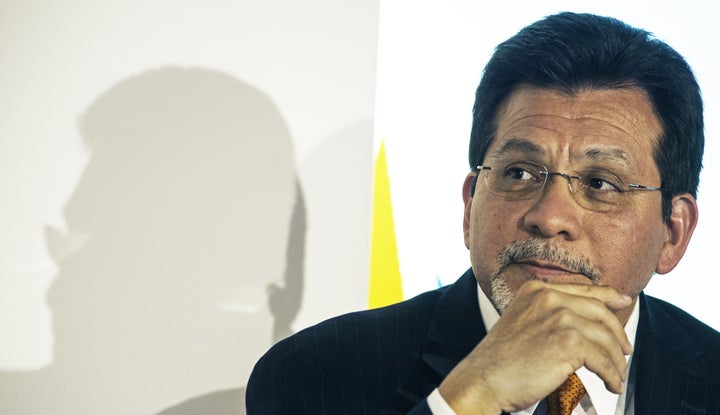 Another former law enforcement official said on Monday that FBI Director James Comey may have erred in releasing a vague letter so close to the election on the investigation into Democratic presidential nominee Hillary Clinton's email practices.
This time, it was former Attorney General Alberto Gonzales, who served under President George W. Bush. In 2007, Gonzales resigned amid controversy after firing eight U.S. attorneys for what Democrats said were political reasons. He told senators more than 50 times before his resignation that he could not recall details relevant to the dismissals.
"It appears that this was an error," Gonzales said on CNN Monday. "To throw out this kind of letter without more information, without really knowing what the facts are with respect to these additional e-mails, I think was a mistake."
The FBI is reviewing newly uncovered emails that may have some bearing on its investigation into whether Clinton mishandled classified information while using a private email server during her time as secretary of state, Comey told members of Congress on Friday. The emails reportedly came from a computer owned by former Rep. Anthony Weiner (D-N.Y.), who is married to top Clinton aide Huma Abedin, as part of an FBI investigation into his alleged sexting with a minor.
In July, Comey announced that he would recommend to the Justice Department that "no charges are appropriate in this case," although he also said Clinton and her staffers "were extremely careless in their handling of very sensitive, highly classified information."
Comey's decision to announce the new development 11 days before the election was considered highly unusual, especially given the lack of clarity on whether the emails implicate Clinton in any way. Republican presidential nominee Donald Trump and other Republicans, who have criticized Comey for months because he did not recommend charges in July, leaped on the chance to condemn Clinton in spite of the relative lack of new information.
"Quite frankly, it muddled the situation and obviously, it puts at risk this election."
Gonzales said Monday that although it "would be a stretch" to say Comey intended to influence the election, his decision might make a difference anyway. Comey and Gonzales briefly overlapped at the Justice Department. Gonzales became attorney general in early 2005, and Comey stepped down as deputy attorney general later that year.
"Certainly in hindsight, it appears that that did not help the situation at all," Gonzales said on MSNBC. "Quite frankly, it muddled the situation and obviously, it puts at risk this election. Some people, some voters are going to be making a decision on Election Day and in early voting about which way they're going to go based upon this very incomplete letter that really doesn't say anything other than there is a continuing investigation that may implicate Secretary Clinton."
Comey told FBI employees he wrote the letter out of an "abundance of caution." He wrote in the letter that the FBI could not yet assess whether the material under review is actually significant. He also could not give a timeline for how long the review will take. Typically, the Justice Department does not announce investigations or take actions close to an election that could affect its outcome.
Gonzales said Saturday on NPR's "All Things Considered" that he was "a little surprised by Comey's decision" to release the letter, although the entire investigation had been unusual. He declined at the time to second-guess the FBI director without having more information.
"One other thing I can say is that the FBI director's probably spent a great deal of pressure to go either way ― you know, to have said something, to not have said something," Gonzales said on NPR. "And, you know, he made the decision this was the right way to go."
A number of people have called for the FBI to release more details, including members of the Clinton campaign itself.
Dozens of former federal prosecutors signed an open letter spearheaded by the Clinton campaign that says Comey's "unprecedented decision to publicly comment on evidence in what may be an ongoing inquiry just eleven days before a presidential election leaves us both astonished and perplexed."
"We do not question Director Comey's motives," reads the letter, which was released Sunday evening. "However, the fact remains that the Director's disclosure has invited considerable, uninformed public speculation about the significance of newly-discovered material just days before a national election."
Former Attorney General Eric Holder, who served under President Barack Obama, signed that letter and penned a separate op-ed on the matter for The Washington Post. He said he was "deeply concerned" with Comey's decision and that it "violated long-standing Justice Department policies and tradition."
"These rules have been followed during Republican and Democratic administrations," Holder wrote in the op-ed, published Sunday. "They aren't designed to help any particular individual or to serve any political interest. Instead, they are intended to ensure that every investigation proceeds fairly and judiciously; to maintain the public trust in the department's ability to do its job free of political influence; and to prevent investigations from unfairly or unintentionally casting public suspicion on public officials who have done nothing wrong."
Popular in the Community