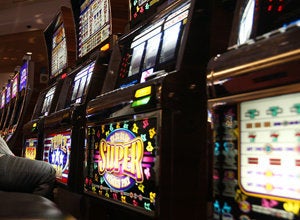 Alberto Lopez had some spare time on Thursday when rain prevented him from fixing windows at a local school in Livermore, Calif.
So the 51-year-old construction worker decided to head over to Jackson Rancherio, a casino two hours away in the Sierra foothills. The drive was worth it: Lopez ended up winning more than $1 millon that day playing penny slots, according to a press release issued Friday by the casino.
"Alberto says he put $100 in the penny machine, played for a little while - getting as high as $350 and as low as $45 - when his luck came through and he hit the jackpot for $1,129,009.20," the press release said.
Lopez told the casino he was in shock from the win and planned to use some of the money to pay off his loans and "do something for [his] mom."
But first, he would finish his construction work at the school.
"Gotta go to work Saturday. Can't leave those kids without windows," Lopez told the casino.
According to the casino, Lopez is the ninth person to win over a million dollars on penny slots since they installed the machines. Other high-profile penny slot winners in recent years include Dorothy Reynolds, a California woman who won $2.9 million at Planet Hollywood in 2010 and an unidentified gambler who won $3.5 million at a one-cent "Wheel of Fortune" slot machine in Atlantic City last year.
Though penny slots can offer a big return on gamblers' investments, experts have said that one-cent machines actually have the worst odds for players.
But casinos kept an average of 11 percent of the total revenue on penny machines, which made up the majority of the casinos' slot machines and earned them the biggest revenue on slots.
"Bigger casinos used to frown on penny slots," Bob Sobczyk, vice president of casino operations at penny-slot innovator Ameristar, told the paper. "A consultant told us it was a joke to put all those penny machines in. Then we showed him our revenue."
Popular in the Community