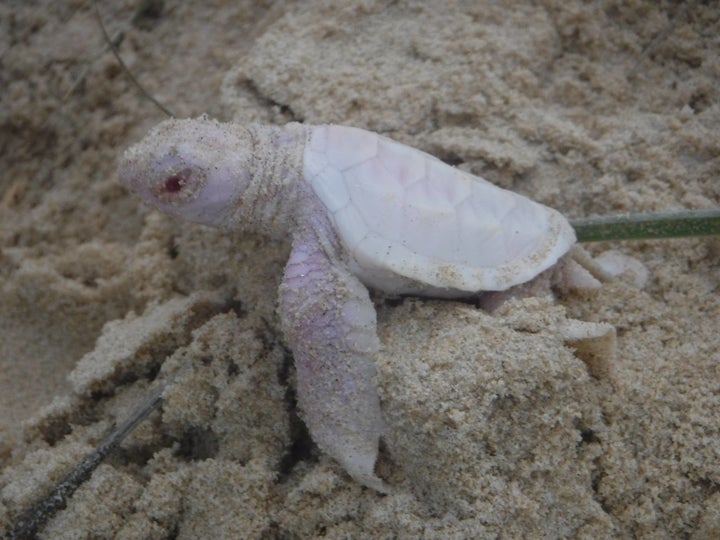 Conservationists are abuzz after finding an extremely rare albino sea turtle on an Australian beach, the last of 122 hatchlings to leave its mother's nest.
The little guy, named Alby, was photographed as it sauntered to the water's edge along Queensland's Sunshine Coast at the weekend. 
"Meet Alby, the first ever albino Green turtle we have come across in our 9 years of turtle monitoring," the environmental volunteer group Coolum and North Shore Coast Care announced  in a Facebook post late on Sunday local time.
The hatchling's late start came two days after the rest of its siblings had already left, they said.
"It looked like a normal turtle hatchling, except that it had a white shell and it had little white flippers, and you could see a little bit of pink under its flippers," group president Leigh Warneminde told Australia's ABC News.
Warnerminde said they were counting the empty eggshells to get an idea of how many green sea turtles had hatched when they found the straggler lying on its back.
Dr. Col Limpus, chief scientist of the Queensland Government's Threatened Species Unit, confirmed to ABC that a single albino hatchling only happened at a rate of one in hundreds of thousands of eggs.
Warneminde said the hatchling looked healthy, despite its pale tone, which is from a lack of pigmentation. Sadly its future, like most of its siblings, is quite bleak.
Only one in 1,000 green turtles will survive to maturity, and Alby's chances are likely even slimmer with the creature unable to blend into the surroundings, she said.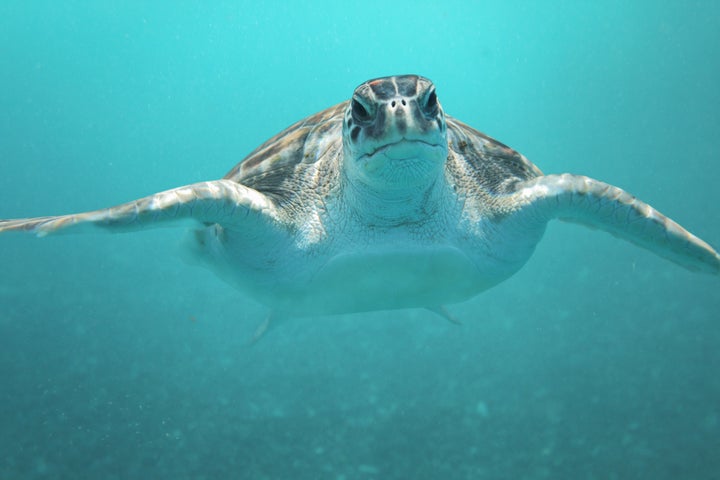 The International Union for Conservation of Nature and Natural Resources lists the world's green sea turtles are as an endangered species.
In the U.S., all sea turtles except for the loggerhead are listed as endangered. The loggerhead is listed as threatened.
One of sea turtles' greatest threats is the commercial harvest for eggs and food. They're also used for leather, according to the Sea Turtle Conservancy. 
"May the oceans be kind to this unique little green turtle!" the local volunteer group wrote on their Facebook page.
PHOTO GALLERY
Radical Sea Turtles
Calling all HuffPost superfans!
Sign up for membership to become a founding member and help shape HuffPost's next chapter