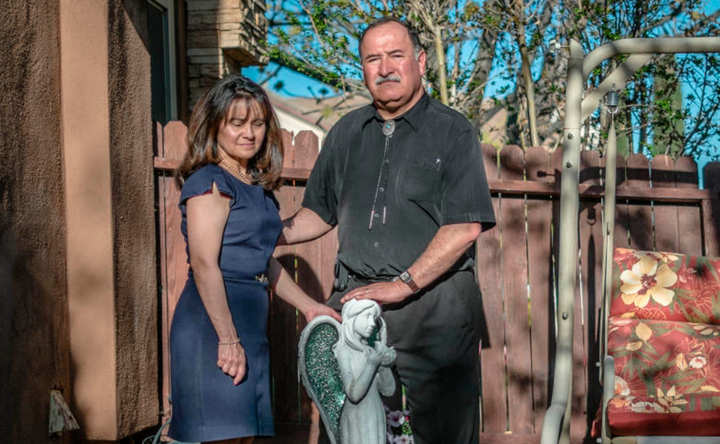 Our worst fears came true when two Albuquerque Police Department detectives killed our son in 2011. Christopher, who was 27 years old and diagnosed with schizophrenia, was at home alone when he was shot by the detectives. The court would later rule the officers had acted aggressively toward Christopher and created an "unnecessarily dangerous situation."
The city ultimately paid our family millions of dollars as a result of lawsuits filed on his behalf, but that money means nothing to us, because it cannot bring back our son. Christopher was a kind, caring young man, and we never want another family to go through the pain we did.
We never want another family to go through the pain we did.
Albuquerque Police Department Forward (APD Forward) is a nonpartisan, diverse coalition of organizations and family members who have lost loved ones to police violence. We are intimately involved in monitoring the reform process and working with community members to ensure all parties actively advance reforms in a collaborative and constructive manner. In advocating for changes at APD over the years, one thing we have learned is that the department desperately needs better leadership.
Our city's next mayor—who will be elected on Nov. 14—along with a newly-appointed police chief, will have the chance to exhibit that leadership by truly embracing the reforms necessary to fix the broken APD. When Chief Gorden Eden took over in February 2014, APD was in the midst of crisis. The Department of Justice was about to release the findings of its two-year investigation, and APD officers had shot and killed over 20 people since 2010. When the DOJ announced the results of its investigation in April 2014, they identified a "pattern and practice of excessive use of force" and a "culture of aggression" within the APD. 
HuffPost is hitting the road this fall to interview people about their hopes, dreams, fears ― and what it means to be American today.
More than three years later, APD shootings are down, but progress on reform has been slow. To make matters worse, the independent monitoring team appointed to oversee the reform process has found that in some instances, members of the APD executive and command staff engage in "deliberate resistance" to reform. This is particularly alarming, because many of the most challenging reforms, such as establishing systems to ensure effective use-of-force investigations, still haven't happened yet. At this rate, the reform process could stretch on for many years and cost our city millions more.
The good news is that a change in leadership is our best shot at speeding up the reform process. Instead of resisting change, a new mayor and police chief could and should embrace the opportunity to address long-standing problems with APD. By building trust with the communities it serves, APD will be more effective at fighting crime.
The APD desperately needs new, dynamic and creative leadership.
One of the most important decisions the new mayor will make is choosing a new police chief. To date, each of the mayoral candidates have publicly vowed to replace Chief Eden. Because of a change to the city charter, this will also be the first opportunity for the city council to weigh in on the appointment of a new police chief. Whoever this person is, he or she will need to navigate the DOJ settlement agreement while under pressure to bring down crime and recruit more officers.
To assist the new mayor in making this decision, APD Forward is developing hiring criteria for the next police chief in consultation with experts and organizations who specialize in police reform from across the country. We will publicly release these criteria prior to the run-off election on Nov. 14, and we are calling on our next mayor and city council to carefully consider these recommendations as they weigh this critical decision. APD desperately needs new, dynamic, creative leadership if we are ever going to get the professional, effective police department our city deserves.
Calling all HuffPost superfans!
Sign up for membership to become a founding member and help shape HuffPost's next chapter