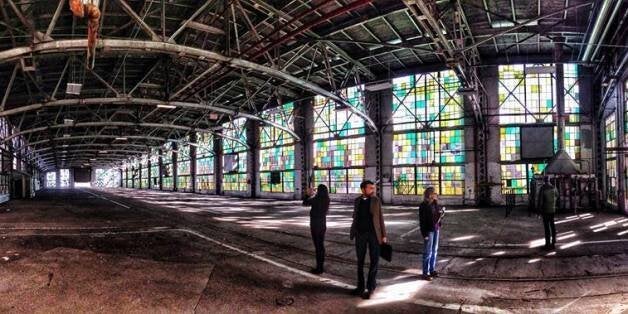 For the past six years, 35-year-old attorney Chad Gruber has helped solve his city's problems from inside a courtroom. But now, after serving as a public defender and practicing attorney in the Albuquerque legal system, he's embarking on a new kind of project that aims to bring the local community together more than ever before.
Albuquerque, the largest Spanish-colonized city in New Mexico, was originally known for its agricultural success. When railroads arrived in the late 19th century, the city's downtown area grew into a successful commercial center. But as the city sprawled outward and reliance on rails decreased, Albuquerque's downtown lost a lot of its traffic, revenue and luster. Only in recent decades has it begun to experience a revival, and the community has pinpointed a location from which they would like the progress to radiate: the old rail yards.
Noticing the community's interest, Gruber created a Facebook page in early 2013 that shared historical photos of the rail yards, information about the area's shops, and updates regarding the space's status. The city has seen various plans over the years for developing the rail yards since their initial closure, but many of the ideas ultimately faded away or failed due to what Gruber felt was a lack of community awareness and involvement in the initiatives. His Facebook page attracted the attention of more than 2,300 followers last year, which inspired him to reignite the conversation by allowing community members themselves to lead a new project idea.
"People in Albuquerque have shown that they're really interested in the site and what becomes of it," Gruber told The Huffington Post. "With that kind of interest under our belt, we decided that if we actually start something that's community-driven and kind of grassroots, we can create dialogue around what we should do with this site that's in the middle of our downtown, and we can get people engaged and involved."
After the city spent an estimated $750,000 repairing the rail yard's weathered roof, broken windows, electrical wiring and fire suppression system in August, Gruber and his friend Eric Griego decided it was time to put the space to good use for the community at large. One month later, they proposed to the city what would become the Rail Yards Market, and began connecting excited members of the community in order to make it happen.
Their proposal is now a reality. Starting May 4, the Rail Yards Market will bring agriculture, food vendors, visual and performing arts, musicians and even public transportation enthusiasts together under one roof every Sunday. The weekly market will run until November 2, and the team envisions the city's "first covered public market and community space" bringing life back to downtown Albuquerque.
When it came time to put the market idea into practice, Gruber drew inspiration from Jason Roberts, a Dallas native who spoke at a January 2012 TEDx event about what he called the Better Block project. Armed with ideas of how to make his neighborhood more accessible and community-driven, Roberts gathered support from local residents -- who in turn gathered $23 million in federal grants for the project -- and watched his vision come to life.
"The whole message was that it's easy to check ourselves and say we don't really know what were doing, so maybe we shouldn't be the ones initiating this sort of thing," said Gruber. "But sometimes you just have to go for it. And that message really struck me and stuck with me. Albuquerque is at the point where we have all these incredible, talented, passionate people, and they're ready for some sort of convergent space."
Gruber described Albuquerque as a place on the cusp of resurgence. Increased farming is breathing new life into the agrarian South Valley, he said, and urbanites are working to call attention to and change the troubled relationship between the city's poorest residents and its law enforcement. The Rail Yards Market team hopes it can provide a positive and peaceful project for the city, and help increase the equality of access to food, agrarian education, entertainment and transportation for everyone in their downtown space.
"We live in a time of a lot of ferment and trouble, but counterbalanced with that, I'm also seeing a lot of people stepping up and saying, 'Look, we have solutions to some of this stuff,'" said Gruber. "There are very practical things we can do to implement positive change on the ground today if we can get public support for it. There are solutions just waiting to be implemented that will improve our society and our culture, and I want to help bring those people together and get those solutions implemented."
The core group behind the Rail Yards Market has grown to about 60 community members in a matter of months, representing a variety of local initiatives and interests. 516 ARTS, a local nonprofit gallery space, also joined the effort as the Rail Yard Market's fiscal sponsor. With May 4 on the horizon, Gruber, Griego and their team of volunteers are arranging for artists, vendors and other participants to gather for the first Sunday market. While they need to raise an additional $30,000 to cover the opening and operational costs for the first official season, they are optimistic.
"I hope that the Rail Yards Market can become a place where more people are exposed to art with a positive message as they're getting good food, and learning about agriculture or various aspects of a sustainable society," said Gruber.
Calling all HuffPost superfans!
Sign up for membership to become a founding member and help shape HuffPost's next chapter