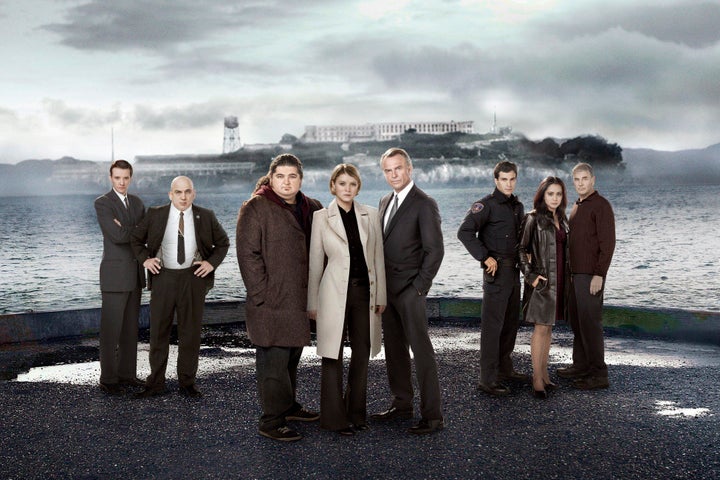 Alcatraz is a term deeply ingrained in our cultural consciousness as a source of mystery and curiosity, so it seems fitting that J.J. Abrams and Elizabeth Sarnoff, two of the genius minds behind the equally enigmatic "Lost," would choose to tackle the iconic island for another high-concept TV series. "Alcatraz" (premiering Mon., Jan. 16, 8 p.m. EST on Fox) might be lacking smoke monsters and polar bears, but there are still plenty of questions to be answered, as HuffPost TV discovered when we visited the Vancouver-based set in October.
The show's story begins in March 1963, when history tells us the prison was closed due to unmanageable operating costs and the erosion of buildings from years of salt water exposure. But in the world of "Alcatraz," the true reason for the closure is far more compelling: 302 prisoners and guards mysteriously vanish without a trace, only to reappear in our time without having aged. An unlikely team -- Alcatraz historian and comic book writer Doctor Diego Soto (Jorge Garcia), police detective Rebecca Madsen (Sarah Jones) and government agent Emerson Hauser (Sam Neill) -- must work together to capture the returned inmates and discover the truth behind their disappearance.
The series was conceived by Steven Lilien and Bryan Wynbrandt, former "Kyle XY" writers, who sold the concept to Abrams' Bad Robot production company. But Sarnoff, who has now stepped down as showrunner, took another stab at the story before shopping around to the networks.
Another "Lost" alum, Jack Bender, serves as executive producer, and he was on hand to answer reporters' questions during the group set visit. On the surface, the two island-based shows share similar DNA -- and not just because of Abrams and Garcia. But Bender insisted that "Alcatraz" is designed to be more accessible than its predecessor.
"I think the networks are certainly afraid of the mythology of the show overpowering an audience's potential to come aboard the train if they've missed a few [episodes]," he said. "I think that our show is going to walk that fine line, hopefully, because each week there is going to be a story unfolding that begins and ends. And there's still this overreaching, 'What happened? How the hell did this happen? What's going on?' vibe to the show that will be, season by season, revealed in a slow fashion so that the mystery stays alive and well."
Mystery series are somewhat dependent on the cast and crew's ability to keep a secret, and Abrams has arguably created a whole sub-genre of television show that's designed to keep the audience guessing, from "Alias" and "Lost" to "Fringe" and "Person of Interest." "Alcatraz" will be no exception.
Garcia, who shot to fame as the lovable Hurley on "Lost," told The Huffington Post that he's become accustomed to not knowing anything about his character's backstory -- and that he knows better than to ask. "I've gotten used to working this way from having done a show with these people before," he said. "I enjoy having to fill in my own blanks at the beginning. If stuff gets revealed later, even if it seems contradictory, I always feel that contradiction is what makes us people. So when you behave in a way that's not how people would have expected, it's a very human way to behave. So I've always enjoyed those moments myself as an actor."
While Garcia admitted that his new character on "Alcatraz" has his humorous moments, fans shouldn't expect Hurley 2.0 from Doc Soto. "It's fun finding a new guy. I'm digging what they've been writing for me," he said. "I wear a lot more clothes than on 'Lost' -- I've been doing that and I did that for six years; now let's explore somebody new and go see where I would go with it a different way."
Though Garcia and Neill's characters are integral parts of the story, Detective Rebecca Madsen is our true entry point to the mystery. She's a Scully-esque skeptic whose family history is inexorably linked to the prison. Sarah Jones has appeared in numerous guest spots and recurring roles (most notably in "Big Love" and "Sons of Anarchy"), but "Alcatraz" marks her first experience as the lead.
Jones described the show as a "procedural hybrid" that balances the weekly mysteries with added character development and ongoing mythology. In terms of her character, Jones said: "It's about her journey into a very new phase, a new chapter in her life that connects her to her past that she didn't know about before. Her world is basically turned upside down in the pilot and [the show] follows her through trying to put the pieces together, while she's catching the worst of the worst coming back and wreaking havoc on the good people of America."
Though Sam Neill wasn't on set during The Huffington Post's visit, his co-star helped shed a little light on Neill's cryptic Emerson Hauser, a member of a shadowy government agency who seems to know far more about the secrets of Alcatraz than he's letting on.
"There's definitely secrets he's keeping from them," Garcia admitted. "He lets stuff out, but really lets it out in a very thin trickle. It's not like a big idea of you become president and then go, 'All right, let me show you what's in the secret closet where the aliens are.' It becomes very need-to-know with him, because he's old-school G-man."
Luckily Rebecca and Doc have each other when Hauser's being guarded. "It's us against Hauser sometimes, very much," Garcia said. "I think we have this kind of relationship where we look out for each other. She does the ass kicking stuff; I do the vagrant. But we also try to watch each other's back. We know that we have to deal with Hauser -- and Hauser's not going to always give us a lot of information, so there are sometimes moments where we just find ourselves having to be in cahoots with each other, I think."
Jones agreed, adding: "I really like what the writers have done with their relationship. ... I like that Rebecca is not quick to trust people. There's very few people in her life that she allows herself to get close to and trust and I like that the writers aren't so quick to make Rebecca and Doc best friends. There's a relationship that's built and sometimes they have a moment together and sometimes she pushes him away; but that's something I'm really grateful to the writers for, because it allows Doc and Rebecca to actually get to know each other and learn how to trust each other."
Unlike Garcia, Jones is new to working with Abrams' closely-guarded plot turns, so she's still trying to figure out the show's central mystery: Where did the inmates disappear to?
"A part of each episode is that you get a little bit closer to finding out why these guys are here: Where did they come from, who's running it, you know?" she said. "I don't even know yet -- I'm trying to figure it out. I've got my own theories about it with a bit of the clues that we get every episode, but I'm sure they're not right. I'm sure I'll be way off and have no idea what I was talking about!"
You can attempt to solve the mystery yourself when "Alcatraz" premieres with a two-hour episode on Mon., Jan. 16 at 8 p.m. EST on Fox.
Popular in the Community