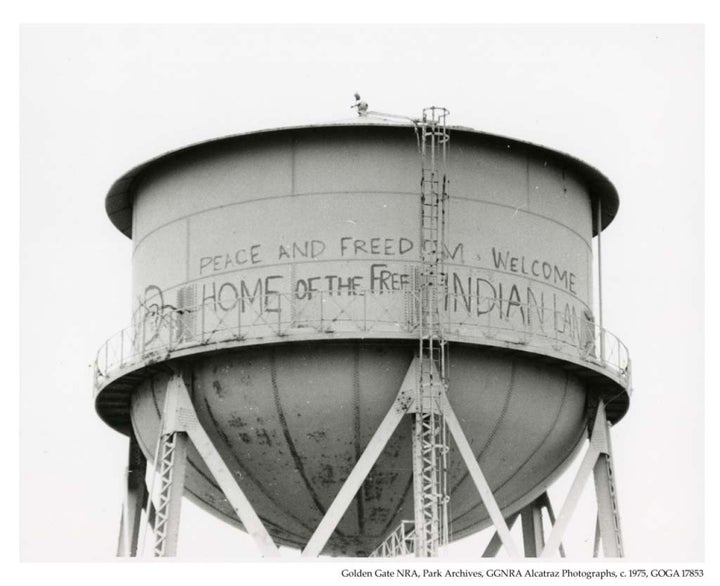 Early last month, the National Park Service did something unusual: It painted graffiti onto one of its buildings.
However, this is no ordinary graffiti.
"Peace and Freedom. Welcome. Home of the Free Indian Land," the hand-painted slogan on the Alcatraz water tower reads. The scrawl dates back to the nearly two-year occupation of the famous island prison by Native American activists at the tail end of the 1960s.
"The Indian occupation was a pinnacle moment for the Native American population and one of the most significant moments in the history of Alcatraz," said Golden Gate National Recreation Area spokesperson Alexandra Picavet. "The graffiti on the water tower is one of the most visible remnants of that time."
Before the graffiti was painted over earlier this year as part of a restoration of the island's water tower, park officials meticulously documented it so they could recreate it perfectly on top of a fresh coat of paint.
"The painting on the water tower is one of the few remaining remnants of the occupation that are in areas open to the general public," said Picavet, explaining why it was a priority for officials to preserve the graffiti.
"It was before the days of spray cans being used; it was done with paint and brush," Fairfax resident John Martini, a historian who was a ranger on Alcatraz from 1974 to 1976, told the Marin Independent Journal. "A lot of graffiti is political and the Park Service felt then and now it was important to keep."
The occupation, which lasted from November 1969 until June 1971, captivated international media attention to the issue of Native American rights.
In the early 1960s, the federal government shut down the famous prison on Alcatraz, which housed inmates like Al Capone and George "Machine Gun" Kelly. This was around the time that the government also started closing Native American reservations and sending their former residents to urban areas.
"[The Alcatraz occupiers] wanted to focus attention on broken treaties, broken promises and termination of tribal areas," Professor Troy Johnson, chairman of the American Indian studies program at California State University, Long Beach explained to CNN.
In response, a group of activists boated onto the island and took it over with the intention of converting the former prison buildings into a Native American cultural center and museum, replacing another cultural center in San Francisco that had recently burned down. The occupiers lived on Alcatraz for over a year, largely without power and running water, until the size of the group dwindled to just over a dozen. Government officials eventually swarmed the island, putting a swift end to the action.
Members of the family of Richard Oakes, one of the occupation's ringleaders, were invited to come to the island and assist with the repainting.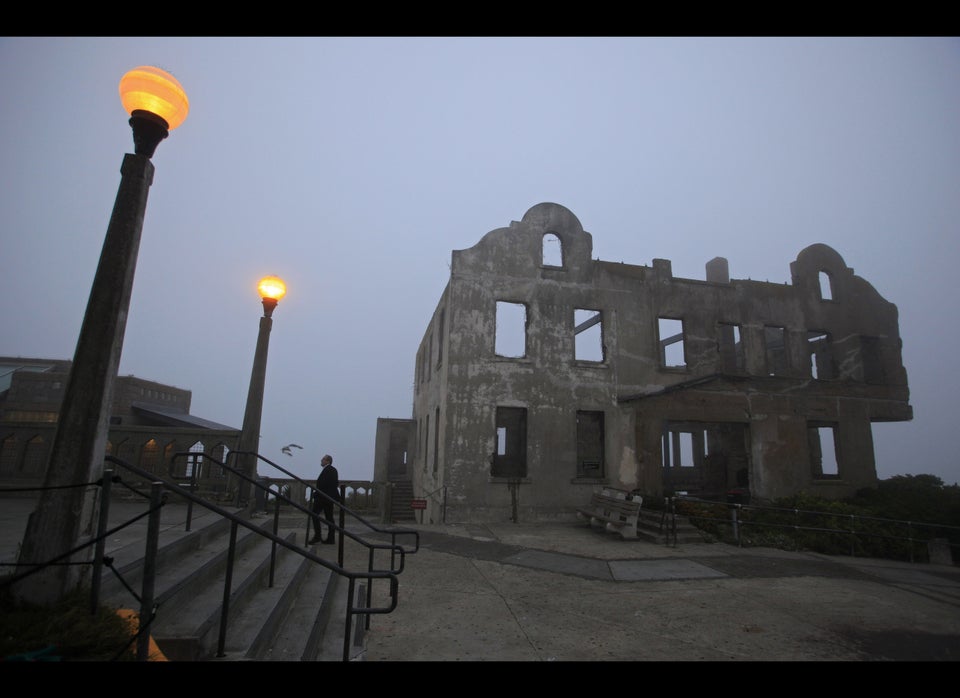 Alcatraz At Night
Popular in the Community