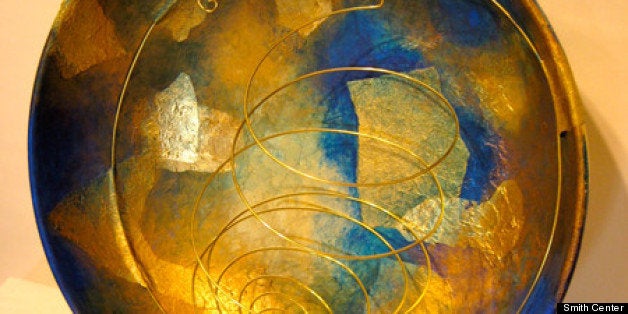 The walls of the Joan Hisaoka Healing Arts Gallery have been overtaken by the diverse works of 125 of Washington, D.C.'s most accomplished artists. Hand-selected by 16 invited curators, each artist was given the task of reinterpreting the simple form of a ceramic bowl as part of a community dialogue about the transformative healing power of the arts. This collaborative exhibition, catalyzed by local cancer support nonprofit Smith Center for Healing and the Arts, will be on display through June 7. Speaking to Smith Center's work and mission, each work draws inspiration from the alchemical process, symbolically referencing creating a place where healing can take place.
The alchemical process is the transformation of matter. The basis of the process is the unique "prima materia," the raw core material, which is then transformed into something precious and sublime. Each of the participating artists were given as their "prima materia" a simple, pure white, empty ceramic bowl. According to many artists' testimonies, the convex curve, integral to the bowl, inspired openness, awareness, reflection, and meditation. The concept, at its core, was to allow the bowl to serve as a catalyst for transformation, resulting in the creation of unique pieces of art, full of hope and endless possibilities, joy, healing, strength and self-discovery.
Metaphorically speaking, Smith Center -- the space and the work that happens within it -- can be described as an alchemical vessel. People bring their most challenging burdens, fears, and pains to be transformed and in this place of holding. Smith Center's holistic healing programs -- such as therapeutic creativity programs, yoga, and immersion retreats -- help transform those toxic elements into hope, light, wisdom and strength.
Each artist donated their time and finished work to Smith Center for the exhibition and a special Benefit event that will be held on May 17 to support their work. Attendees of the Benefit will be offered the unique opportunity to own one of these original works -- each being called up in the order that their ticket was purchased to choose which vessel speaks to them. They will also be invited back to attend a closing reception on June 7 with the artists.
The various media and materials displayed in the Exhibition are as diverse as the artists themselves: 24 karat gold leaf, handmade paper, fabric, acrylic, saliva, cruelty-free naturally molted peacock feathers, gouache, ash, Chinese ink, foliage, horse hair, bronze dust, a leather shoe, glass, tissue paper, sea shells, and clay to name a few.
Artists also address a myriad of issues, including renewal (Breen Lauren), healing (Kay Chernush), sexuality (John Paradiso), exercise (Tory Cowles), purification (Kathryn McDonnell), psilocybin/psychedelic therapy (John Grunwell), aging parents (Susan Finsen), surviving (Sigrid Vollerthum), honor and remembrance (Virginia Langston), spiritual awareness (Wayson R. Jones) and, a soul's journey and the endurance of compassion and positive energy (Patricia Underwood).
Pamela H. Viola literally represents the alchemical process by transforming rust into gold. The alchemical colors: black, white, red and yellow, are depicted in Kazaan Viveiros' vessel with dots of each color along a forward path. The Workingman Collective honor the alchemist red with their piece Red created with red flocking. Rania Hassan utilizes metals from per previous solo show to create an interior triangular form in the circular bowl symbolizing the transformation of the self. The vessel is a reflection on how one creates an alchemical environment for healing in Francie Hester's work; the exterior with its layering of lines provides protection to the inner sacred space. Kathryn McDonnell invited random participants to undertake a journey of letting go and allowing nature to take its course in a controlled action.
Where often times there are no words to describe our feelings, artists often serve as a catalyst with their creations. They create a visual language, that not only is aesthetically delightful, but invites us to go deeper within ourselves -- to explore, grow and reawaken.
From Marta Luz Gutierrez in the making of her vessel:
In a non-stick shielded vessel, mix:
Beat all that up, sprinkle some humor, and
Related
Popular in the Community