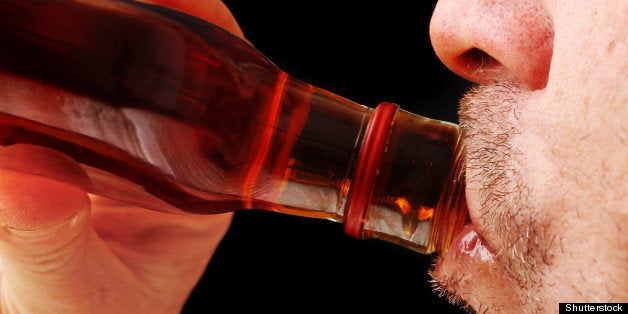 We've all read the studies: moderate alcohol consumption can be part of a healthy lifestyle for many people. Men who have two drinks a day and women who have one are less prone to heart disease, diabetes, gallstones, arthritis and even Alzheimer's.
Drinking is on the rise in people over 50 and seems to climb as we get older. Some studies cite retirement, loss of job, divorce and death or declining health of a loved one as just a few of the reasons why. In 2010, 16 percent of people over 65 had a daily drink, compared to 10 percent of 45 to 64 year olds and 2 percent of 16 to 24 year olds. And gender is a factor: women between 45 and 64 drink more than any other age group.
But not all daily drinkers have a drinking problem, and not all problem drinkers drink daily. Even if it's been 30 years since you felt tipsy, you could be one of the 17.6 million Americans with alcohol dependence. This can manifest as a preoccupation with drinking, changing plans to facilitate it or concealment of habits. If this sounds like you, it might be time to address your relationship with alcohol.
Dr. Mark Edison, an addiction psychologist with a private practice in New York City, doesn't think so. I recently sat down with Dr. Edison to learn more about alcohol dependency, how to know if you have a problem and the options available in addition to AA. Here is a condensed version of our conversation:
You've stated that most people -- including doctors -- aren't even aware of the scientifically-proven ways to address problem drinking, many of which they can learn and use on your own. Is this true?
Like most doctors, you probably think the only way to fix a drinking problem is never to drink again...for the rest of your life. But, that's just one way to do it. The National Institute of Health has uncovered new ways to address drinking problems -- all of which have been proven to work.
Why do so few people know about these new methods?
The answer to that question starts with the 1935 founding of Alcoholics Anonymous, known as AA, which calls itself "an informal society" and functions as a decentralized collection of 2.1 million members who meet regularly in 114,070 groups around the world.
AA meetings are based on twelve "steps" that members believe must be practiced continually to permanently quit drinking. (This is why AA is known as the first "twelve-step program.") As AA has grown, a professional addiction-treatment industry has grown up alongside it. This industry, which now totals $2.8 billion dollars, has long promoted the use of the 12-step approach by professionals to treat patients for money. (AA itself accepts no fees.)
The problem with advertising 12-step programs isn't that they don't work -- they do for many people -- but that the scientifically proven alternative solutions for drinking problems rarely get attention. So problem drinkers (and the doctors who treat them) who want the new, non-12-step approaches often can't get access to them simply because they don't even know they exist.
Where did these new approaches come from?
Until 1970, little scientific research was conducted in this country on how to fix drinking and drug problems. That changed when the National Institute on Alcohol Abuse and Alcoholism was created in 1970 and the National Institute on Drug Abuse in 1974. Since then, these two federal agencies -- which are part of the National Institutes of Health -- have poured $4.46 billion dollars into research on problem drinking. These new "non-12 step" approaches can be directly linked back to their research.
Can you cut down on drinking without giving it up completely?
Back in 1992, the National Institute on Alcohol Abuse and Alcoholism surveyed 42,862 randomly selected Americans about their lifetime drinking and other drug use. It turns out that half of all Americans who have ever had a drinking problem now drink safely. This means they've cut down on their drinking without giving it up. Other research makes clear that problem drinking is a chosen behavior: People can choose to drink less at some times than they do at other times.
Drinking problems grow slowly. Sometimes they get worse, sometimes they get better and sometimes they do both over the course of a lifetime. It's easier to cut down on or back out of problem drinking when things are better.
How do you know if you have a drinking problem?
There are two simple free ways to figure out if you have a drinking problem or not.
MAST Test: Spend eight minutes taking the 25-question paper-and-pencil Michigan Alcohol Screening Test (known as the MAST), one of the most widely used tests available. It takes three minutes for you to score and get your results on your own. You can find the MAST by clicking here.
Drinker's Checkup: This test takes more time than the MAST, but if you're concerned about your drinking, the Drinker's Checkup can help you figure out if you want to change or not. Like the MAST, the Drinker's Checkup has been found to be highly effective. You can find the test by clicking here.
If you do have a drinking problem, can you fix it yourself or do you need help from a counselor?
You might be surprised to hear that research shows you can fix your drinking problem yourself. Lots of people do so without any professional treatment or self-help groups. If you want to try to fix it on your own, one way to do so is by reading any of these four books, all of which draw heavily on research:
Changing For Good, by J.O. Prochaska, J.C. Norcross and C.C. DiClemente, published in 1994 by Quill.
Controlling Your Drinking, by W.R. Miller and R.F. Munoz, published in 2005 by The Guilford Press.
Over The Influence, by P. Denning, J. Little and A. Glickman, published in 2004 by The Guilford Press.
7 Tools To Beat Addiction, by S. Peele, published in 2004 by Three Rivers Press.
On the other hand, there are many people who find that working with a professional counselor is the preferred way to change their drinking habits. Generally, counselors use different methods to help with drinking problems. One method that works very well is the Community Reinforcement Approach (or CRA for short), a treatment approach that focuses on reducing positive reinforcement for drinking and enhancing positive reinforcement for sobriety.
Research shows you're more likely to make changes in your life when you have three or more choices showing you how to change. This might be why CRA works so well. It offers a menu of options which you can combine any way you like:
How to motivate yourself to behave differently
How to reward yourself for achieving your target behaviors
Solving your people problems better
How to talk and listen better
How to benefit by taking just one short break from drinking
The subtle art of refusing drink.
How to rebound from mistakes
Getting support from your loved ones instead of criticism
I hope you'll click on all the links that have been embedded in this article to learn more about understanding your personal relationship with alcohol. For more information on Dr. Edison and his research, please click here.
Next week, I'll report on my conversation with Dr. Edison about how to help someone in your life if you suspect that person has a problem with drinking.
* * *
Also on HuffPost: The Effects Of Alcohol In The Body (INFOGRAPHIC)
REAL LIFE. REAL NEWS. REAL VOICES.
Help us tell more of the stories that matter from voices that too often remain unheard.