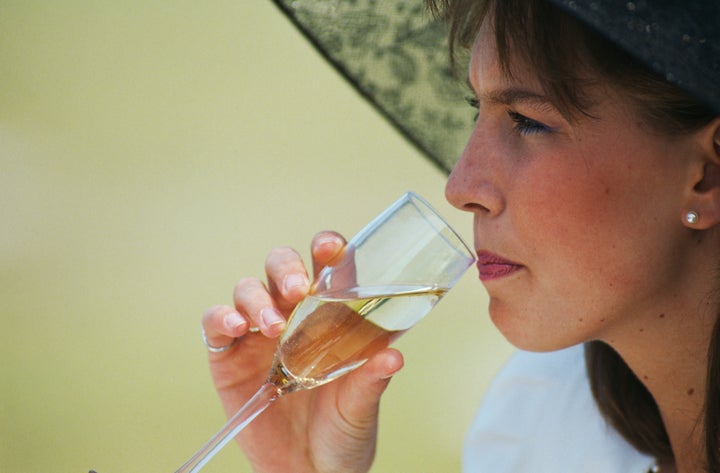 Lifestyle factors -- like not smoking, maintaining a healthy body weight and being physically active -- have been shown in past studies to reduce the risk of Alzheimer's disease. But a sweeping new review of the research also shows that moderate drinking -- that is, no more than one to two drinks per day -- could also slash the risk of developing the disease.
The Neuropsychiatric Disease and Treatment review of more than 140 studies conducted since 1977, which included 365,000 people, shows that moderate drinkers have a 23 percent reduced risk of developing Alzheimer's disease, other kinds of dementia and cognitive impairment.
Moderate drinking is defined as no more than one drink per day for women and two drinks per day for men.
Researchers from Loyola University Chicago Stritch School of Medicine found that wine seemed to have more of a beneficial effect than beer or spirits, though not all studies included in the review differentiated between different kinds of alcoholic drinks.
However, researchers stress this finding doesn't mean non-drinkers should start drinking to lower their Alzheimer's risk. "This study is not the final word, but it does provide the most complete picture out there," researcher Michael Collins told WebMD.
Inflammation in the brain is thought to play a role in Alzheimer's disease, which is the most common form of dementia. Inflammation has also been implicated in heart disease, stroke, diabetes, rheumatoid arthritis, and even some cancers.
Dr. Sam Gandy, chair of Alzheimer's disease research at Mount Sinai Alzheimer's Disease Research Center in New York, told HealthDay that while the review of studies was well designed and executed, only a prospective, randomized clinical trial could provide real proof of alcohol's effects.
Moderate drinking has been shown in past research to have positive health benefits. In a 2010 study, moderate drinkers had a lower risk of death over a 20-year period than people heavy alcohol-drinkers and abstainers.
And another study published last year out of France showed that light and moderate drinkers had better total health than non-drinkers and heavy drinkers, including higher levels of "good" HDL cholesterol, lower blood pressure (for females) and less depression and fewer heart risks (for men), WebMD reported.