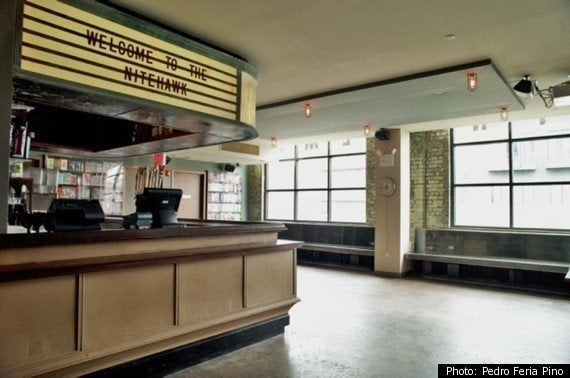 New Yorkers will no longer need to bring their flasks to the latest flick.
A new state law will allow moviegoers to bring alcohol to their seats at motion picture houses that have licensed restaurants on premise and have tables at each theater seat. Since the repeal of Prohibition, the state of New York has permitted drinks to be served in all theaters except those showing films.
And it's all thanks to Brooklyn's own Matthew Viragh, owner of the recently opened Nitehawk Cinema in Williamsburg, which also houses a full-service restaurant with a menu created by chef Saul Bolton.
He hired a lawyer and a lobbyist, The New York Times reports, and on August 17, Governor Cuomo signed bill 4772-2011, authorizing motion picture theatres to serve alcoholic beverages.
"Adults aren't enjoying going to the movies [which cater to] adolescents," said Cathy Peake, a spokeswoman for Assemblyman Joe Lentol (D--Brooklyn), who sponsored the bill.
And it's not just independent theaters that are gearing up to take advantage of the law. According to The New York Post "one of the country's largest chains, AMC Theaters, which operates 24 theaters in the state, and the Angelika Film Center on Houston Street are considering adding restaurants that serve alcohol."
"We're excited about the possibility of bringing AMC Dine-In Theatres to our guests in New York," said AMC spokesman Ryan Noonan.
Related
Popular in the Community