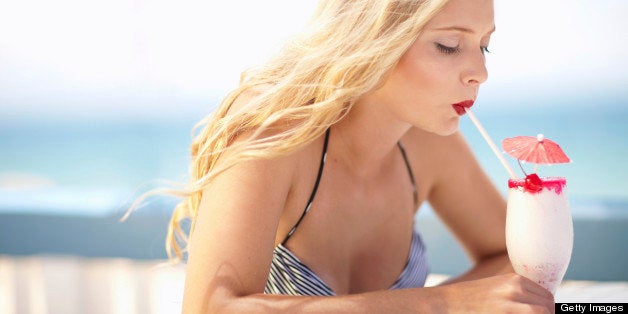 Does the word "vacation" make you think of lounging on the beach while surrounded by a small army of frozen cocktails? Think again.
A new study suggests that, if travelers had to choose between one or the other, they'd prefer to swap out that frozen drink for Facebook.
The realization comes courtesy of the 2013 SpringHill Suites survey, conducted by global market research firm Kelton, which found 54 percent of Americans would give up alcoholic beverages during a trip if it meant they'd get a 25-percent discount on their hotel stay. Only 43 percent of Americans, meanwhile, would forgo logging onto social media in exchange for the same discount.
Of the respondents, 40 percent indicated a willingness to not have housekeeping for their stay at a hotel, 26 percent said they would relinquish access to their mobile devices, and only 13 percent would give up their cameras or any other means to record their vacation -- all for the same 25 percent discount.
It's important to note that most of the discounts referenced in the study are purely hypothetical. Hotels would be ill-advised to adopt no-camera policies for guests interested in saving 25 percent. However, some high-end hotels have experimented with cutting back on housekeeping and passing on resulting savings to their guests.
A Wall Street Journal article from 2010 found the cost of cleaning a "high-end" room is about $22 per day, leaving a clear incentive for hotels to pass savings on to guests if they express an interest.
According to Kelton's methodology, the results are based on 1,048 surveys of a nationally representative sample, conducted via email and online. The survey has a margin of error of 3 percent.