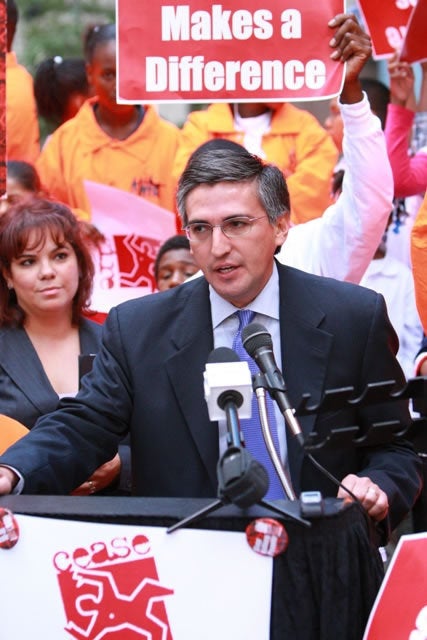 A longtime independent voice on the Chicago City Council, one who often spoke up against Mayor Richard M. Daley and who seemed poised to be a similar thorn in the side of Rahm Emanuel, announced he will be pursuing county-wide office next year.
Ricardo Munoz, the 22nd Ward alderman known as a reform-minded progressive, will be challenging Cook County Circuit Court Clerk Dorothy Brown for her office in the Democratic primary to be held in March of 2012, according to NBC Chicago.
Munoz is part of a group of progressive Latino legislators looking to gain power in city, county and statewide office. In 2010, he worked with his political mentor Jesus "Chuy" Garcia in Garcia's successful bid for Cook County Commissioner, and with Rudy Lozano, Jr. in his narrowly failed run for state representative.
His own bid for county office seems to come at a good time, as current clerk Brown is perceived by many as politically vulnerable, the Chicago News Cooperative reports. She herself has made a couple of attempts at higher office, most recently throwing her hat in the ring for Cook County Board President. But she lost that race badly to Toni Preckwinkle, bringing in only 14 percent of the vote in the Democratic primary after her candidacy was marred by an ethics scandal surrounding her "Jeans Day" policies at the clerk's office.
Munoz claims that his bid is motivated by frustrating inefficiencies at the Clerk's office. "The incumbent has been there for 10, 11 years and has not brought the office into the 21st century," he said to CNC, claiming that he would introduce digital filing of court paperwork to counter the often long delays lawyers find in trying to obtain paperwork.
For her part, Brown seemed surprised at Munoz's decision in a statement. "As proven progressives and reformers, we should be looking at how to increase our numbers throughout city, county and state government rather than running against each other," she wrote, according to the Chicago Tribune.
Though he won re-election by a landslide in the 2011 citywide race, Munoz is coming off a difficult few years. Last year, he admitted to alcoholism, entered AA, and says he has been sober since. He has also admitted to lobbying for his daughter to be admitted to a prestigious high school, and his estranged father was sent to prison in 2008 for participating in a fake I.D. scam.
Still, he is widely popular, especially among progressives and independents. And if Brown's recent electoral performance is any indication, she could well have her hands full in March.
REAL LIFE. REAL NEWS. REAL VOICES.
Help us tell more of the stories that matter from voices that too often remain unheard.