Because I'm a dietitian, people assume that every meal and snack my family eats features all food groups and looks Pinterest-perfect. But, like most moms, I'm just trying to balance my dreams of kale-eating kids with their love for boxed mac-and-cheese. And while I strive to feed my family as many fresh, whole foods as possible, I'm also working with a food budget.
So what does that mean in the real world? Here's what the lead-in to the weekend typically looks like for my family -- myself, my husband, and my two boys, ages 12 and 8 -- the good, the not-so-good and everything in between.
Breakfast: My husband and I are both creatures of habit come breakfast. For him, it's a morning bowl of granola (a mix of Millville Oats 'n Honey and Oats 'n Dark Chocolate). For me, it's always a smoothie. Today it was a Chocolate Peanut Butter Smoothie made with unsweetened almond milk. My kids would happily eat dry cereal out of the box if left to their own devices, so I try to be there to push some protein, too. After their cereal, they had vanilla yogurt topped with fresh sliced peaches and granola.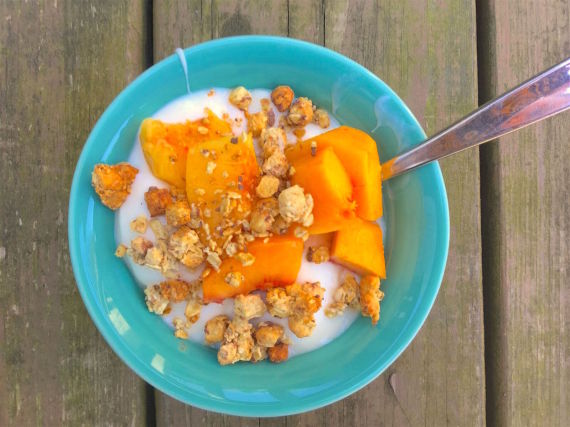 Image: Sally Kuzemchak
Lunch: My husband packs a lunch each morning (a PB&J on whole wheat, green apple, and his favorite Moser Roth dark chocolate). I make myself and my boys something simple; today it was eggs with sliced ham and Havarti cheese wrapped in tortillas. We shared a half pint of red raspberries.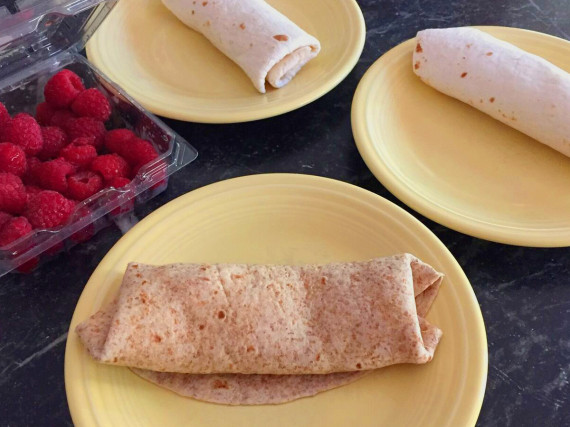 Image: Sally Kuzemchak
Snacks: My kids are old enough to help themselves to snacks, which is a blessing and a challenge. But I try to keep enough healthy choices on hand that appeal to them. Today's snack tally: Pretzels, cheese sticks, unsweetened applesauce and slices of this freshly baked Chocolate Zucchini Bread, a recipe I was testing for a blog post. But no matter what, they know the house rule: Only veggies are allowed in the hour before dinner, because there's nothing worse than a home-cooked meal wasted on kids who have already filled up on granola bars.
My go-to afternoon snack is a mix of raw almonds and dried cranberries. My husband doesn't snack at work and comes home h-a-n-g-r-y. I mashed up an avocado for a quick guacamole and set it out with tortillas chips.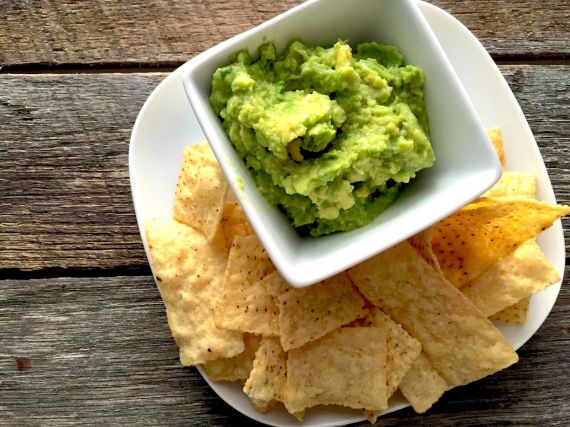 Image: Sally Kuzemchak
Dinner: I take full advantage of fresh produce to simplify summer meals. Tonight it was baked BBQ drumsticks (using SimplyNature organic BBQ sauce), corn on the cob, sliced fruit and a large green salad. Fast, fuss-free, and everyone's got something on the table they're happy about.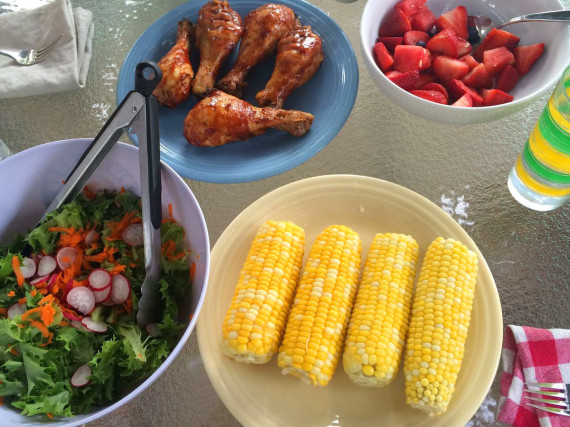 Image: Sally Kuzemchak
Late Night: Netflix and chocolate. Don't tell the kids.
Breakfast: On the weekend, I often make a double batch of pancakes or waffles, then I squirrel some away in the refrigerator or freezer for quick breakfasts throughout the week. Today I made Whole Wheat Waffles and served them with bacon and fresh blueberries. But I stuck with a smoothie - this time a green smoothie with spinach, banana and pineapple.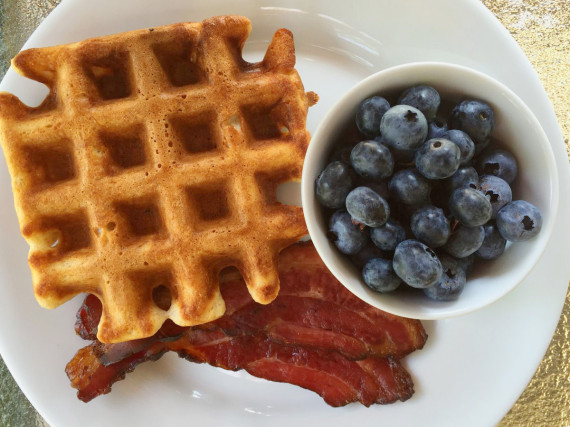 Image: Sally Kuzemchak
Lunch: I often keep a box of organic mac-and-cheese around for my boys as a fun weekend lunch (and bonus: I've taught my older son how to make it himself!). Today I served it with a plate of garden-fresh carrots and kohlrabi with some ranch dressing to dip. My husband made us panini with turkey and Swiss (tip: spread the outsides of the bread with mayo instead of butter for a crunchier, crispier crust!).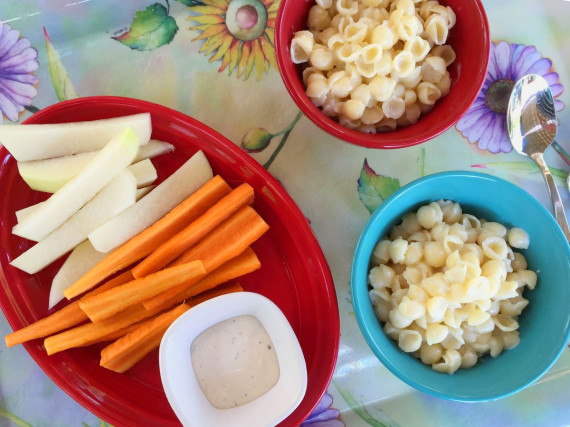 Image: Sally Kuzemchak
Snacks: To be honest, weekend snacks are a bit of a blur. I know there were more slices of Chocolate Zucchini Bread all around and handfuls upon handfuls of the fresh blueberries we'd picked.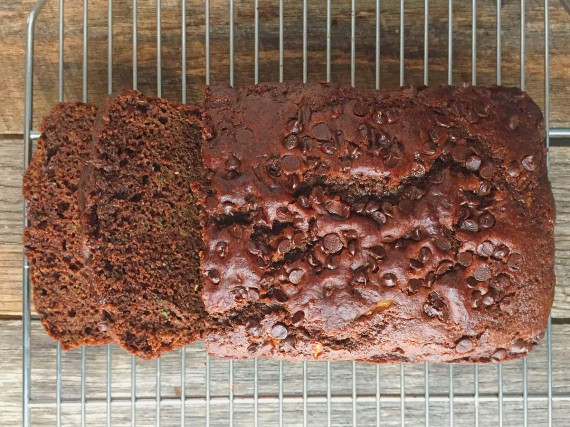 Image: Sally Kuzemchak
Dinner: After cooking dinner all week, I need a break. We usually set aside a weekend night to eat out or order takeout. At the last minute, we got tickets to a Major League Soccer game, so we ate at the stadium -- which happens to host a stellar selection of food trucks. My husband and the boys had brats from the German food truck while I nabbed some falafel and an order of decadent feta fries at the pita truck. The boys each chose between a soda or a snow cone and we all shared bites of a German cream puff.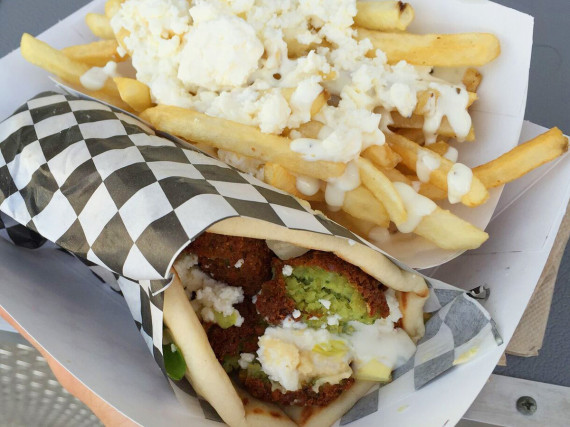 Image: Sally Kuzemchak
So that's real life. And at least for us, real life means not only vegetables and whole grains and recipes cooked from scratch, but also ranch dressing and cream puffs and some packaged food, too. It's a balance that works for our family -- even if it's not always Pinterest-perfect.
Sally chooses ALDI for all her family's grocery needs, from fresh produce, to SimplyNature Organic Macaroni and Cheese, to Friendly Farms Almond Milk. With more than 1,500 nationwide locations, including Southern California, ALDI offers a wide variety of organic fruits, vegetables and locally grown produce, all at an affordable price, to modern, on-the-go families who care about nutrition.