Food Informants is a week-in-the-life series profiling fascinating people in the food world. We hope it will give you a first-hand look at the many different corners of the food industry. Know someone who would make a great Food Informant? Tell us why.
Aldo Sohm is the Wine Director of the acclaimed New York restaurant Le Bernardin. His wine career began in Austria and he won the title of "Best Sommelier of Austria 2002." He upheld this title for four consecutive years, a feat never before or since accomplished. Sohm relocated to the United States in July 2004 and worked as the wine director at Wallsé, Blaue Gans and Café Sabarsky. He was voted "Best Sommelier in New York" in 2006 by New York Magazine. The following year, Sohm competed for and won the title of "Best Sommelier in America 2007."
In May 2007, Sohm joined Le Bernardin, New York's longest rated four-star restaurant. As wine director, he oversees a wine collection consisting of 15,000 bottles made up of 900 wine selections from 12 countries with vintages that date back to 1945. He also trains the sommeliers to offer guests enticing food and wine pairings that range from classic to daring. His favorite pairing at Le Bernardin is scallops with morels and Chablis ler Cru Vaillon, Defaix 2000. Sohm reached the pinnacle of wine competitions when he was awarded the highly-coveted title, "Best Sommelier in the World 2008," by the World Sommelier Association. He is the first representative of America to win this title.
Read Aldo's diary below to learn how he selects wine for the restaurant, and how he handled the Valentine's Day rush.
Saturday, February 11
8:30am: I am a creature of habit when it comes to my morning routine. I tend to usually have granola or cereal and a tea -- this morning it was English Breakfast.
12pm: As it's a Saturday and there is no lunch service at Le Bernardin, I took a walk through my Brooklyn neighborhood and have a toasted ham sandwich and a soda for a quick bit of energy -- Saturday nights are hectic at LB!
4pm: 4pm is dinner time for me, as service begins at 5pm and does not stop 1am! I always have family meal with the rest of the team at LB and today it was homemade pizza.
4:45pm: A quick tasting before dinner service: a Pinot Noir, Barda/ Patagonia, Argentina 2010. There was a dish change on one of our tasting menus so the wine pairing changes as well. The food and wine pairings are something I spend a great deal of my time working on. In this case I had an idea that this particular Pinot Noir would work well with our monkfish dish. A new world Pinot Noir has a freshness that cut through the richness of the pata negra sauce that accompanies the monkfish and yet it has enough finesse in the fruit to not overwhelm the delicate flavors of the monkfish. Often I taste many, many wines in order to find the right pairing. As many as 2 dozen sometimes. This time I was lucky in that what I thought in my head actually worked upon tasting. After I taste and finalize the wine pairing, I always have a tasting and training session with the staff before service. Throughout the night during every service when I'm on the floor, I taste every bottle I open -- the best of the night was Champagne Pol Roger Winston Churchill 1988.
1am: It was a long night and a particularly busy service so I finish it off with one of my favorite beers: Reissdorf Koelsch from Germany.


Sunday, February 12
8:30am: I went for a run this morning, so I skipped my granola this morning and just had English Breakfast tea. I have a lunch appointment and a birthday dinner later today so I don't want to overdo it.
Noon: Lunch at Franny's in Brooklyn. It is one of my favorite places to eat in the city. Today, I had the red beet salad and pasta amatriciana with a glass of Etna Rosso from Terre Nere 09.
6:30pm: It's a friend's (and colleague at Le B) birthday and she is having a dinner party. We begin with some charcuterie and some Ayala Champagne.
8pm: I am so excited for dinner -- it's home cooked paella (with rabbit and seafood) and lots of wine! I'm sticking with the Croze Hermitage, Bordeaux -- it goes with everything!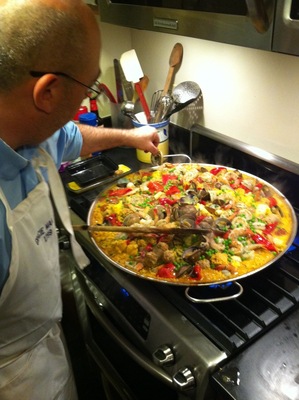 10:30pm: The party is still going! I have too many cupcakes and an oversized slice hazelnut birthday cake -- again Ayala Champagne...!


Monday, February 13
11am: I have family meal at LB before lunch service -- today it's pasta and salad -- healthy start!
11:15am: Wine tasting with a supplier before lunch. This is another part of my job that I consider very important. I am constantly tasting new wines and seeing about new additions to our list. Today I tasted 6 White Burgundy's including a Chassagne Montrachet 1er Cru Morgeot Henri Germain 09.
4:00pm: Second family meal of the day, and my dinner so I indulge on a cheeseburger, fries and a salad. I am doing a lot of tastings this evening so a big meal is needed. The wine of the night was a Chambolle Musigny 1er Cru Amoureuses JF Mugnier 1988.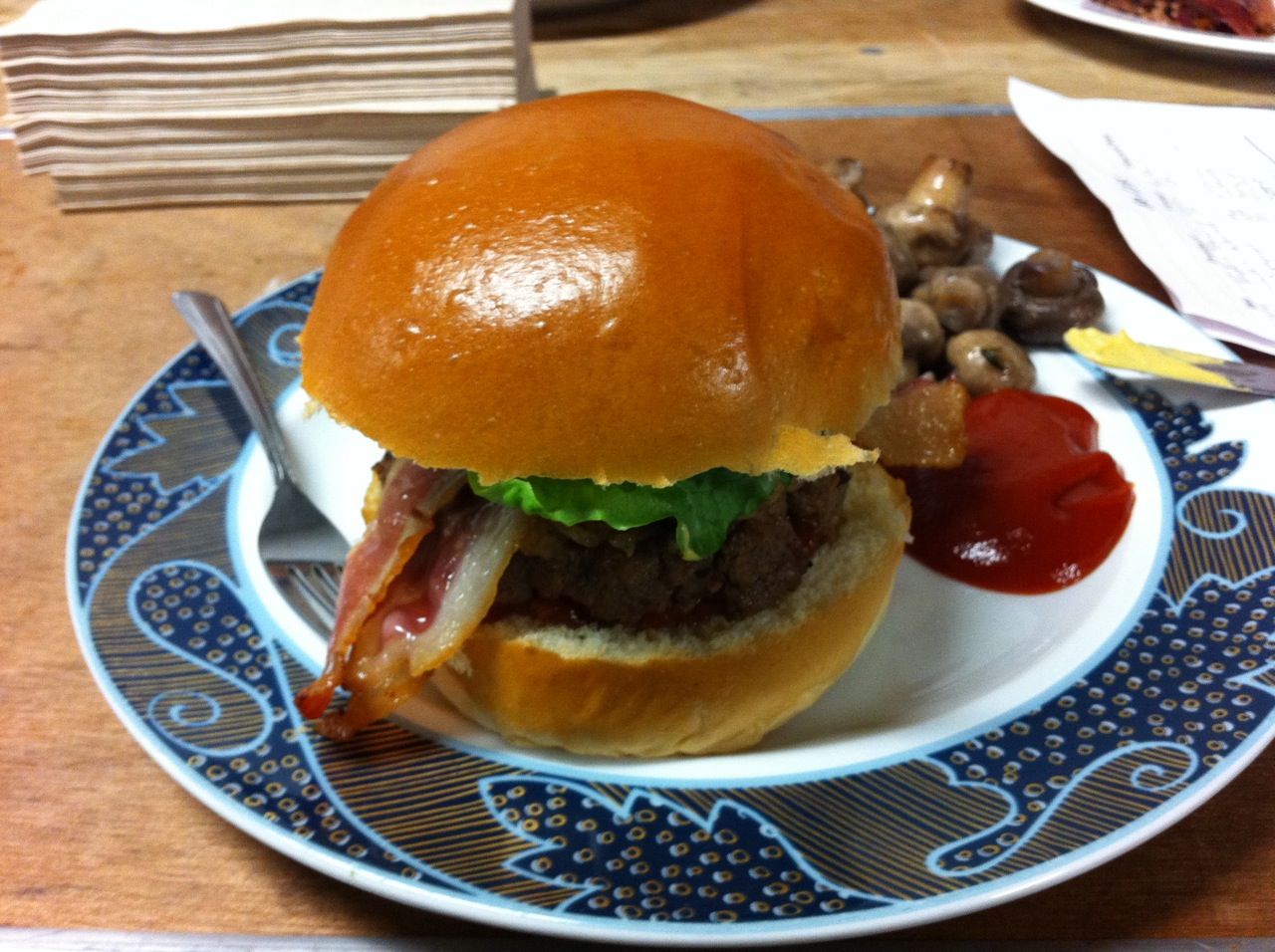 10:30pm: I am working on a new wine pairing for the fluke appetizer. Raw preparations of seafood are one of things Le Bernardin is known for and pairing wines with raw fish can be challenging. Typically you need to find a wine that has nice acidity to match the acidity in the fish. But you have to always consider the sauce and garnish as well. And in this dish, the sauce plays a huge part. Working with Chef Ripert is wonderful -- and challenging in terms of finding the right wines to match with our cuisine. Chef Ripert's philosophy is to make the fish the star of the plate, and many of our preparations are delicate but very playful in the sauces. This particular fluke has such a delicacy -- I need a wine with a lot of minerals, freshness and it has to be floral to pick up the notes in the sauce. Today I tried 6 different wines -- including sake -- but it was not perfect, maybe 95% but that is not good enough! I also tried Gruner Veltliner which normally works but not even that, a Riesling (too high in acid and too aromatic), a Chablis (too austere) and so I still haven't found the right one. I will try again tomorrow.
Midnight: After a big night of tasting and three big meals today, I have another Aveda tea before bed. Another routine I try and keep to!


Tuesday, February 14
11:00am: Today's family meal was a classic fish stew with rice followed by another wine tasting with a supplier- - a great little Sancerre.
2:30pm: This afternoon's snack was courtesy of the ladies in the account's office -- peeled and sliced apples for me -- they are so thoughtful!
4:00pm: So, as today is Valentine's Day and probably the busiest day of the year at LB, family meal is a hearty dinner of fried chicken and Caesar salad. We all take this downtime for a must-needed rest as we know we are going to be extra-busy tonight!
4:30pm: Sugar fix comes in the form of leftover chocolate cake.
5:00pm: Just to make sure I am energized and focused for service, I down a quick coffee before Valentine's dinner service starts. I'll be tasting wine during service all night long (and more than usual). Tonight's stand-out was, of course, a Champagne: Jaques Selosses Vintage Champagne en Magnum 1998.
5:00pm-2:00am: There is really no break throughout the evening. We are totally busy and lots of guests of course are celebrating and choosing to do wine pairings so that means more interaction at the table. Luckily that is what I love most about this job. One guest asks me how I feel to be working on Valentine's Day...I truthfully say it's a blessing in disguise. I get to avoid the madness and celebrate with my girlfriend on a quieter day...
2:30am: What a night!!! A long but great evening. I take the chance to finish off Valentine's Day with another great love: beer! A Radeberger Pils to be exact!


Wednesday, February 15
9:00am: My day off!!! No tea or granola for me today -- it's all about espresso and a roll with butter and Austrian apricot jam -- I love it!!!
1:00pm: I have a lunch appointment and I get to choose the location. I pick an Austrian favorite; Seasonal Restaurant on West 58th St. I go all out. I have the poached egg with lobster followed by Wiener Schnitzl and Palatschinken (crepes) filled with apricot jam -- a classic Austrian dessert! I can't come to Seasonal without having a glass or two or Gruner so I have Gruner Veltliner Smaragd from Nikolaihof 06, a wine that's really showing well. A great lunch all round.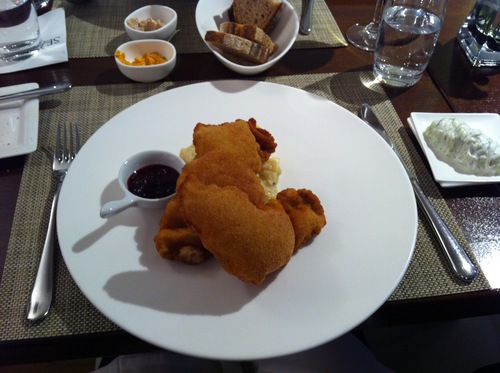 7:00pm: After a big lunch, I opt for simple sushi for dinner with my girlfriend. We have some wine. She loves Billecart Salmon Rose.
11:00pm: Ended my day off with a Ron Zacapa rum and finally to sleep.


Thursday, February 16
11am: An extra nice family meal today in light of how hard everyone worked coming up to Valentine's. It was lobster pasta and it was delicious!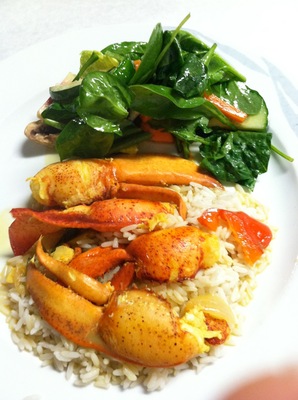 11:15am: Today's late morning tasting Pinot Noir from Sonoma Coast. We tasted a lot, but didn't find anything to add to the list. Finding great new wines, and wines that fit with our program is never a given. That is another reason I try to taste so frequently.
11:45am: Tequila tasting! Not a usual tasting, but a fun one nonetheless (albeit a bit early). I was tasting Casa Dragones tequila and trying new pairings. It worked well with the Nantucket Bay Scallop -- a progressive tasting of scallops and also with barely booked wild salmon with wasabi risotto and finished with a yuzu emulsion. Sometimes my work is not just about wine and this is a good example of that. It's about any and all beverages, and finding an interesting pairing like this can inspire me to think outside the box.
3:30pm: Stopped by Chef Ripert's office. He keeps a nice stash of the most amazing Peruvian chocolate. I had a square. Or two.
4:00pm: Family meal was pork with mash potatoes and salad. I took it easy on the mash potatoes and heavy on the salad! Our pastry team brought down some freshly baked almond cookies. I definitely had a sweet tooth today!
4:30pm: Quick tasting and I finally nailed the fluke dish pairing. I went with Faustine from Abbatucci -- the grape is Vermentino -- which in this wine is grown in granite soils. It's actually a very unusual Vermentino because it's so focused. I was really happy with this pairing and excited to share it with the team.
5:00pm: A quick coffee kick before dinner and wine tasting starts -- La Tache Domain Romanee Conti 1996 was the wine of the night!!
12:00am: A have a beer and some cheese before bed - I know they say don't eat cheese before bed, but hey, I was feeling good!


Friday, February 17
11:15am: Skipped lunch today but did a have a special tasting of Pineau de Charente, an old Cognac before lunch service. More tastings throughout lunch -- Riesling Spatlese Karthauserhof 04 is showing so beautifully.
4:00pm: Another great family meal -- this time off our weekly menu. We had scallops with Rice and Salad -- thank you Eric Ripert! Followed by more cookies. Dinner service tastings -- wine of the night: Riesling Beerenauslese 1975 JJ Prum.
11:00pm: There are two new desserts going on the menu in the next few days and 11pm on a Friday night is as good a time as any to get with the pastry chef and do some tastings. I tasted 12 wines for 2 dishes to find the perfect pairing -- really excited for them to go on the menu! It's interesting to work with our new pastry chef Laurie Jon Moran, because it keeps me on my toes as I learn to adapt to his style. I had such a close relationship with Michael Laiskonis [Editor's note: Chef Laiskonis recently left Le Bernardin and wrote a beautiful piece about his last day over at The Atlantic] -- but for me it's really interesting to see how each chef has his own signature in terms of cooking. I like Laurie's style a lot because he keeps desserts on a lighter scale, but still with complexity. For his black forest dessert, I selected a German Riesling Beerenauslese. It works because the Riesling with its bright acidity really picks up on the cherry flavors in this dessert and really elevates those flavors. The chocolate base is not too heavy so the Riesling can pick up on that and the pairing doesn't get overwhelming.
12:30am: One beer followed by bed. I skip the Aveda tea. Hey, it's Friday night after all!
See previous Food Informants below:
PHOTO GALLERY
Food Informants
Calling all HuffPost superfans!
Sign up for membership to become a founding member and help shape HuffPost's next chapter