Aleah Beckerle's mother has a message for the individual or individuals responsible for abducting her disabled daughter: "How dare you take her out of her home. Why would you do this? Why would you take a child that depends on me? Why would you want to hurt me, my child and my family? I'm begging for you to return her," Cara Beckerle told The Huffington Post.
Aleah, 19, of Evansville, Indiana, has been missing since July 17, when family members reported her missing from their home.
"Present in the home the night of her abduction was her mother and two teenage sisters," Evansville police detective Brent Melton told HuffPost. "They're reporting that during the night someone came into the home and abducted her and that's where we're at."
Melton said there were no signs of forced entry to the home.
"Information was provided that the doors were unlocked," the detective said. 
According to Beckerle, whoever abducted her daughter had to carry her out of the residence. The teen is unable to walk and her wheelchair was left behind.
"I'm 5'2, 170 pounds and I can put my daughter over my shoulder," Beckerle said. "She's dead weight. She can kind of sit up a little bit, but only for so long. Somebody can pick her up, put her over their shoulder and walk out. If she's disturbed in the middle of the night, she's not going to scream or anything."
Beckerle said her daughter suffered from a meningitis-induced stroke when she was a baby. As a result, Aleah functions at the level of an infant.
"She depends on total care," Beckerle said. "She knows her name and she interacts with you. She can say 'mom,' 'up,' meaning she wants to get up, and she can say 'ba-ba,' meaning she wants her drink. She also loves making song type noises and shouts when she's excited and cries when she's hurt. We know exactly what she wants from us. We know when she's happy and when she's irritated. She has the cutest personality in the whole world. She's a little angel sent from God for me to take care of."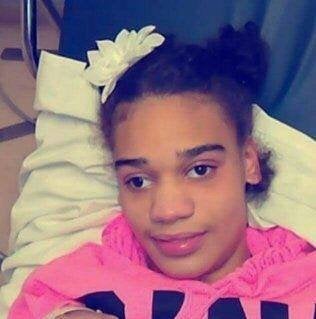 Melton, who described the case as "very bizarre," said his agency is conducting a thorough investigation.
Beckerle said she has her own theory about what happened to her daughter, but she declined to share it.
"I only share that with the FBI and detectives," she said. "I get a lot of negativity because of that, but I cannot discuss this case like a soap opera.  [The people who complain about that] have not been here for the 19 years that I had her. They've not been here for all the stuff that I been through with her like struggling to find daycare [and] struggling to find jobs that I have to leave because of her seizures. Nobody was there for me then. I'm obviously grateful for everyone helping now, but I'm talking about the people who are being negative. There's some people that are ignorant about everything."
Beckerle and her mother, Lydia LaRue, said they are doing whatever they can to raise awareness, including sharing their story on social media. They've also enlisted the help of Texas EquuSearch, a nonprofit missing person search and recovery organization.

Meanwhile, Beckerle said she's hopeful someone will come forward with information in the case.
"I don't know why she was taken from me," the distraught mother told HuffPost. "She's been gone 12 days now and that breaks my heart. It seems like it's a bad nightmare. This is like the stuff you see on Lifetime, but it's really happening right here in Evansville, Indiana."
Aleah has limited speech capabilities and requires seizure medication. She was last seen wearing a black shirt with the words "Dance Theater" printed in white lettering, and an adult diaper.
"She's a very sweet little angel," her mother said. "She's pure. You know how they say nobody's perfect? She's perfect. She's never thought a bad thing. She's always giggling. She's always happy."
Anyone with information in this case is asked to contact the Evansville Police Department at (812) 436-7896, the National Center for Missing and Exploited Children at (800) 843-5678 or Texas EquuSearch at (281) 309-9500. For more information, visit "Looking For Aleah Beckerle" on Facebook.
Calling all HuffPost superfans!
Sign up for membership to become a founding member and help shape HuffPost's next chapter
BEFORE YOU GO